Back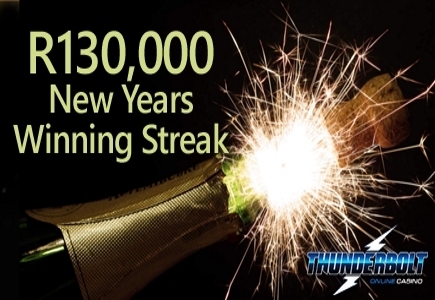 Thunderbolt Casino is known for its wide selection of hundreds of online titles, ranging from slots to table games, all powered by Realtime Gaming (RTG). Most recently, it has made headlines with a recent player's massive win at the site, just after the start of the New Year.

More specifically, 27-year-old, Adriana, struck it big just two days into 2016, making for a fantastic way to start out the year. She accumulated over R130,000 in just one evening, while playing three of the site's games.

The lucky gamer launched her winning streak by playing smart. In fact, she admitted to a customer service representative, "I gave myself R25 to play with that day. I figured I'd either be lucky or I wouldn't. And I WAS!"

Like many past winners, she started out playing her favorite game, Crystal Waters. More conservative bets ultimately turned into larger bets of R50 and R100, as her account balance grew. Prior to transitioning to a new game, Adriana had accumulated a whopping R50,155.

Next, she moved onto Coyote Cash, during which she was able to double her initial winnings, accumulating an additional R50,155. Finally, she cashed out with a third and final win of over R20,000 on the Cash Bandits slot game, resulting in a total win of over R100,000 across the three games.

Thunderbolt's casino manager, Alisa, stated, "It's not unusual to see a player have a run of good luck on one game. But winning on every game you play, like Adriana, did is amazing!"

Members can try for their chance to accumulate their own winnings, while also looking forward to the casino's R99,999 Freeroll Slots Tournament. The tournament requires no entry fee, and will continue until February on the slot game, Achilles.




Casino Games
Back to articles