Back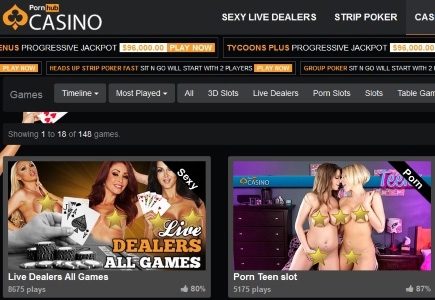 For everyone out there that wished for a combination of porn and gambling, the X-Rated portal Pornhub has come to the rescue with a brand new online casino known as Pornhub Casino.

Female croupiers will man the gaming tables dressed in sexy lingerie offering an eyeful while players engage in Blackjack, Roulette and, of course, Strip Poker.

Pornhub VP, Corey Price, said, "Our users know a thing or two about having a good time online, so when a casino company approached us with an opportunity to blend gambling with porn, we had to consider it seriously. We decided to take a gamble --pun intended -- and go ahead with the idea."

Costa Rican women dominate the selection of live dealers with the main attraction being the Strip Poker games and occasional appearances from adult film stars.

Price said, "It's available in two options: public tables and friend's tables. Our public tables are viewable by all players and anyone can join. Our friend's table section includes those that only people in your friends list can access."

Strip Poker games are not only for those that like to watch. You've got to be a bit of an extrovert yourself. "We use webcams so everyone can see each other and speak to one another as though you would in a real setting. So yes, people who play will be visible", Price added.

Offering gambling services opens the door to other avenues for site viewers once they've seen what they came to see and done what they need to do. Rather than click off of Pornhub, they'll be enticed to stay for a few spins of the Roulette wheel or a Blackjack game or two.

Pornhub Casino launched on February 1, 2016 and features games from BetSoft, Endorphina and 1x2gaming. There is no mention of gaming licensing anywhere on the site and it appears that US players are welcome. Pornhub is based in Costa Rica while "most" of the payments are processed by FN Usoft Limited in Cyprus.

Can a site like this work? Will punters be on their game with bras flying off?
Casino Games
Back to articles