Back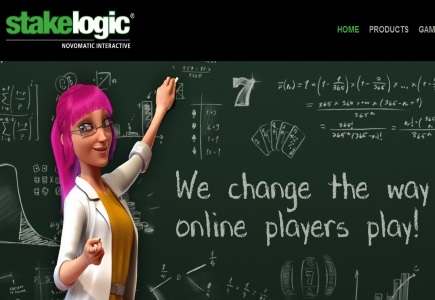 We recently brought you the news regarding the Football Gladiators Video Slot and 17 new online games from a developer known as StakeLogic, which was established by Novomatic's iGaming company, Greentube. This is an exciting debut for the company and online players so we thought it was worth providing our members with a bit more information.

The company develops its own portfolio of games, including its first 17 3D titles revealed at this year's ICE Totally Gaming Expo in London, and a mobile gaming platform called MOBi. Having explored the offerings it's fair to say that StakeLogic may be the next big thing in online gambling.

Austrian provider Novomatic has expanded over the years and eventually made it to the online market delivering content via Greentube Internet Entertainment Solutions GmbH. The recently launched StakeLogic has unveiled unique and innovative games like Dice Fortune, Monkeys of the Universe, Extreme, King Bam Bam, Joker Fortune and Fruit Smasher to name a few. At the center of it all is parent company Novomatic.

Regarding the launch of StakeLogic, Greentube CEO Thomas Graf said, "With a team of stand-out slot design visionaries, Stakelogic is set to bring a whole new dimension of interactive gaming entertainment to global iGaming operators. This new approach to game design is set to be a game changer for both players and operators."

Stakelogic project manager, Marco Tramontina , said, "Through the establishment of Stakelogic, Greentube will conquer the world of online gaming even further by providing the market with expectation surpassing games covering the coolest designs, the most advanced themes and incredibly creative and innovative game features online: features that players have not seen before.

"Stakelogic is all about innovation and revolutionizing the online gaming industry, thus making a perfect match with Greentube, who have already proved to be one of the world's best companies in helping the market to increase business and player retentions with their platform."

So what are the games like? The graphics capture a number of themes and characters in all their 3D glory. Each of the titles, including the latest branded Football Gladiators, are available via the StakeLogic website. The Wheel of Fortune feature in its Monkeys of the Universe game is triggered each time three or more symbols create a winning combination. The wheel will spin and if it lands on the triggering symbol the corresponding reels will re-spin creating stacked symbols and impressive payouts.

It won't be long before players start seeing these innovative games available from various operators but for now all of the games are accessible via www.stakelogic.com.
Casino Games
Casino Software
Back to articles