Back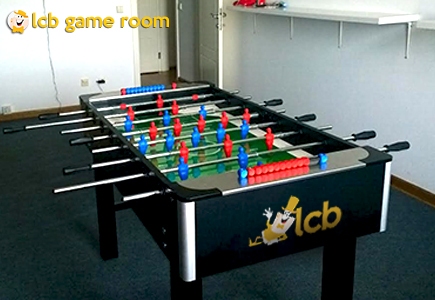 There was an unexpected knock-knock at LCB's door this morning.

Who could that be? – Puzzled, we all looked at each other quizzically. And it came, carried by two strapping lads in overalls!

The new addition to our crew, our new best friend, is a brand new table football game. Fussball to all you New Yorkers out there! Yes, yes! You heard that correctly: table football!
Most of you are probably asking why we are making so much fuss about it. Well, let me ask you whether you would like to have the chance to break your work routine having a bit of fun thrown in. Here at LCB we are sooooo lucky! And now we are over the moon.

"C'mon! Let's play! Let's play"- we shouted excitingly.

Immediately, four of us were at the table playing, shouting excitedly and laughing whilst the rest of the team cheered us on. The atmosphere was electric. So many smiles, so much fun! At some point it seemed as if we were no longer at work but were attending a live event.

Our new member has brought us excitement and joy and thus, since this morning, our work days are going to be more and more fun. All down to our brand new friend who, it seems, is going to keep us all in a good mood.

General Gambling News
Back to articles