Back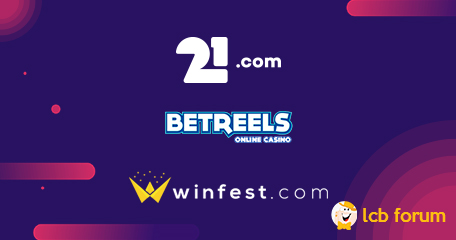 Here at LCB, we love being able to provide our members with a community where they can access top-of-the-line customer support, so when we have the pleasure of announcing that our support community has grown… you can bet it's a good day! Luckily, today, we have the chance to up our good news game, and announce not one… not two… but THREE new representatives who have signed onto the forum to provide added support.
One
First up is Winfest Casino, having signed on October 2nd. For those of you who have not yet checked out the site, it is equipped with a traditional gaming library, featuring slots, casino games and live dealer options, with demo modes available. This means you can take a variety of titles for a trial run before playing with any real money.
Feel free to send any questions or comments you have to our latest addition concerning your play at this casino by sending a message via their designated user profile.
Be sure to read what the rep had to say here.
Two
Next up is 21.com. Representative, Alex, also signed onto the forum on October 2nd, having the following words to say to LCB'ers…
"…21.com is provided to you by casino professionals with years and years of experience in the gaming industry. With all the choices you have, we decided that it is time to go back to the basics, cut the crap and let you play casino the way you want."
The rep went on to add, "We are very active in offering new bonuses and promotions and you can expect something new every week… I am looking forward to hearing your valuable feedback on our site so we can continue improving. If you have any questions, do not hesitate to let me know here and I will get back to you as quickly as I possibly can."
Have a question for Alex? Send him a message.
Last, but Not Least
The third and final casino we'd like to announce has joined the ranks is Betreels Casino. This one we are particularly excited about, because he is no stranger to our network, and in fact, commented that in addition to being a casino rep for the brand along with managing affiliate partners and forums…
"I am also a player and have been a member here for a number of years. I stick with a handful of games and enjoy seeing winner screenshots and videos and reading your feedback and comments in the various sections."
See what else he had to say on the direct casino support page for Betreels and should you need any assistance related to this site, visit his profile.
Welcome aboard!
"THREE new representatives"
LCB News
Back to articles