Back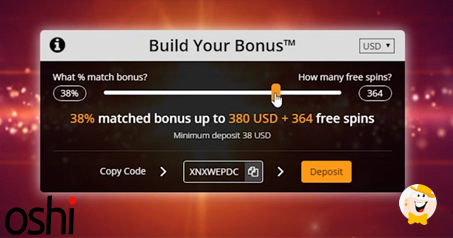 Endorsing the principles of innovation and creativity, Oshi Casino pioneered the first customizable bonus scheme in February 2017. This amazing feature provides a welcomed opportunity for us gamblers to create and customize our own perfect bonus - just the way we want. No more ''take it or leave it'' philosophy, instead we have a say in what kind of incentives benefits us the most. With a flexible approach such as this, players are given a freedom to choose according to their preferences, and not only this! Build Your Bonus tool provides so much more variety, more options that we have all been craving for and with that, happy and satisfied players.
To give you an in-depth look at this feature, we have created a video which shows exactly what it is and how to use it. Reading about it might give you the impression that it's some complicated system we're talking about here, but you'll see in the video that simplicity is actually one of its major advantages. To produce a desired offer, all you need to do is give the slider bar a few nudges left or right.
How it Works
Not everyone wants or needs the same type of bonuses. Some players are comfortable with free spins, while others consider match offers the real deal. Using the Build Your Bonus feature, you can choose one or the other, or even a combination of both! As you can see in the video, customization is as simple as it gets: by moving the slider you create different combinations of a match bonus percentage and the number of free games until you're satisfied with the result. The two values mutually influence each other, so if you want a higher match bonus, that means less free spins and vice versa.
This tool can be used by new and extant players alike. If you're a newcomer, the feature can be utilized to customize your welcome offer. Likewise, extant players can create various reload bonuses. There are 20 combinations available for each of the two types, with differences in the match percentage and the amount of free games:
Welcome bonuses range from 0% match and 500 free spins, to 150% match to 0 free spins.
Reload offers range from 0% match to 80 free spins, to 40% match and 0 free spins.
You start by logging in to your account and, as any good gambler would do, reading the terms and conditions of course. If everything looks ok, you can proceed to the actual bonus building. Next, the screen will show up with the options to adjust and come up with your ideal tailor-made incentive. There are six available currencies: BTC, EUR, RUB, USD, AUD and CAD. Deposits range from 10 to 48 Euros or currency equivalent. Once this is all done, copy and paste the code and you're good to go. As easy as taking candy from a baby!
This handy video explains all you need to know quickly and easily, and the best thing about it is that you can watch it as many times as you need to get a full understanding. Tell us how you like it in the comments below.
"video which shows exactly what it is and how to use it"
General Gambling News
Back to articles