Back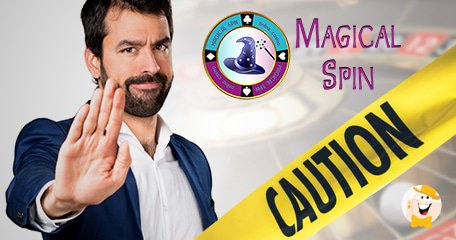 In October 2017, our member mathias86 had a run in with the management of Magical Spin casino, following a significant win of €11755 he was lucky to score playing roulette. His fortune was short-lived, however, when accused of using the Martingale system, or some strategy to that effect, to gain unfair advantage and beat the house. Needless to say, the dispute did not end well and his winnings were promptly confiscated. No amount of reasoning could get the operator to reconsider and do the right thing. Their decision remains firmly grounded in the predatory terms of service erroneously claiming that certain types of betting can beat the casino.
The Martingale Myth
Magical Spin accused mathias86 of using ''a mathematical technique'': increasing the bet size by €100 with each spin on 4 numbers in roulette; eventually boosting his odds to 1:9, meaning that after every 9 spins has was sure to hit a win.
Additionally, he violated a rule that says it is forbidden to bet (sum of individual bets within a round) more than ten times the amount of the deposit of the session performed without a bonus, by wagering up to €1050 with a deposit of €50, when a maximum allowed should have been €500.The operator called this a variant of the prolonged Martingale and withheld the earnings. It is important to note he did NOT play with bonus money, but his own straight deposit, which makes the whole situation even more baffling.
LCB is strongly opposed to the banning of supposed strategies, betting systems or patterns utilized when gambling. This includes the so-called Martingale, of which there are many types and variations. But the classic one involves doubling bets after each loss, based on the assumption that an event is bound to eventually occur after repeated activity, with even chance betting on the red/black, odd/even and other bets in games like baccarat, roulette, craps and blackjack. It has been proven by knowledgeable gamblers and experts, our very own Michael Shackleford among them, that such systems do not work in the long run and produce equal results as betting the same amounts at all times.
Casinos are always protected by the house edge, table limits and limited bankrolls. No game plan has ever been designed to change this fact and make the player a sure winner in the short or long run, or ever for that matter. Because of this simple truth, players should be allowed to change bet sizes or patterns the way they think will benefit them the most! It is within their full right to do so, and not be forced to play in a way that is not risky for casinos themselves.
Former Rogue Terms
This is not the first complaint regarding this site that we have come across. There was another issue back in August and though it was resolved, it should be mentioned here to corroborate our verdict and offer a piece of mind to whoever might still be in doubt over the integrity of Magical Spin. The problem arose when another player was denied winnings based on a very shady bonus rule as follows:
7.5 '' Maximum bet allowed with bonus money or winnings derived from promotions/bonus is € 7.50 and/or 10% or the current player balance."
You don't have to be a lawyer to realize how negatively this affects ALL players. Having a maximum bet rule on bonus money is acceptable, but the trouble here is with the latter part of the statement, which restricts even betting on straight deposits to a ridiculous degree. What if a player is left with a €2 balance and bet 20c or a little over - they would still be in breach of this rule! In what universe does this qualify as deliberate bonus abuse?
The representative informed us they do not apply this term when a balance is €2 or less, but nowhere do they reveal this in the T&C.
Furthermore, the casino seems to abide by this term only when a player wins diligently. Prior to the confiscation of earnings, our member santiar played and wagered over the stated limit many times, oblivious to it and without consequences precisely because he was losing! To be fair through and through, the casino should declare all his previous offending bets void, and refund all of his deposits.
Eventually, after our persistent urging, they did remove this predatory rule but gave santiar only his last deposit back.
Another Casino Bites the Dust
In their own words, Magical Spin does not allow ''suspicious patterns'' or the above techniques because they don't want to take the risk. What they mean to say is they don't want to pay larger wins, that's all there is to it.
How they justify the strict and unfair bonus terms? With the fact their ''sticky'' bonuses supposedly do not have wagering requirements and customers are not bound by them in order to cash-out. This is only partially true: they DO enforce wagering (some very high), but it applies only to the bonus money itself, not deposits. But players still have to use real-money balance first and must complete a playthrough if they want to use the extra funds completely.
While we understand and accept the brand is transparent and has these restrictions explicitly specified in the T&C, we feel the rules are extremely predatory and unfair to players. There is no reason for such severe and unjust limitations, unless with ill intent to prevent legitimate wins by any means available. In an email correspondence, we advised them to revise the terms and explained why the disadvantaged player should be paid in full. The brand refused to do so, refusing to cooperate any further because a public complaint thread ''is bad for their reputation''; forcing us to place them on the LCB Warning list until further notice.
"decision remains firmly grounded in the predatory terms of service"
Casino Warnings & Rogue Reports
Predatory Terms
Back to articles