Back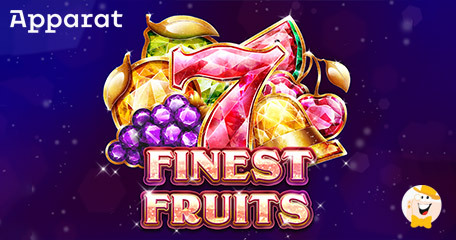 Experience premium classic slot gaming with a potential win of up to 500x by playing Finest Fruits, a captivating game that seamlessly combines gems and fruits. Apparat Gaming, known for their German-accented slots, has launched this new title, promising an alluring, glitzy gameplay from start to finish.
Finest Fruits is a five-reel, three-row slot with ten fixed paylines, featuring left-to-right win payouts and an RTP ranging from 87.01% to 96.08%. Its volatility level is moderate, and gameplay remains captivating as the maximum pay potential is 500x.
The game's gem-constructed, exquisitely crafted fruit symbols, including grapes, oranges, cherries, limes, and watermelons, land on the reels as players spin. These symbols dazzle and sparkle as they form winning combinations, adding to the game's fruity charm.
The game Finest Fruits targets traditional slot machine enthusiasts with its straightforward gameplay that will satisfy purists while still providing excitement with every spin. Players can try their luck with the lucky 7 symbols, where aligning five in one spin will earn them 500x their initial bet.
Like all other Apparat Gaming slots, Finest Fruits was developed with their signature "Made in Germany" style that emphasizes top-tier engineering, visually stunning graphics, and a serious tone devoid of humor.
What Was Stated About the Deal
Apparat Gaming was founded in 2020 by industry experts with the objective of producing slot games that showcase a distinctive German touch. With years of expertise in both physical and digital gaming, Apparat Gaming is dedicated to delivering superior slots that meet the exacting standards of German engineering, as well as exceptional creative quality.
After obtaining a license from the Malta Gaming Authority in 2021, Apparat Gaming has established itself as the go-to online content supplier for German and other European operators, with an abundant game roadmap. In summary, Apparat Gaming lives up to the German stereotype, offering top-notch products, trustworthiness, and resoluteness, but zero humor.
About The Company
Apparat Gaming is expanding its reach beyond the borders of its home country by partnering with mycasino, Switzerland's largest online casino and the online casino of Grand Casino Luzern. Through this new agreement, Apparat Gaming's unique slot offerings will now be available to players throughout Switzerland.
Apart from the first batch of nine titles such as 40 Sevens, Total Eclipse, Fruit Storm, The Warlock's Book, King of the Vikings, and Heimdall's Horn, the partnership with mycasino will also cover all of Apparat's upcoming slot releases.
Source:
"Only the Finest Fruits will do in Apparat Gaming's latest release", europeangaming.eu, May 17, 2023.
"German-accented slots"
Casino Games
Back to articles