Back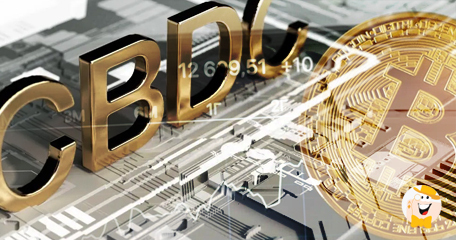 A Gamechanger or Huge Threat to Online Gambling?
Cryptocurrencies were born with the idea to offer consumers decentralized payments and a higher level of anonymity, which is precisely why their popularity in the online gambling industry exploded. As governments had no way to control it, they had to come up with a solution, which is what inspired the development of Central Bank Digital Currency (CBDC).
Are cryptocurrencies the best thing that have ever happened to the iGaming industry or are CBDCs to steal their glory?
Having in mind that it relies on the system cryptocurrencies use, there's room for some optimism. Yet, knowing that they are controlled by a country's central bank, it is highly unlikely that they would become widely greenlighted for online gambling.
What is Central Bank Digital Currency (aka CBDC)?
CBDC basically represents electronic cash legally issued by a central bank. Unlike fiat currencies, this payment asset is not dependent on commercial banks.
It eliminates the middlemen in financial transactions and enables money to flow directly from a person to another person, or person to vendor. The connection between the central bank and the consumer is direct, with no third-party intermediaries.
To put it simply, CBDC is the same as physical cash, but it exists only in a digital/virtual format, and therefore, can be considered a computer-code equivalent to conventional money. Its ultimate goal is to take digital payments to an upper level, offer more security and more efficiency.
Also, Central Bank Digital Currency should facilitate quicker transfers of public funds in emergency and crisis situations, while eliminating potential issues with money laundering and terror financing.
At the time being, there are two basic variants of CBDC- account-based and in form of digital tokens. The former ones are pretty much the same thing as bank accounts, while the latter one sees the object of value transferred from one wallet to another.
So far, Bahamas (Sand Dollar), Nigeria (eNaira), and Eastern Caribbean Union (DCash), which includes Antigua and Barbuda, Dominica, Grenada, Montserrat, St. Kitts and Nevis, Saint Lucia, and St. Vincent and the Grenadines) are among countries which are already using their own CBDCs, showing that the system can function on a larger scale.
Sweden, China, and Jamaica are among the countries which are testing it in pilot projects, while India, Eurozone, and the US are in the phase of development. Even though it could take years to implement it fully and replace physical cash, it's obvious that these assets are the future and therefore a topic to reflect upon starting now.
Differences and Similarities between Cryptocurrencies and CBDC
Before we compare these two payment options, it is necessary to clarify that CBDC is not a cryptocurrency. Even though it relies on the concept which is used when making payments in Bitcoin, Ethereum, or other virtual assets, it has nothing to do with the crypto world.
Cryptocurrency refers to any type of digital or virtual currency that is stored on a decentralized blockchain. It uses encryption to safeguard transactions and enables users to stay anonymous. They are not dependent on the country's fiat value.
With crypto transactions…
…details of payment are available to the public, but the security of personal and sensitive data is not breached. That's because everything is encrypted. New units are produced with no interference and control of a central bank or regulatory institution.
Owners of cryptocurrencies have direct access to their balance, and they can use them to gamble online, get some NFTs, or purchase products and services on the Internet.
When it comes to negative aspects, Bitcoin, the pioneering cryptocurrency, is widely criticized for leaving a deep carbon footprint and having a negative impact on nature. Luckily, fans of such payment options who care about the environment came up with numerous eco-friendlier alternatives to BTC.
On the other hand, CBDC doesn't allow users to remain anonymous, as this payment asset is controlled by a central bank. As it represents a direct replacement for real cash, all the personal details are attached to it. However, details of the transaction are available to the sender, receiver, and bank.
Could CBDC Implementation Lead to Online Gambling Ban?
The potential implementation of CBDC in China led to growing concerns from gaming companies, which predict that it could endanger the gambling industry of Macau. Knowing that gambling in China is illegal, it is unlikely to expect that China would permit CBDC for online gambling once this payment asset is up and running.
Yet, China is a country with a stringent policy on gambling and should not be taken as an example of how things would work in other corners of the world. It's not a secret that this form of entertainment generates lots of revenue. Perhaps countries that have a well-organized iGaming sector would find ways to make both online casinos and players happy while ensuring money is spent within the limits of affordable.
Until that happens, cryptocurrencies still remain the best possible option to gamble online, until circumstances change drastically. They are anonymous and cannot be controlled and blocked by a government or a central bank, so eliminating them from the online gaming sector won't be that easy.
One thing is for sure, telecommunication services and high-speed Internet are the first fields that require significant improvement so that Central Bank Digital Currency to run smoothly. If the governments want their economy to rely solely on virtual currency, these essential prerequisites should be reinforced before any implementation is discussed.
Do you think the CBDC could shake the iGaming industry or will it create a safer and more transparent environment for fans of gaming on the Internet? We'd like to hear from you, so hit the comments section below and share your thoughts with us. Play responsibly!
Source:
"Central Bank Digital Currencies: Which countries are using, launching, or piloting CBDCs?", euronews.com, March 9, 2022.
"eliminating potential issues with money laundering and terror financing"
Bitcoin
Back to articles