Back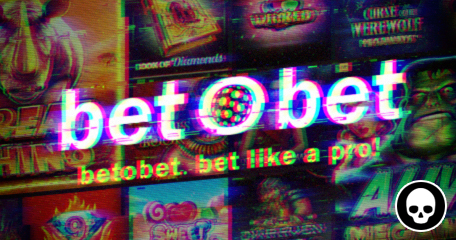 LCB is always content to help you, the player, spot and investigate the subtleties of online casinos - both good and bad. It's always a good idea to pay attention to details and dig deeper to discover various interesting, or shall we say...suspicious activity at your favorite gaming sites.
We recently set our sights on Bet o bet online casino, registered and incorporated under the laws of Curacao, and their large slot game library of over 3,000 titles. Apparently, this is a good place to spend some free time, if you like to spin the reels, play cards or dice, or if you are into sports betting. But, the investigators that we are, we searched beyond the surface level to see what lies beneath and uncovered some unusual features of Novomatic slots.
It all started back in June 2021, when our team focused on Novomatic games inside the lobby of Bet o bet casino and spotted some features that we thought are strange. We are not the ones to ring the alarm bells immediatelly, but these slots had some inconsistencies and differed slightly from the original versions that we know so well, which made them consistent with forgeries. We carefully gathered the info on these slots and contacted the casino to give them a chance to explain the existence of such content on their site.
But first, we'll tell you exactly what we think was wrong with the games, and you let us know your opinion on the matter - are these games fake or not?
Curacao/Novomatic Discrepancy
Bet o Bet online casino holds a Curacao gaming license. Here's the thing – brands operating under Curacao licenses can't legally offer Novomatic software due to license rules. This fact alone is enough to raise suspicion.
In addition, during our investigation, we managed to launch Novomatic games offered in the Bet o Bet gaming library from Serbia, even though they are RESTRICTED for the players in Serbia! The plot thickens: if the games were real, they could not have been opened from the countries where they are blocked.
Unknown Hosting Server
Another strange thing is the fact that we noticed that Bet o Bet Novomatic games are not hosted from the well-known original Greentube domain: https://nrgs-b2b.greentube.com. Instead, this casino uses an unknown domain http://cdn.igamingplatform.co/ that looks like it came from an aggregator called Delasport: https://www.delasport.com/, which was later confirmed by the casino rep.
According to their official website, Delasport is a white-label iGaming solutions provider. There is a visible MGA license seal, however it is not clickable and there is otherwise no information on their licensing.
This is what Novomatic's Book of Ra slot at Bet O bet looked like: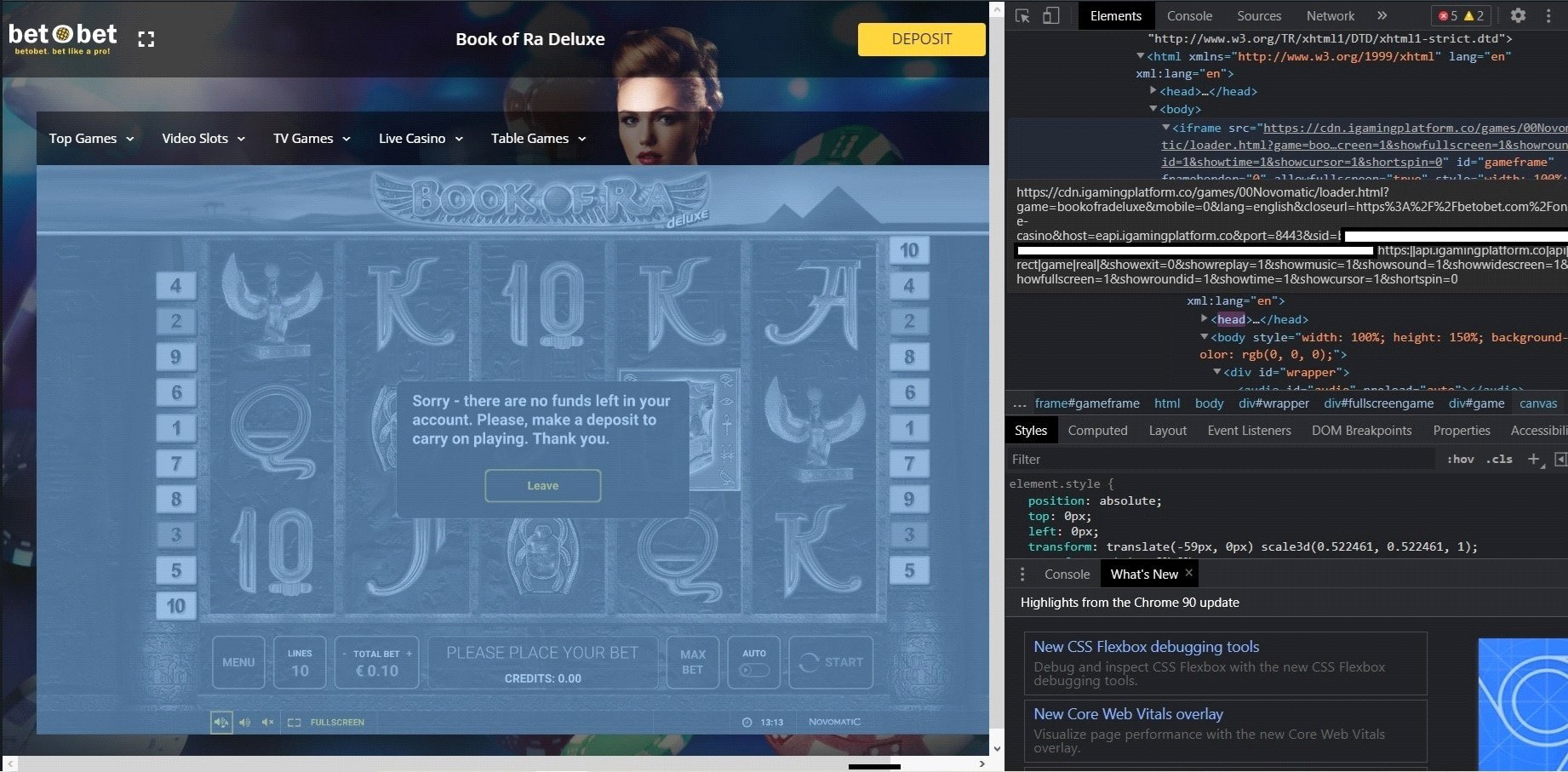 Compare with the official Novomatic Book Of Ra slot: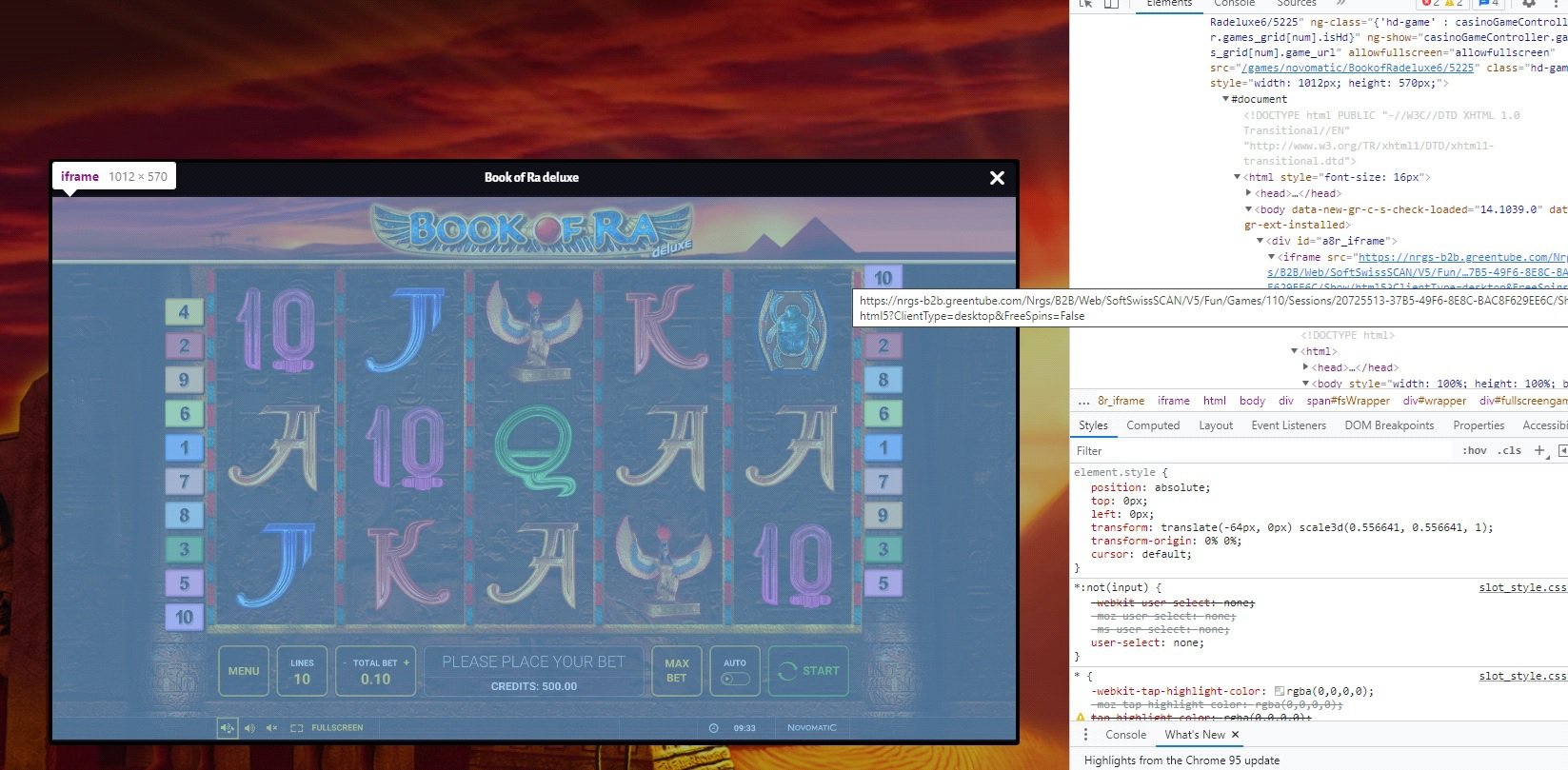 Casino Feedback
Namely, when contacting the casino at the start of June 2021, we explained point by point the discrepancies we noticed with their Novomatic slots. They quickly wrote us back saying:
"We don't have an agreement with the casino providers. Our agreement is with Delasport, which is an aggregator. All the providers are legit."
They promised to look into the matter and get back to us with fresh info. However, they didn't and we were unable to clear things up, at least not until late October, early November 2021. Be that as it may, we continued to pay regular visits to the venue, in order to see if the situation with the suspicious games changed. And you know what? It did!
Games Removed
On October 25 2021, Bet o Bet's gaming library appeared changed - all the suspicious games vanished from the lobby.
Sometimes the deeds are saying more than words, so we understood this "cleaning action" as a reaction to our attempts to find out if they are aware that something is wrong with Novomatic titles in their library.
Finally, we are glad to see Bet o Bet removed this suspect content. On the other hand, we never actually received any further explanation as to the true nature of the slots. There was one final attempt to find out more, and finally in November the casino rep confirmed that Novomatic games have been removed at the beginning of October.
What do you think about this case? There's certainly enough proof to conclude that something is definitely not right with Novomatic games:
the Curacao-licensed casino should not be offering Novomatic games
the games load from countries where they are restricted
the games are provided by a third-party agregator from a domain does not match the official Greentube domain
We will say that the casino did not seem to be aware of the nature of the games, although that does not excuse the negligence as it is their job to thoroughly check the origins and validity of the content that they intend to offer to players. They were responsive to our inquiries, however, and eventually removed the compromised content, yet they claimed the games are legit as stated by their agregator Delasport.
Let us know your thoughts in the comments below. Meanwhile, keep your eyes open, and gamble responsibly!
"our team focused on Novomatic games inside the lobby of Bet o bet casino"
Casino Warnings & Rogue Reports
Back to articles