Back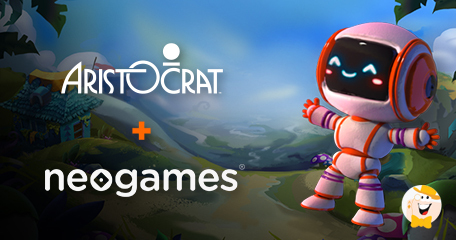 In a bold strategic move, one of the largest manufacturers of slot machines in the world, Aristocrat Leisure, has announced its proposed acquisition of NeoGames for $1.8 billion.
Alongside this acquisition, Aristocrat has also revealed its plans to initiate an increased on-market share buy-back program.
Acquisition to Bolster Market Positioning
The proposed acquisition of NeoGames by Aristocrat is aimed at strengthening the company's position in the online gaming sector. NeoGames brings with it a wealth of expertise in online lottery solutions but also RMG technology, aggregation, and sports.
It has a proven track record of delivering innovative solutions to its clients in Europe and North America.
By integrating NeoGames' capabilities into its own portfolio, Aristocrat aims to enhance its product offerings, expand its customer base, and diversify its revenue streams.
This multi-million purchase also presents an opportunity for the global gaming content and technology concern to tap into new markets and geographical regions.
NeoGames has an established presence in New Jersey, Austria, and other parts of the world, providing the new owner with a valuable entry point into these lucrative markets.
It is a renowned leader in content and technology solutions with around 1,100 staff and more than 200 customers across more than 50 regulated markets.
Its network of brands includes AspireCore, Pariplay, and BtoBet, a full-service technology platform, an aggregation network, and a complete sportsbook, respectively.
The new company is expected to drive growth and create a stronger competitive advantage in the industry.
The proposed acquisition of NeoGames and the increased on-market share buy-back program are part of a larger strategic vision. These moves are expected to solidify Aristocrat's market position, expand its product offerings, and deliver long-term value to its shareholders.
Increased Revenue Opportunities
In addition to the proposed acquisition, Aristocrat has announced an increased on-market share buy-back program.
This move demonstrates the company's confidence in its future prospects and a commitment to delivering value to its shareholders. By purchasing shares from the open market, Aristocrat aims to reduce the number of outstanding shares, thereby increasing the ownership stake of existing shareholders by up to $500 million.
An increased on-market share buy-back program not only signals management's belief in the company's intrinsic value but also has several potential benefits.
Firstly, it can lead to an increase in earnings per share, as the profits will be divided among a smaller number of outstanding shares. This can enhance shareholder value and potentially attract new investors.
On that note, the company has also introduced a suite of new games at this year's G2E Asia conference.
Furthermore, a share buy-back program can be seen as a way to utilize excess capital efficiently. Instead of hoarding cash, Aristocrat is reinvesting in itself, which can generate a positive market sentiment and enhance shareholder confidence.
Source:
"Proposed acquisition of NeoGames and increased on-market share buy-back program", aristocrat.com, 15.04.2023.
"Aristocrat aims to enhance its product offerings"
General Gambling News
Back to articles