Back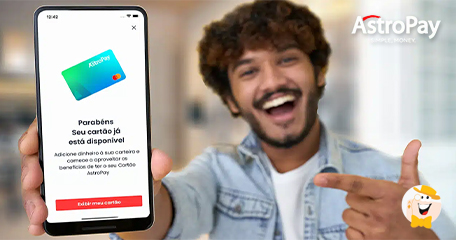 AstroPay, one of the best-known and next-generation online payment solutions, decided to go to another leading market to present its new product!
This choice number company is popular among users all over the world because it offers innovative solutions that bring great benefits to all clients!
Bringing New Product!
AstroPay has revealed that the brand has brought its new and incredible product to Brazil, which will surely delight new users, but also attract new users!
From now on, users from Brazil can take advantage of the Mastercard prepaid card, which offers even more than you expect!
Right now, both new and old users can pay with this card in all places in the country that accept Mastercard!
The launch of this Mastercard prepaid card marks a very important milestone for the brand, which will further strengthen the long-term cooperation between AstroPay and Mastercard.
The goal of launching this product is to simplify everyday life for clients. With this prepaid card, users will be able to manage their money more simply, safely, and securely!
If you are still in doubt, we will quickly assure you that there is no need for that!
If you want to activate and start using this card, we must note that the entire process is free of charge!
This means that after activation, you can immediately start using your Mastercard prepaid card at any place that accepts Mastercard.
In addition to the above, this product brings you much more!
Users can get great benefits from cashback and other privileges that await you on the AstroPay platform...
 ...and they can also use a physical card in stores, and at ATMs, but a virtual card for online payments.
Guillermo Dotta, CTO & Chief Product Officer of AstroPay, said: "When it comes to digital money and fintechs, Brazil is one of the most advanced countries in the world, and the partnership with Mastercard honors our long-standing commitment to Brazilians to deliver the simplest solutions to handle money in the most secure and simple way. As we keep on building a strong community of consumers, our focus remains to continue innovating to adapt and streamline payment solutions such as cards into our overall product offering to ensure that the needs of our users are not only met but exceeded."
Thiago Dias, Fintech and Enablers Vice President, Mastercard Latin America and Caribbean, added: "As the partner of choice for fintech companies, Mastercard is pleased to work with AstroPay to provide innovative solutions that help advance financial inclusion while offering consumers with a seamless and secure experience".
Source:
"AstroPay launches new Mastercard prepaid card'', astropay.com, November 7, 2022.
"activate and use the prepaid card instantly without any charge"
Casino Banking
Back to articles