Back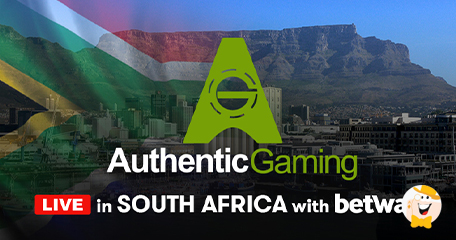 Exclusive Live Dealer Content Arrives to Africa
After making a debut in Spain earlier last month, the industry's leading supplier of premium live casino software and services with an established global presence, Authentic Gaming, continues to expand internationally by launching a full suite of studio based live dealer games and auto roulettes with a popular operator in South Africa – Betway.
As a result of this collaboration, the emerging South African market will soon enable players in the region to access the provider's cutting-edge and studio-based casino titles for the first time.
Exclusive Betway Content Included
Aside from launching favorite studio tables like Grand, 24/7, Casino Floor, Nightclub and Viva Las Vegas, famous for their elaborate and ornate backgrounds with highly trained dealers, the provider will also attach some exclusive content to the offer.
To ensure gameplay is fun and engaging, Authentic Gaming is bringing along Cricket Roulette, which is available only to Betway players. As described by the studio, this title is a "one-off, dedicated environment table" and also the first cricket-themed live roulette in the world.
Those players looking forward to this offering will experience a new setup where the table is in contrast with a live scoreboard. On this panel, customers can stay updated on the action and scores from the Indian Premier League as well as other cricket leagues and ongoing tournaments.
Thanks to the developer's setup, players will be able to stay on top of things and scores while enjoying a few rounds of live roulette either on their smartphone or tablet.
As a special add-on, Betway will be in a special position to complement its live dealer offering with a series of Auto Roulette titles, such as Classic, Speed and VIP.
As outlined above, the company's entry into South Africa follows the recent rollout in Spain. Its expansion efforts are part of a wider strategy to enter regulated and developing jurisdictions but also to provide operators with a unique range of innovative, entertaining and high-end live roulette products.
Vertical Sees Unprecedented Growth
According to Magdalena Podhorska-Okolow, chief commercial officer of Authentic Gaming, the ongoing international expansion is a priority for the company at this moment and the team is delighted to have entered another fast-growing market with its long-standing partner, Betway.
"We see huge potential for casino in the region and believe our suite of studio-based and auto roulette titles will add variety and quality to Betway's portfolio, allowing it to deliver a superior online experience to its players," explains Podhorska-Okolow.
Phillip Superamonien at Betway added that South Africa represents a market with huge potential where the supplier's casino games can be very popular among players.
The operator has seen a tremendous growth in this vertical in recent months and therefore decided to partner with the leader of live gaming solutions such as Authentic Gaming in another important sector.
Studio Roulette, Land-Based Roulette and Auto Roulette will make a great addition to the casino's versatile game portfolio in South Africa and Superamonien looks forward to seeing more players enjoy the incredible experience these products have to offer.
Source:
"Authentic Gaming makes South Africa debut with Betway", authenticgaming.com, October 4th, 2021.
"available only to Betway players"
General Gambling News
Back to articles