Back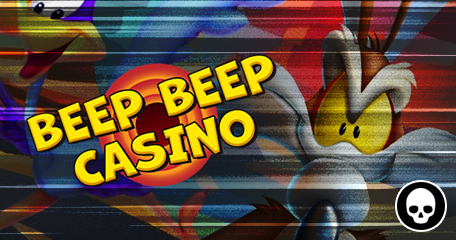 For some peculiar reason, characters from cartoons are extremely popular in online slots and internet gaming in general. So, whenever a new operator with these enticing visuals appears on stage, needless to say, it attracts lots of attention.
And when those beloved characters come hand in hand with "no deposit bonus on each level, individual cash bonus, increased cashback" and many other incentives- how to say no to such an offer? But, once you start spinning the reels of games listed in its portfolio, it doesn't take much to realize that things are simply too good to be true, because…
…BeepBeep casino offers counterfeit online slots from NetEnt, Novomatic, and Aristocrat and a couple of other renowned studios!
As you all know, LCB's team of vigilant detectives always reacts when members report some suspicious things. It took a couple of clicks to realize that those products are far away from genuine.
Keep reading to find out more!
First Alerts that Something Wrong Was Going On
Our forum has a special space where members are more than welcome to share their discoveries with others. Especially when those discoveries are no deposit bonuses. In September 2020, a long-standing member of ours posted the info related to BeepBeep casino.
"Simple bonus for simple actions!"-she said.
But the very same day, just half an hour later, another member replied warning that this operator hosts fake games. Our team inquired about it, and we got a more than a reasonable explanation on the matter. We promised to investigate this case.
Then, a couple of months later…
…at the end of January this year, another member left the post claiming that this casino cheated on him. As he stressed out, an error window would pop up whenever he got the bonus. And what's even more- this happened three times. After trying to solve the issue with their support agents, he left a message on our forum.
One of our assistants mediated, and so far we only have the hub's side of the story, in which they wash off their hands saying that this problem is "on the side of the provider". To date of writing this article, we got no reply from the punter which made us mark that particular case as closed.
Multiple Bogus Games Discovered!
Now, if you have been an avid player of online slots, you probably know how to tell the difference between the real ones and copied versions. Sometimes things are not so obvious at the first glance, which makes it more difficult to tell which one's which.
However…
…one of our subscribers spotted something strange was going on. Namely, a certain amount was added to his account before he initiated the feature. Having read our article on Probably Fair, he started wondering what was going on there.
And that's where our sharp-eyed detectives stepped in!
We started digging even deeper and we found out that BeepBeep casino hosts fake games from a couple of renowned providers. Those are NetEnt, Aristocrat, Novomatic, Microgaming, Igrosoft, and chances are- a couple of others.
Allow us to introduce you to a couple of pirated products: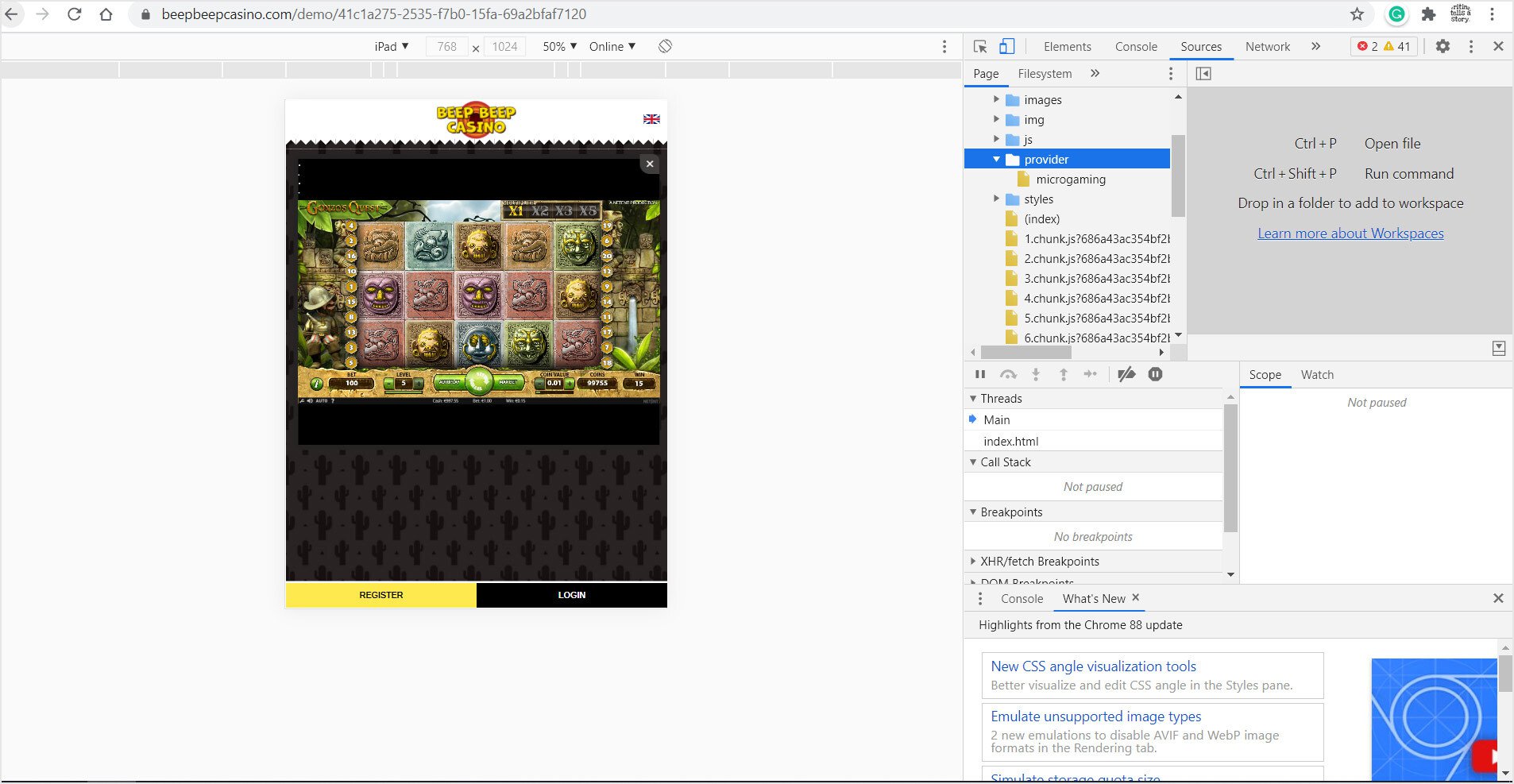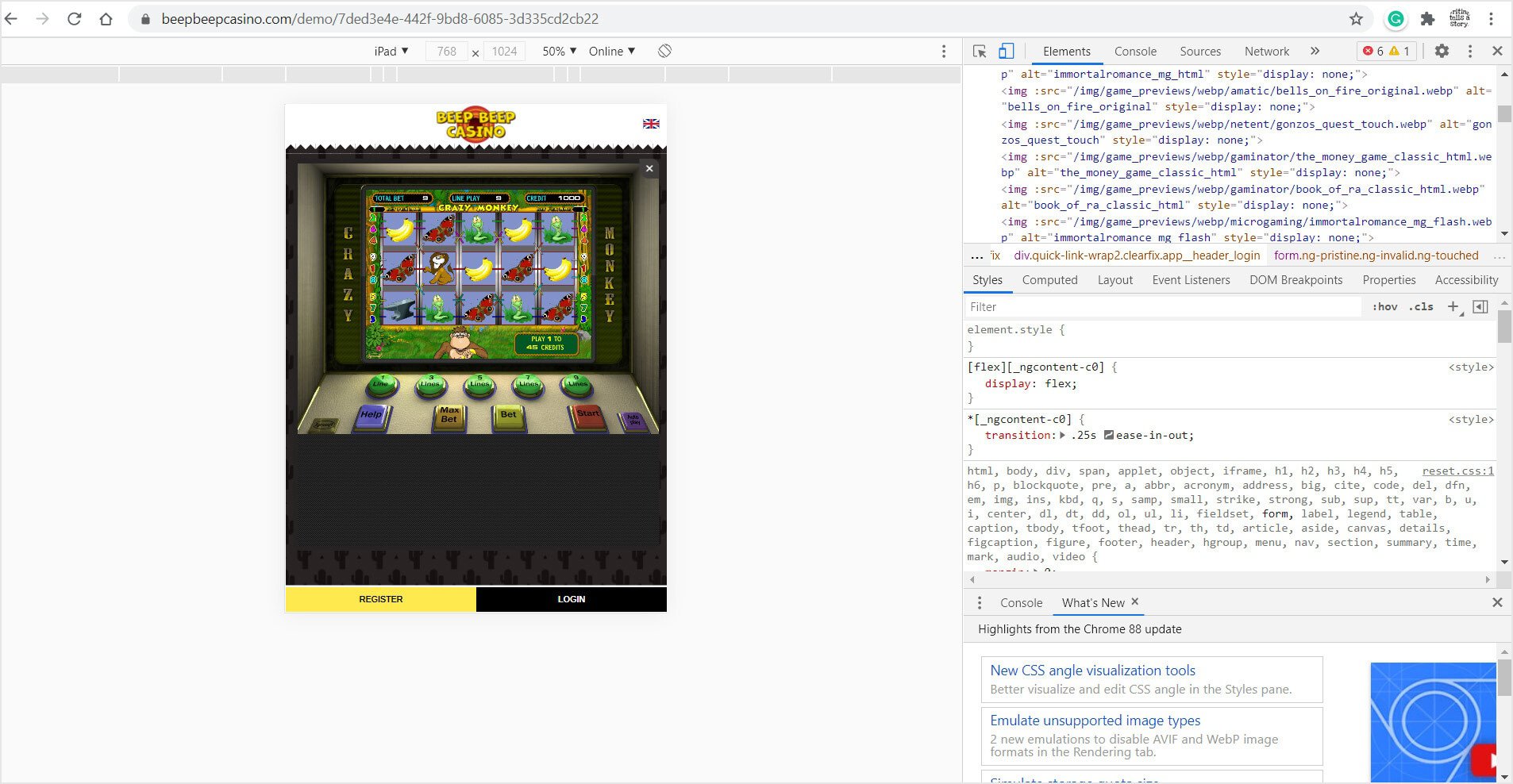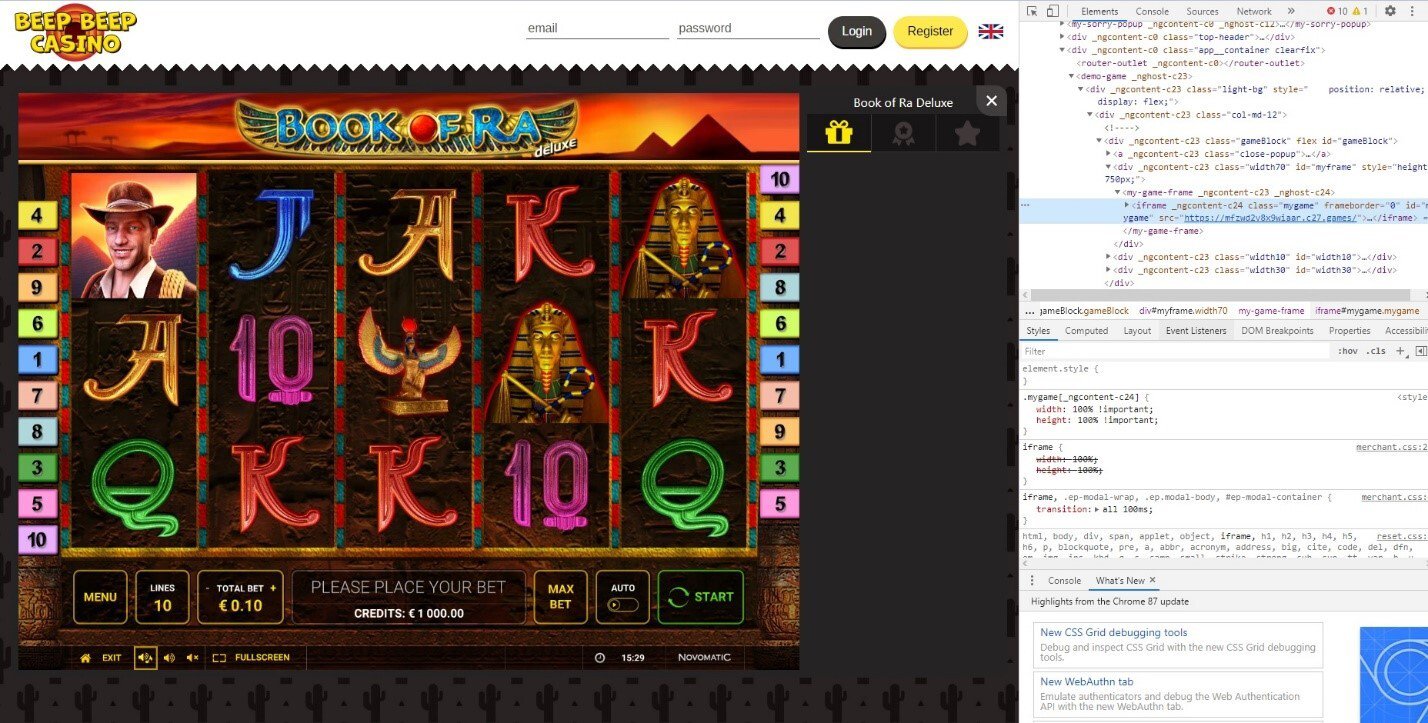 (BeepBeep's fake Novomatic)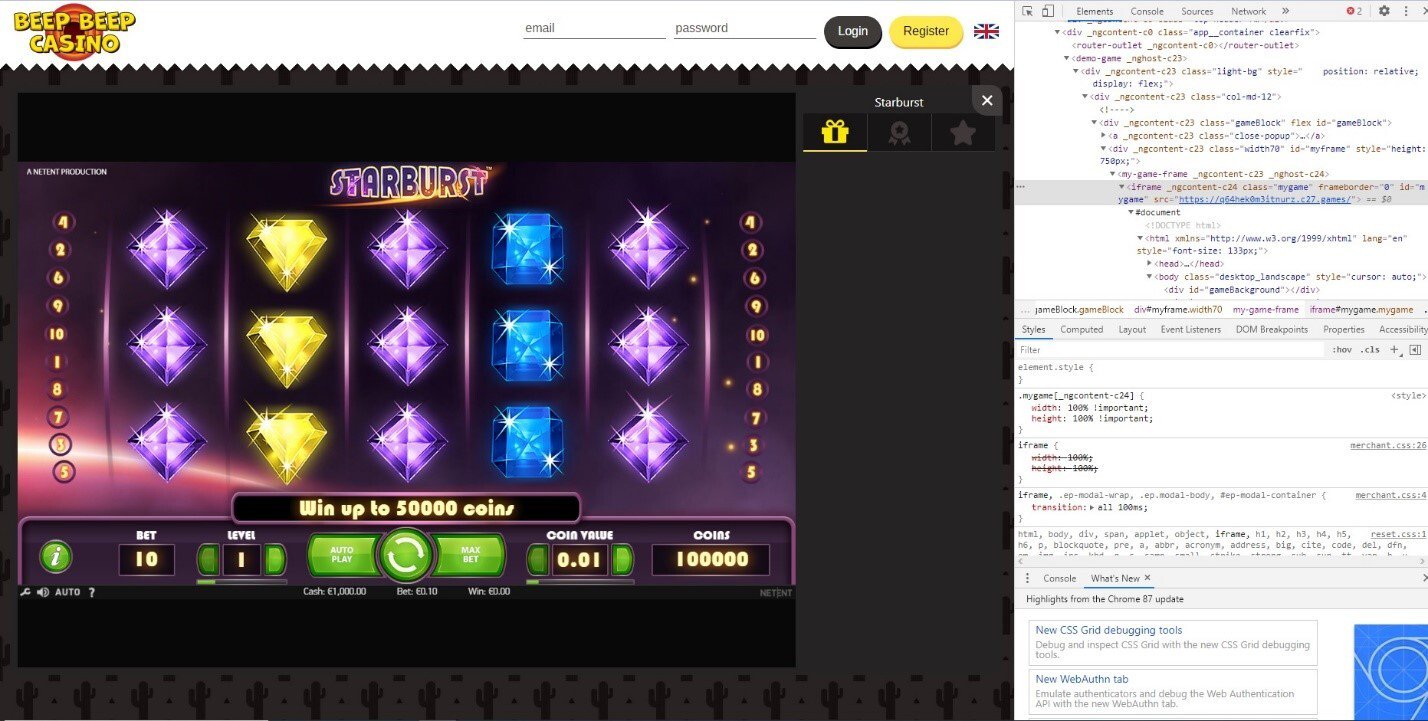 (BeepBeep's fake NetEnt)
How to Tell an Online Slot is Fake?
We know that this is the part that tickles you the most, so we wanted to give you a couple of valuable hints on how to spot content that doesn't come from the official studios.
Firstly, mind the visuals.
For the sake of comparison, we shall give you two screenshots, one representing the product from a well-rated brand from our directory. The other's a release featured in BeepBeep casino's catalog.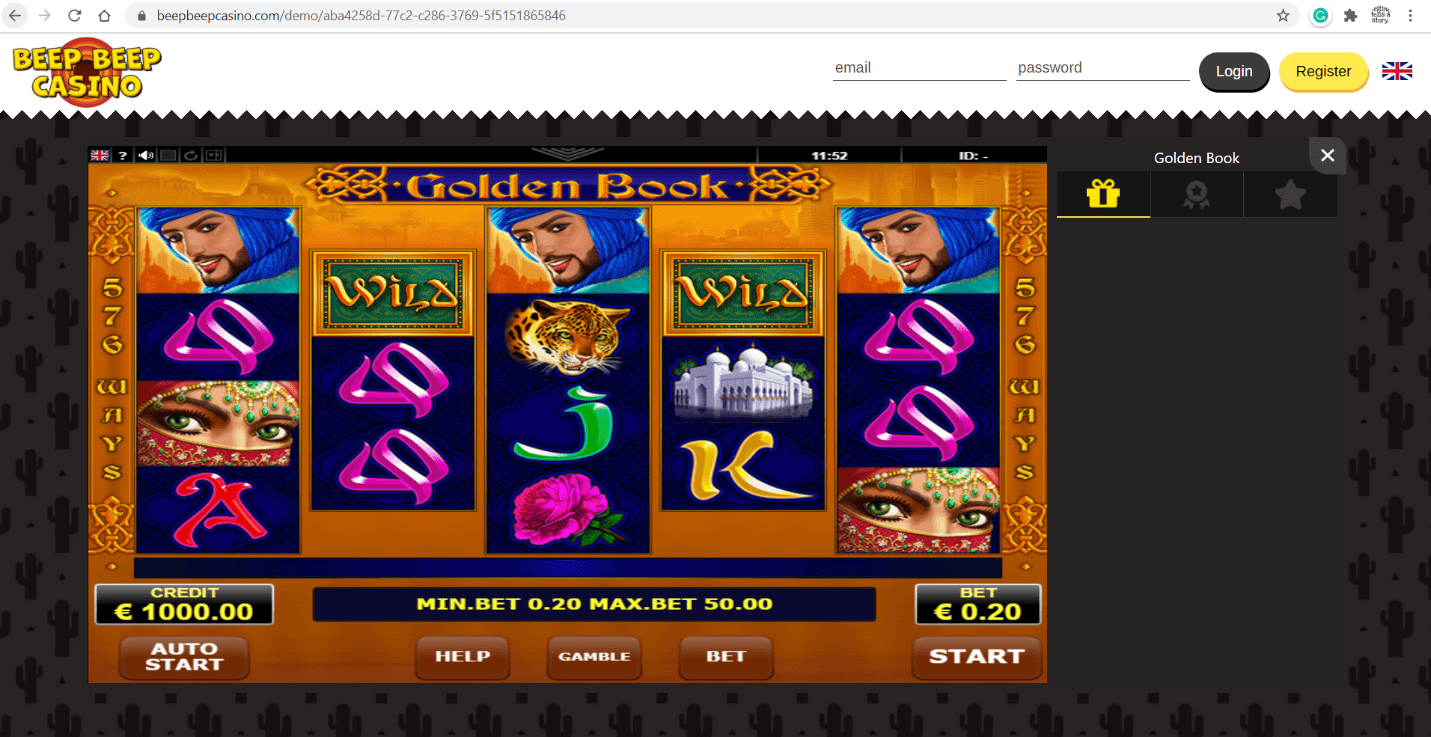 (BeepBeep's Golden Book)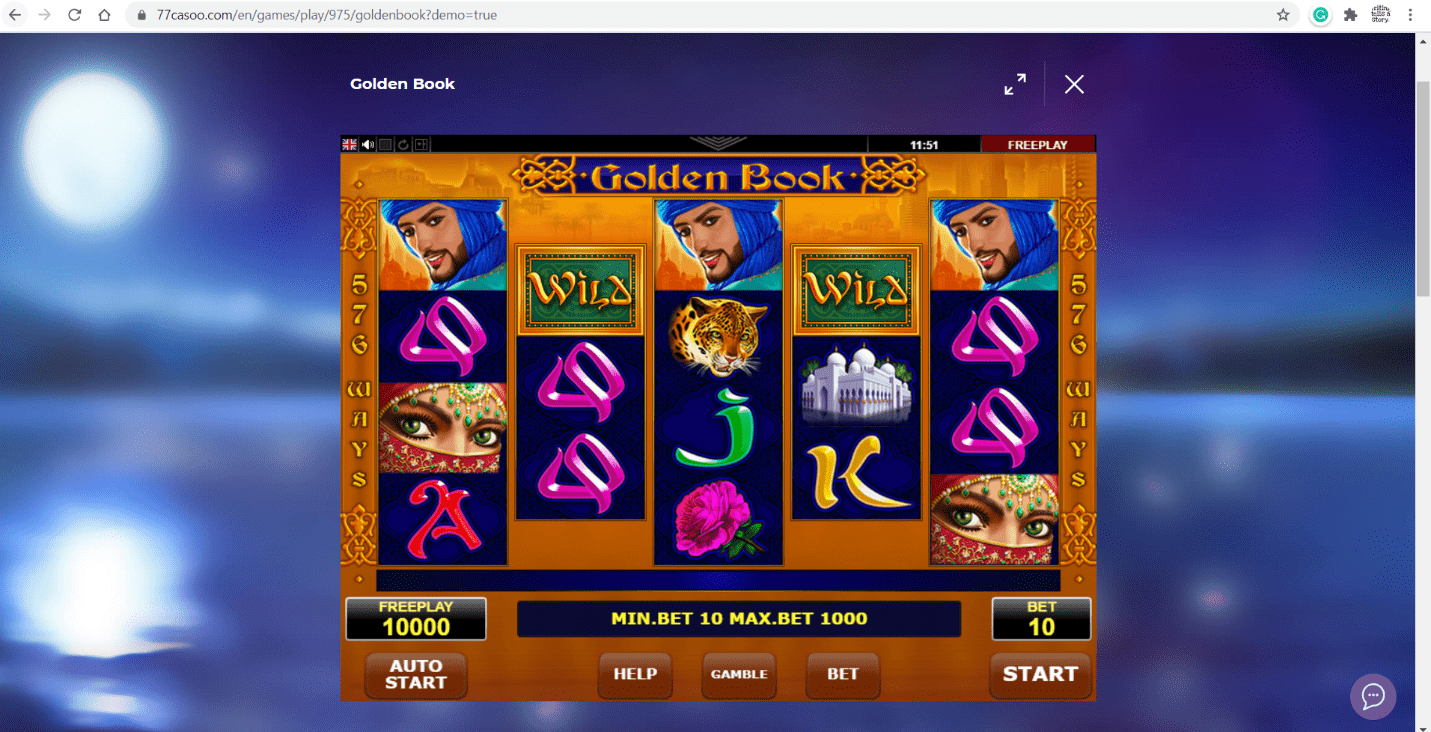 (Casoo's Golden Book)
Then, the next step is to pay attention to all the buttons and commands, in-game menus. The official slots have all of these displayed, and above all, functional. That's not the case with copies.
The same goes for those inner components, namely- servers.
Here's the list of official servers for some of the most popular (and hence most frequently falsified) studios:
NetEnt: http://casinomodule.com
Microgaming: http://quickfire3.gameassists.co.uk / http://qplay3.gameassists.co.uk
Novomatic: greentube.com
NYX gaming: nyxmalta.com
Now, when you compare these screenshots below, you will spot some irregularities.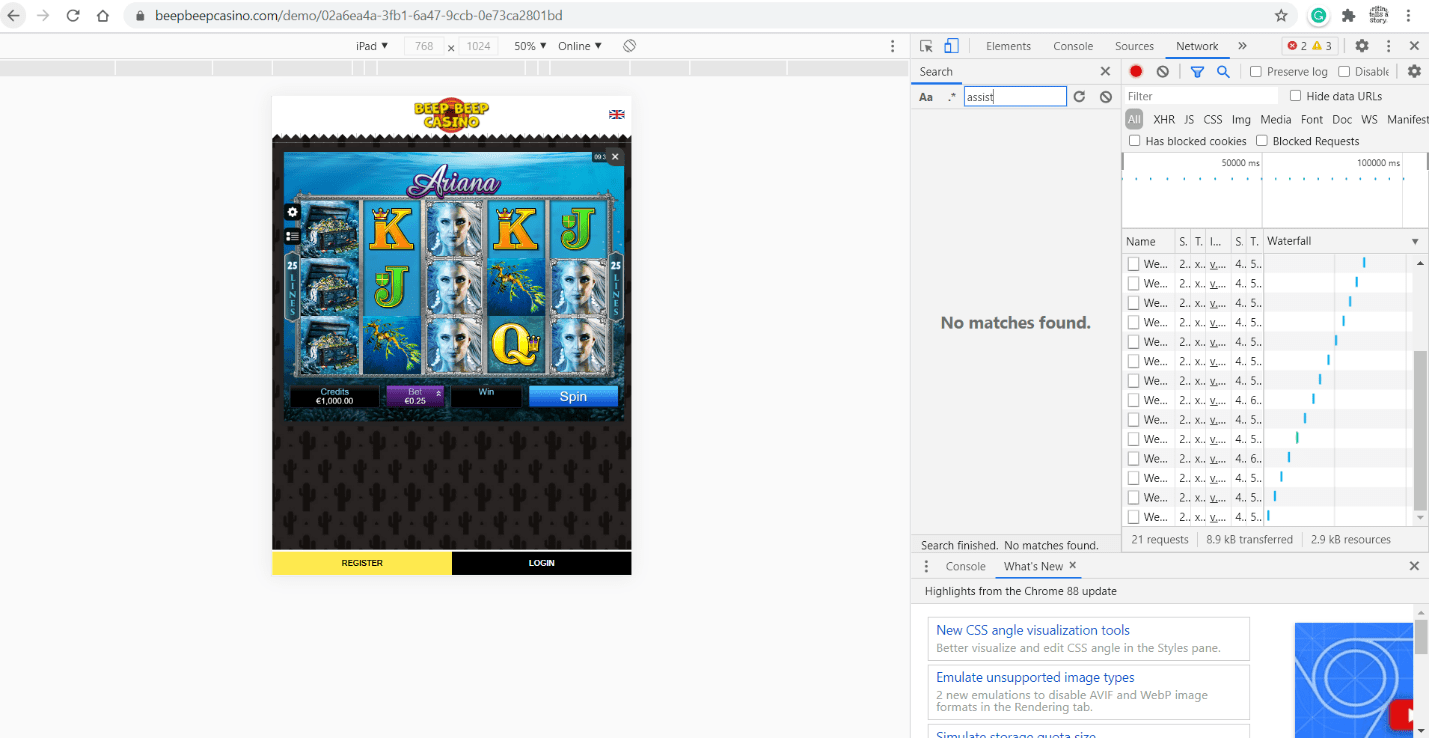 (Beep Beep's Ariana)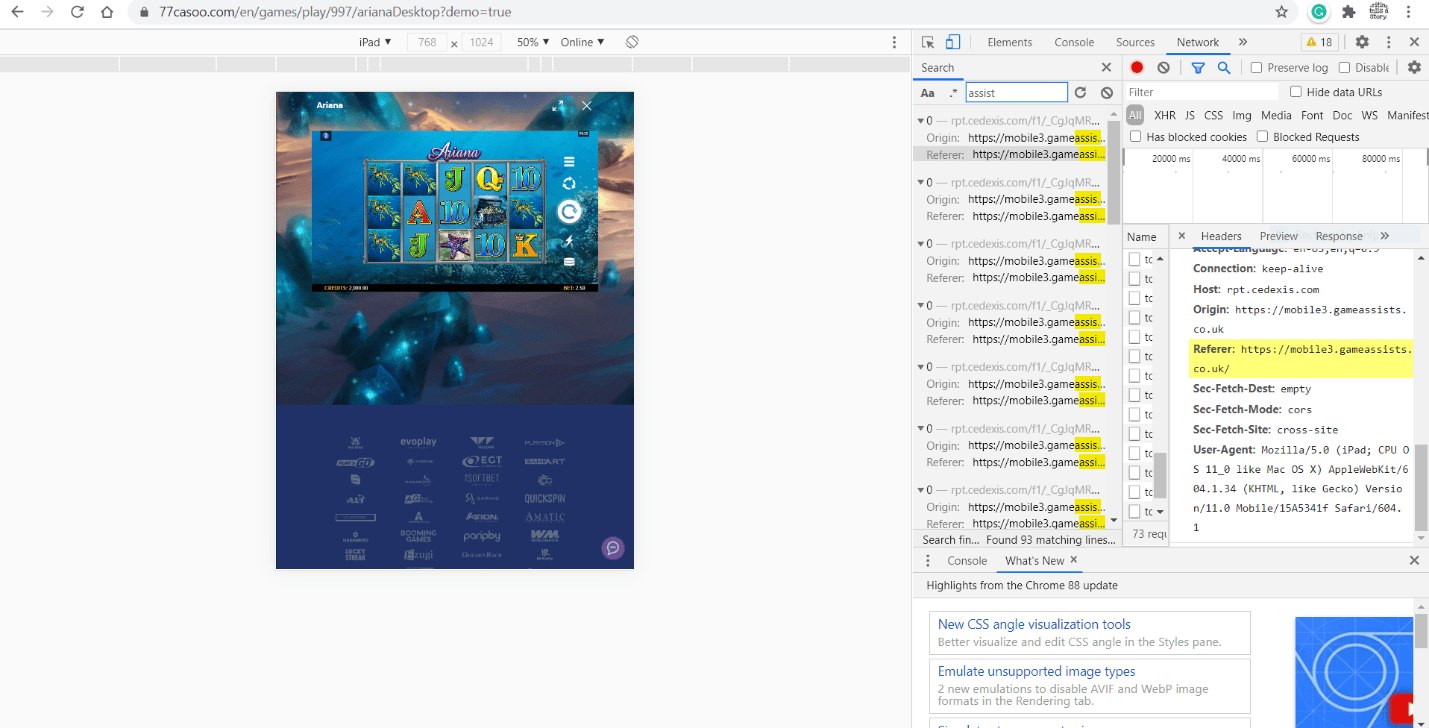 (Casoo's Ariana)
Furthermore, where you live matters a lot. For example, Novomatic products are restricted in Serbia. Yet, here we are, spinning the reels of a couple of their top-performing games without masking our IP address.
Finally, some slots are no longer available. The provider itself decided to discontinue them, and BeepBeep casino has those as well.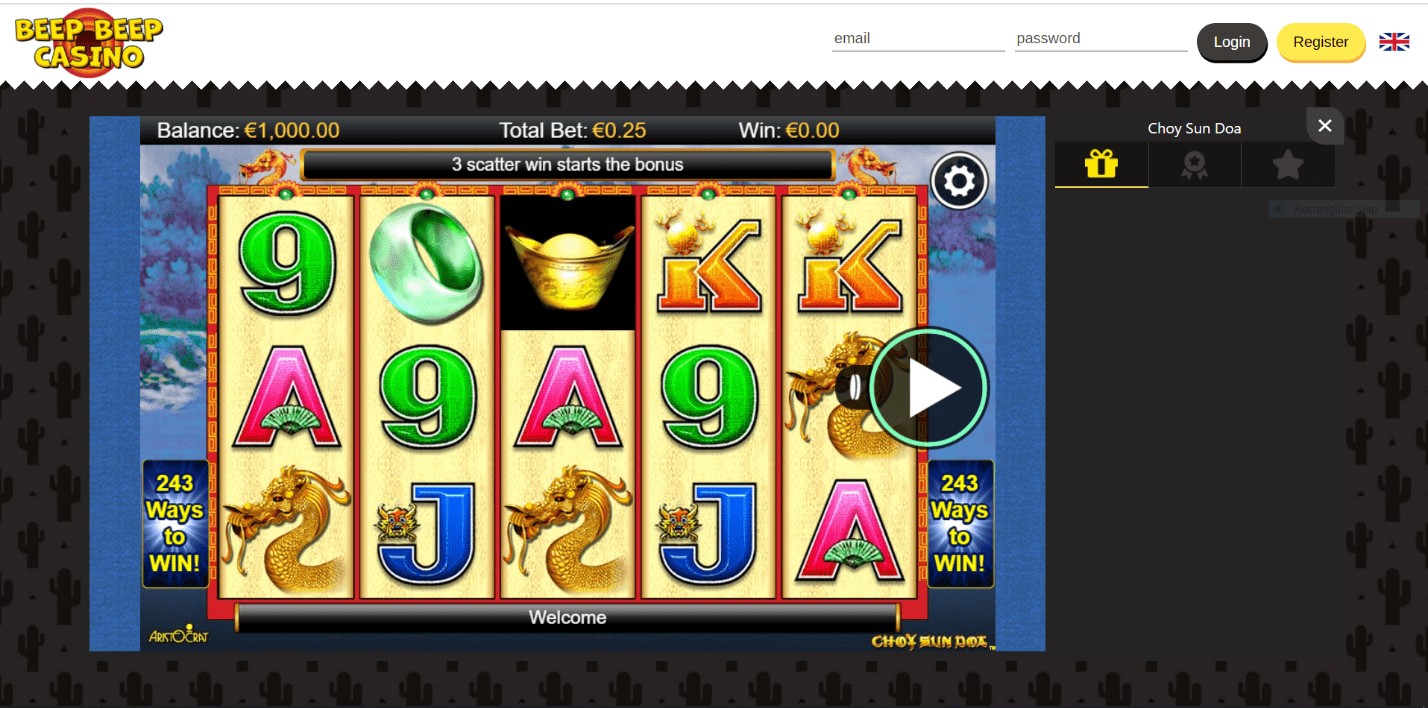 (Beep Beep's fake and discontinued Choy Sun Doa)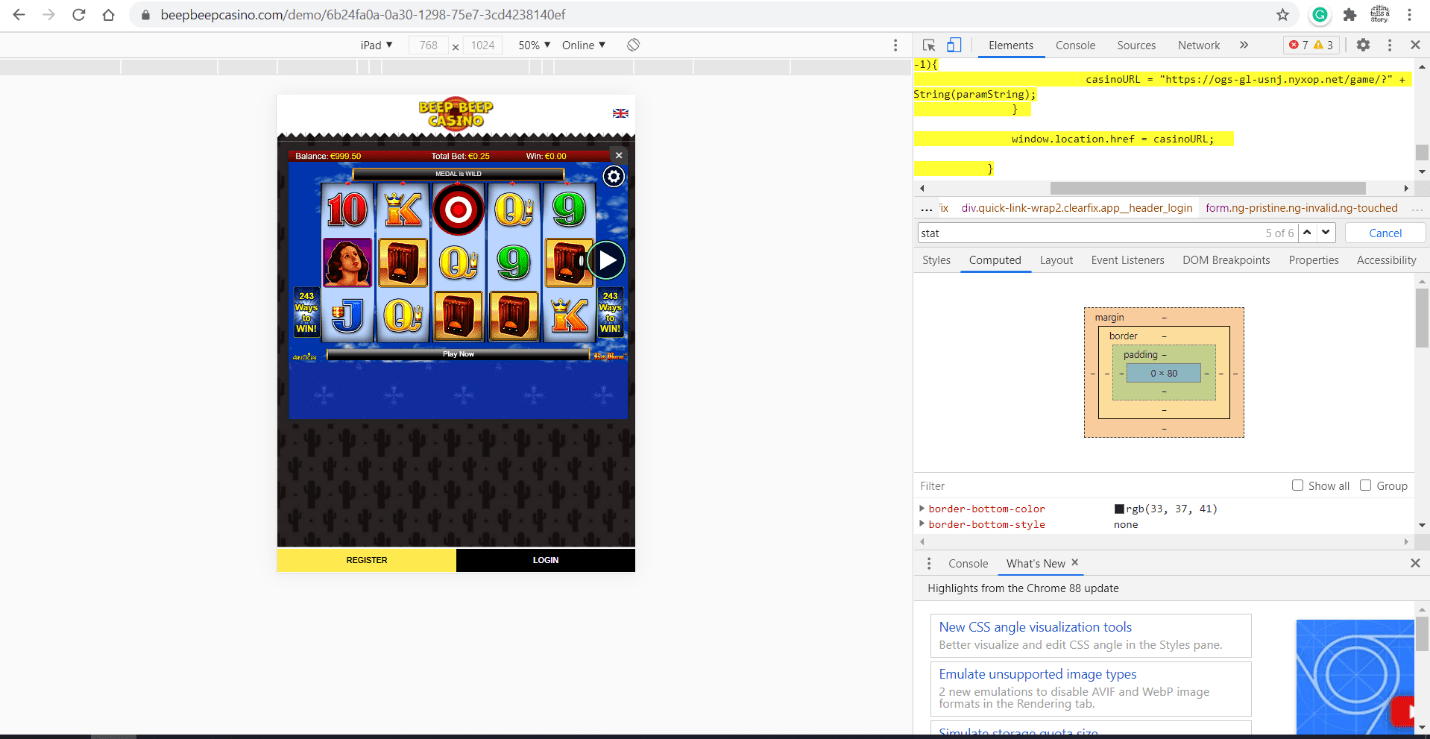 (BeepBeep's fake and discontinued Red Baron)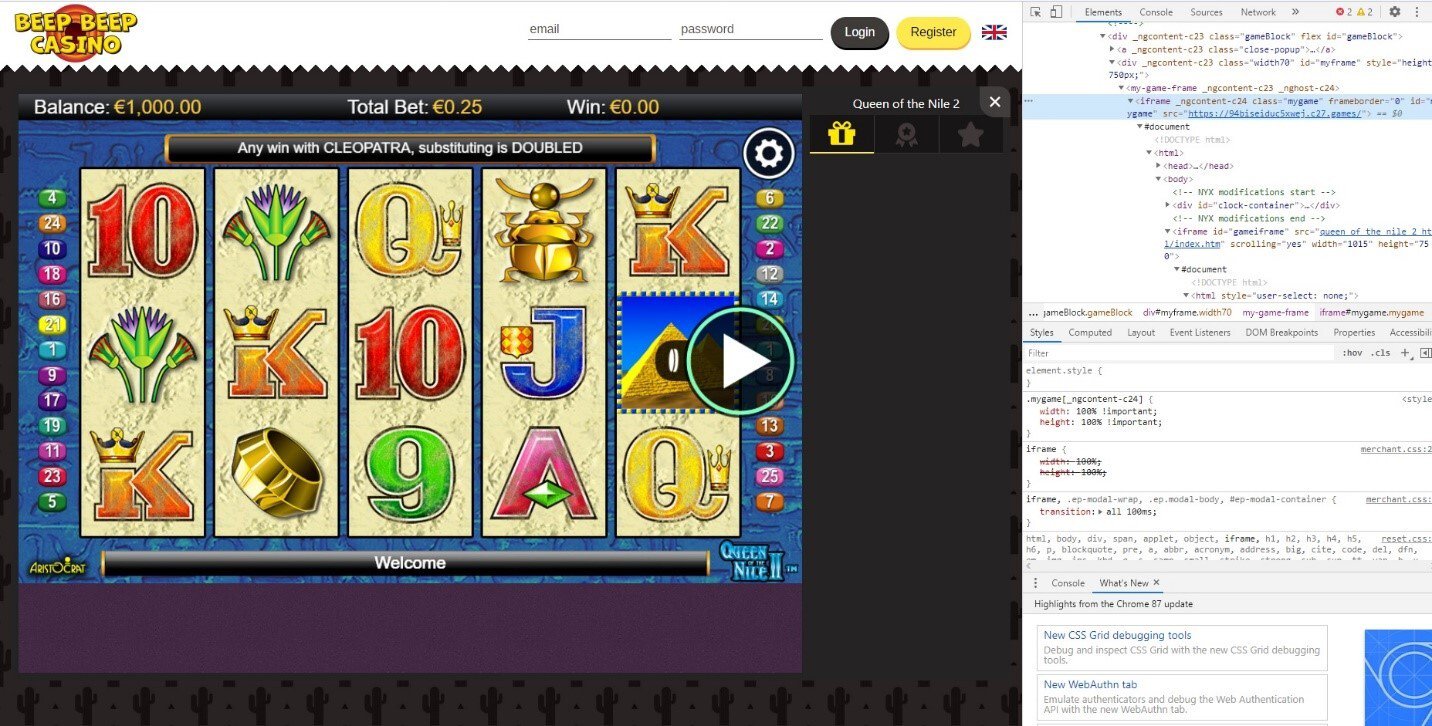 (Beep Beep fake and discontinued Aristocrat game)
What's with Those Curacao Licenses?
Once we've read quite an interesting statement that says that it's not the Curacao licenses themselves that are bad and non-trustworthy ones. It's the operators running the business under this jurisdiction who, for some reason, believe they have the right to trick punters.
Surprisingly or not…
…BeepBeep casino has a license, and you can confirm its status by clicking on the seal in the footer.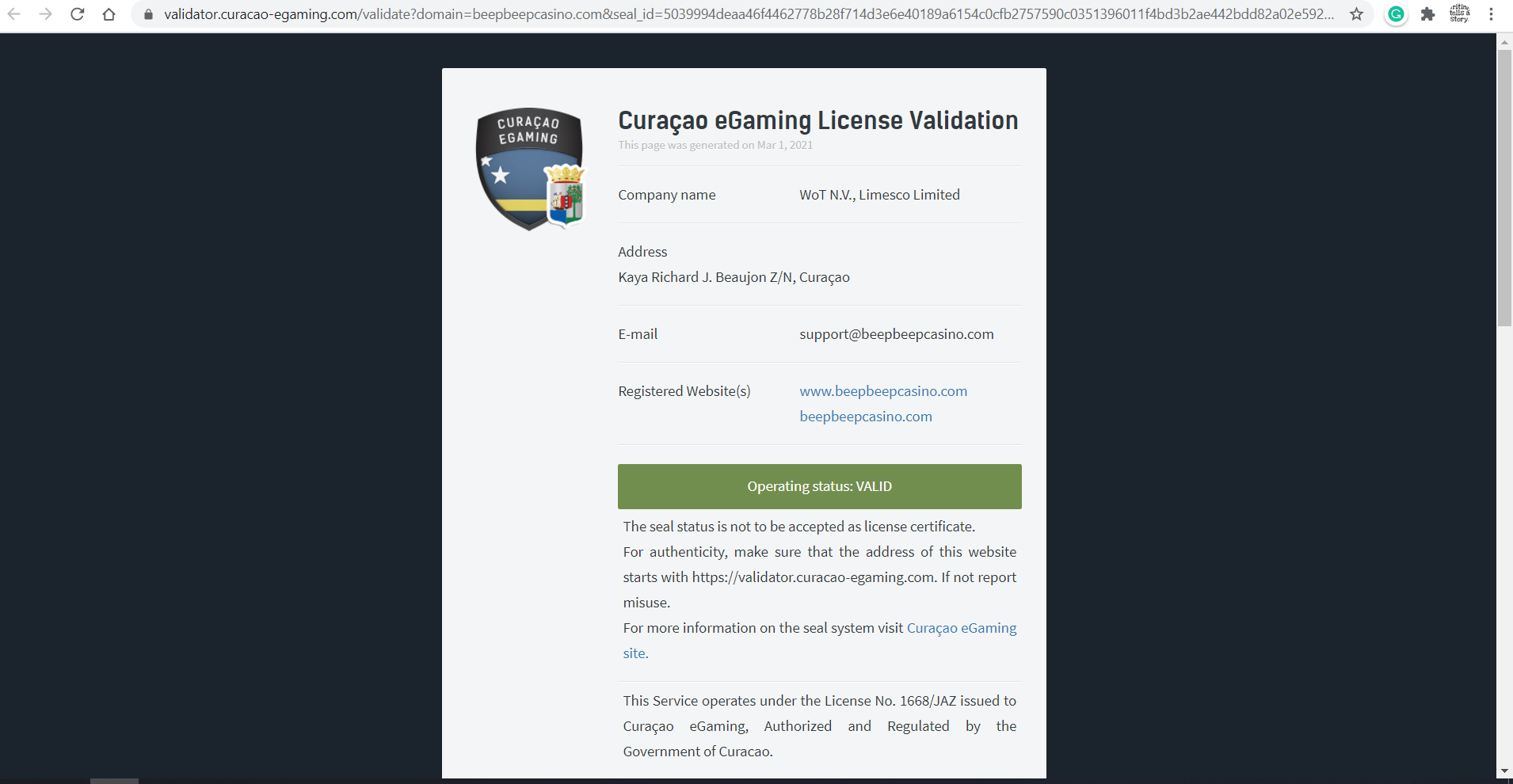 But, if you take a closer look at the company that owns this enterprise, you'll reckon that we've already caught some bad guys doing the same thing. The company in question is WoT N.V., Limesco Limited.
One of them was Casino Mira which closed in December 2018. Our staff discovered they were running under an invalid license. We also busted Pelican Casino and revealed that it served falsified products from no less than 11 software providers.
Should we Team up with Honest Pirates?!?
We know how peculiar this heading sounds to you, but peculiar is the offer we got from this operator. Upon informing them of our discoveries, we got the following response:
"It's true that some of our slots are copies. BUT! We have never hidden this and we are always honest with our players. Let me explain something to you. Our average RTP is 96%. We offer one of the most generous bonus/promo programs. We are ready to help our players and solve any arbitration situations (as we have already done). In our opinion, we are much more honest and open than some "licensed" casinos."
Well, isn't that wonderful?
To date, we have seen everything, operators changing their domains, some of them threatening our team, the others removing those phony games, but NONE of them had an attitude like these guys.
While on the surface…
…this may seem like some positive course of action, indicating that they are going to erase those falsified releases and incorporate genuine ones, no. Things went in quite an unexpected direction:
"As an experiment, we would like to cooperate with LCB. You can write that we are using copies of licensed games, warn players, it would be honest. At the same time, we are always ready to answer on the forum and help the players. If something goes wrong, you can always delete us. We are ready to offer you a good RS deal and full support for your players. Let's try this experiment, what do you think?"
Such an outrageous offer!
Would LCB risk its reputation among its partners and members by performing an experiment like this? Of course, it wouldn't. With so many transparent partners whose intentions are good, who have no interest in fooling players- why would anyone want to take a risk and cooperate with scammers?
Closing Thoughts
As you probably know, this is not the first and sadly, probably not the last one caught offering non-genuine products. Taking a look at our rogue reports section, you will be surprised with the number of operators we've caught and exposed so far.
To level things up and bring even more value to players…
… we recently started a new project From the Players for the Players. Our mission is to introduce you to all sorts of venues, both trustworthy and better-be-avoided ones. Which only confirms that we would NEVER EVER risk our standing by accepting any scandalous offers such as the one from this online supplier.
Regarding this specific brand, all we can say is: Beep Beep, steer clear from BeepBeep casino and its counterfeit slot games!
Do you think any affiliate should try luck experimenting with honest pirates such are these guys? What's your opinion on this? Share your thoughts with us in the comments section below.
Gamble responsibly and beware of the scammers!
"why would anyone want to take a risk and cooperate with scammers?"
Casino Warnings & Rogue Reports
Back to articles