Back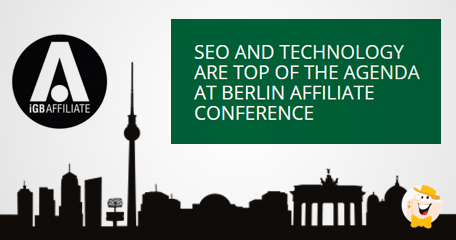 The full conference schedule for November's Berlin Affiliate Conference has been announced by renowned information provider for the igaming affiliate market, iGB Affiliate. It is scheduled to take place at the Messe Berlin November 1st through the 4th. Delegates attending the event can look forward to delving into conversations regarding SEO and technology, including subtopics like webmaster tools, Facebook ads, social media, influencer marketing and content marketing.
This year's conference plans to place a heavier focus on SEO than it has in the past, particularly in reference to how SEO and social aspects are related to one another. It will also touch on which web tools are most appropriate for linking.
When all is said and done, the hope is that those attending will walk away being able to implement ideas discussed immediately, as well as have the necessary information to formulate a long-term plan. With several sessions to sit in on, delegates are not limited when it comes to the level of knowledge they can learn.
Several workshops have been confirmed, and include the following: '10 Killer SEM Trick and Tips', 'Social & SEO: Chalk and Cheese', 'SEOcial Paradise', 'Doing More With Less: SEO That Works' and a 'Crash Course in Technical SEO'.
Shona ODonnell, Event Director for iGaming Business, commented, "There has been a number of exciting technology updates within the digital marketing world and the gambling industry over the last 18 months, notably the update from the Play Store and gambling apps."
ODonnell added, "It's an exciting time to be an affiliate, with lots of new opportunities emerging, but it is far from easy with fierce competition. In Berlin, we have made sure the agenda is packed with lots of handy tricks and tips that you can use to help you stay one step ahead."
Source:
"SEO And Technology are Top of the Agenda at Berlin Affiliate Conference",igbaffiliate.com, September 14, 2017.
"This year's conference plans to place a heavier focus on SEO"
General Gambling News
Back to articles