Back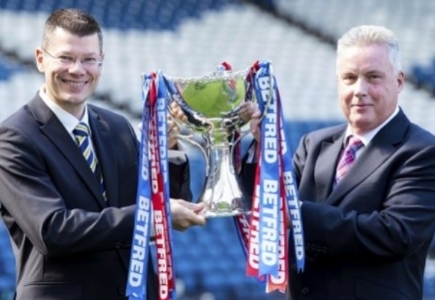 The Scottish League Cup will soon be renamed, 'The Betfred Cup' as of the 2016/17 season, following a three-year, £1 million deal agreed upon by UK-based bookmaker, Betfred.
Ross County scored the winning title for the first time in this year's Scottish League Cup event, and the 2016/17 season is expected to return to a group-stage format in the first round. The news of this latest agreement comes after Betfred's announcement that its title sponsorship of Snooker's World Championship will be extended for an additional two years.
CEO of Scottish Professional Football League (SPFL), Neil Doncaster, commented, "On behalf of the SPFL I'd like to offer a very warm welcome to everyone at Betfred as new title sponsors of the Betfred Cup and the latest major brand to support Scottish football. We're absolutely thrilled to have them on board for what is another significant vote of confidence – and investment – in the game."
Doncaster added, "By building on our strong points and proud heritage as well as daring to be a little bit different we have shown Scottish football's enduring popularity and growing reputation for innovation. We know Betfred share in our ambitious vision and we are really looking forward to working with them to bring this proud and popular competition to life for the benefit of Scottish football supporters across the country."
Betfred CEO, John Haddock also contributed to the topic, stating, "We are very pleased to become sponsors of the Scottish League Cup at the inception of its new and exciting format. The SPFL have shown us great enthusiasm and we look forward to a continued and successful relationship."
Those interested in following the event can look forward to up to 13 matches being aired on BT Sport live.
Sportsbook Sponsorship
Back to articles