Back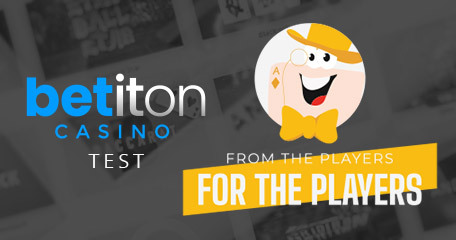 Was This Investigation All About Delays, Issues & Errors?
As a part of the "From the Players, for the Players" project, LCB testers from all over the globe have participated in 100+ investigations, sharing tons of precious insights on versatile online casinos. United States, Finland, United Kingdom, Germany, and Canada are just some of the large markets we've explored, continuously conquering new regions.
This time, our tester from Canada was tasked to examine the quality of services offered by Betiton casino, in particular deposit, ID verification, and withdrawal procedures. In his previous tests, he used different payment options to fund the account, including Interac, to check which of them is the most efficient one. For this test, the preferred method was a Visa credit card.
Take a look at the milestone moments:
Tester of the day: Coolife
Registration date: May 9, 2022
Deposit made on May 9, 2022, CAD 249 via VISA Credit Card
KYC documents submitted on May 9, 2022; approved three days later
Withdrawal requested on May 10, 2022, CAD 64 via VISA credit card
Withdrawal received on May 17, 2022, CAD 64 via bank transfer
As seen from the brief retrospective, the tester didn't receive the money via the same method he requested. Also, it took the casino a while to process the transaction, even though KYC was completed.
What went wrong during the investigation? Buckle up for the full Betiton casino test report and take a closer look at each stage of the procedure!
Betiton Casino Overview
Betiton Casino is a multi-licensed operator powered by software belonging to Aspire Global International LTD. This non-US-friendly online casino is equipped with a wide range of tools for responsible gambling, prioritizing customer safety and protection.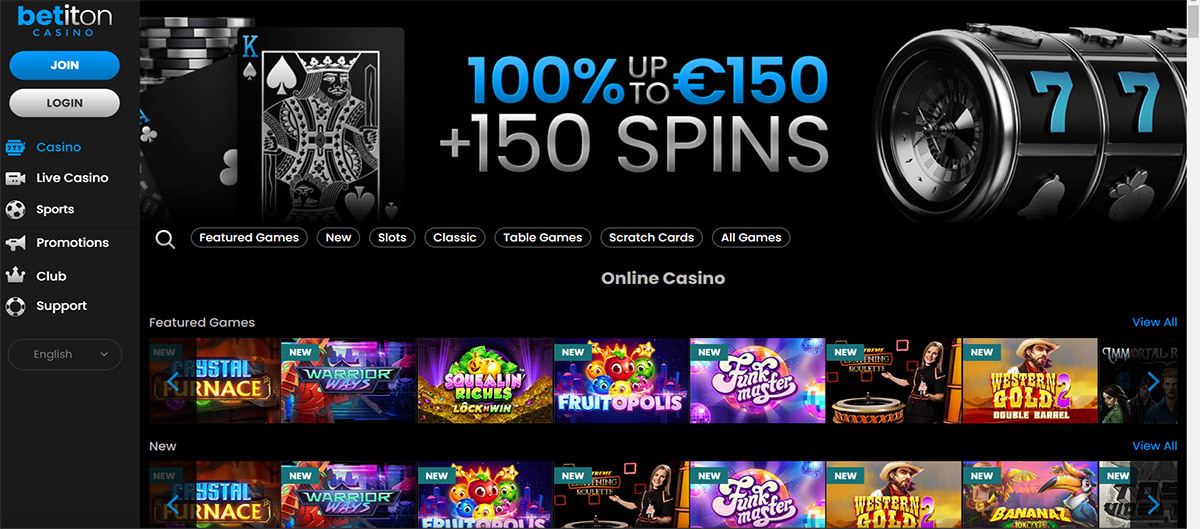 When it comes to games, players can explore a whole spectrum of genres, such as slot titles, table and live games, and sports. There's a fine selection of promotions and bonuses, as well as a 7-tier Loyalty club with privileges.
Registration
Our tester's journey began on May 9, 2022, when he accessed Betiton Casino's official website and joined it. To become a member, all he had to do was complete a simple form.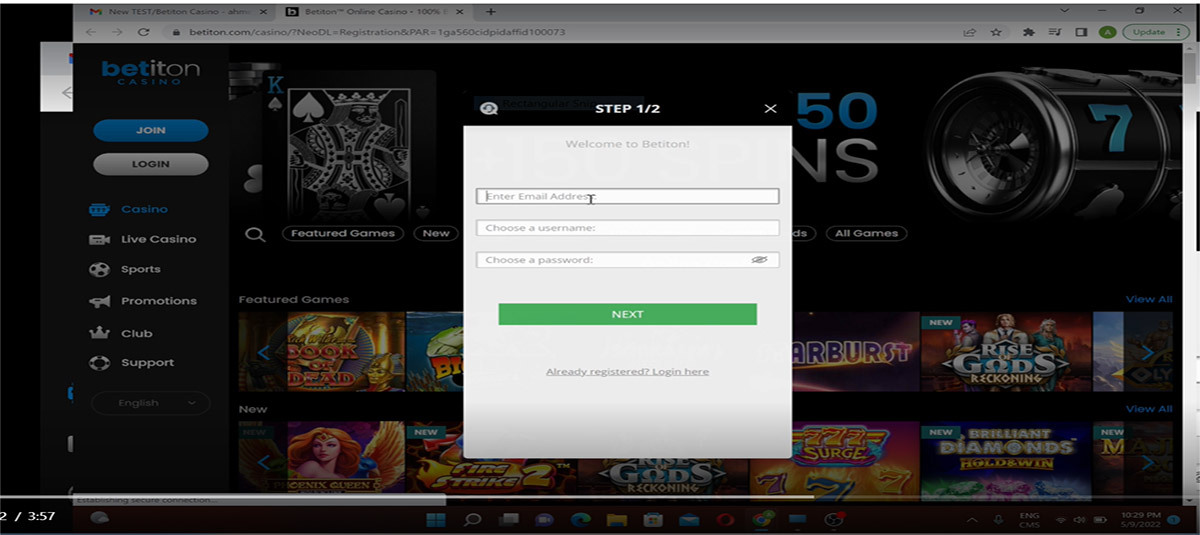 During the second stage, he entered a couple of basic information. Worth noting is that the "Yes, send me special bonus offers!" box is ticked by default. So our tester had to uncheck it before proceeding, but he accepted the terms. His e-mail address was verified on the same day. This is usually done immediately upon receiving a welcome mail from the casino, yet our tester seems to have accidentally forgotten to finalize this step. That's why he did it after making a deposit, before he started to play games.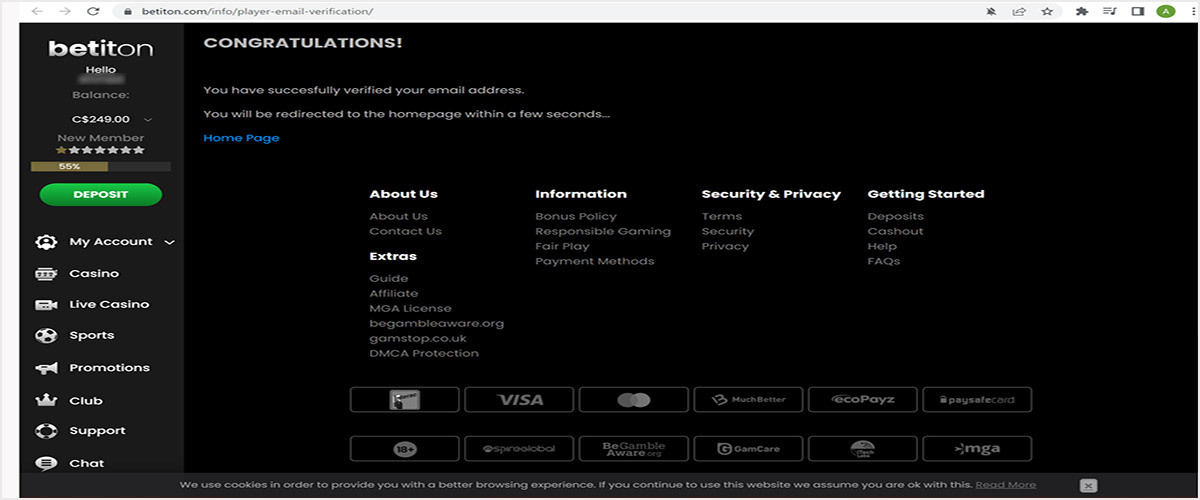 As soon as he pressed the "Open Account" button, he was welcomed to the community. A notification appeared, offering him the option to set deposit limits, if interested.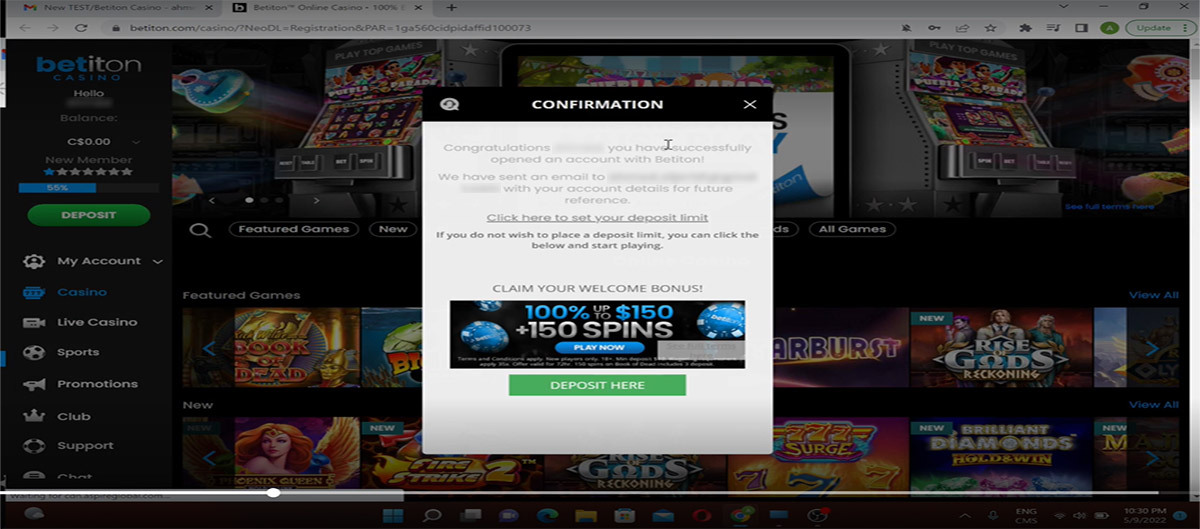 The tester also checked his e-mail and spotted a welcome message sent by the casino.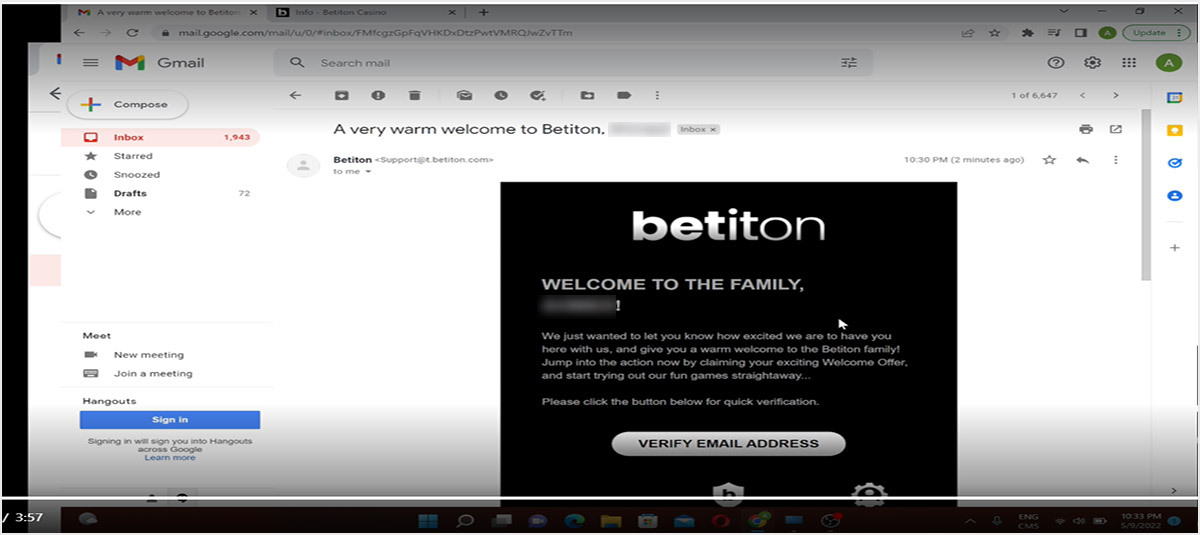 Regarding the availability of titles in demo mode to non-depositing clients, players should be aware of the following rule:
"All Practice accounts have a limit of 250 games to play with. Should you choose to open up a Real Money account, your first deposit of a minimum of €10, and each deposit thereafter will add another 250 games to your practice account. You may switch back to Practice Mode at any time and play any remaining games you have available."
KYC Procedure and Chat Support
Having completed the sign-up procedure, the tester decided to upload documents for ID verification before making any transactions.
The option was available under "Account details", neatly organized in four sections, allowing players to submit docs for ID verification, address, payment method as well as the option to upload other documents. Our tester provided the back and front of his ID card.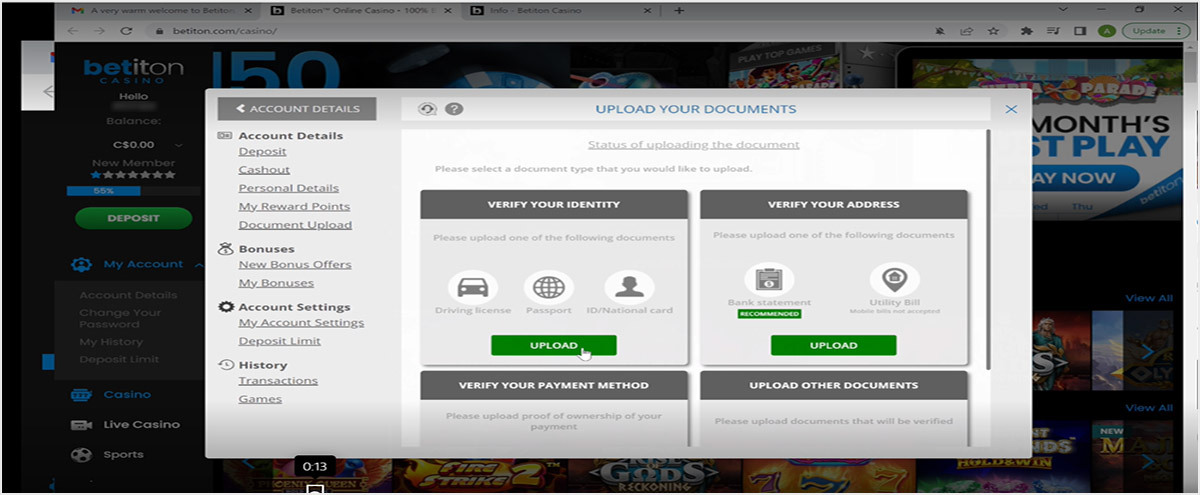 It took the operator three days to verify the docs.
Being precautious, he wanted to ensure he hasn't registered with this operator before, so he reached out to customer support. The agent asked him to provide his full name, DOB, full postal address, and e-mail address, and our tester followed the instructions.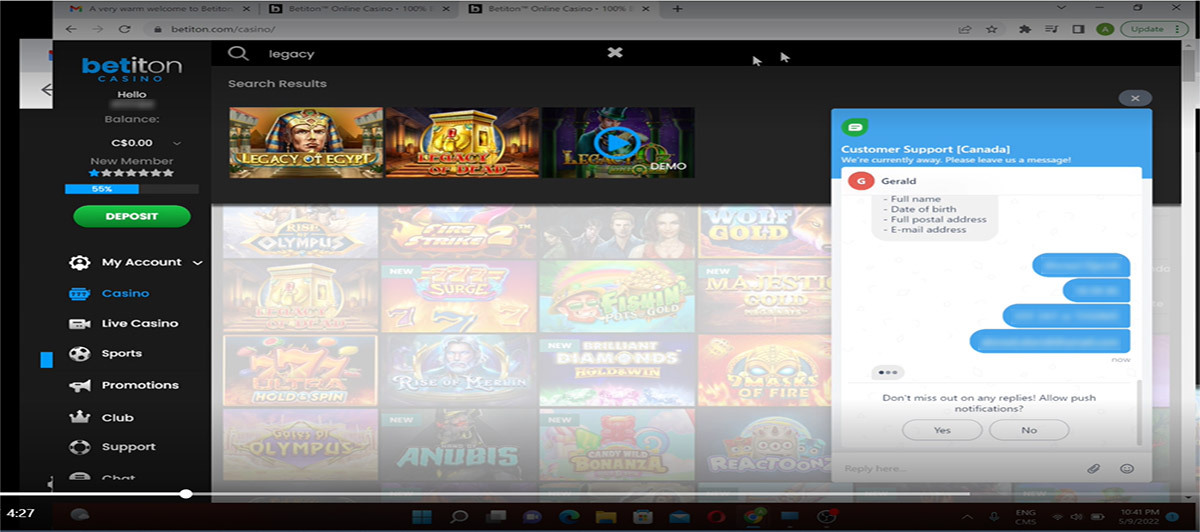 After less than a minute, the agent confirmed that our tester didn't have any accounts. The tester also inquired about the minimum amount to withdraw and the processing time for ID verification and withdrawal. According to the agent, the minimum amount is CAD 10. ID validation requires 2 working days (our tester had them verified three days after providing the docs), while withdrawals can take up to 5 business days.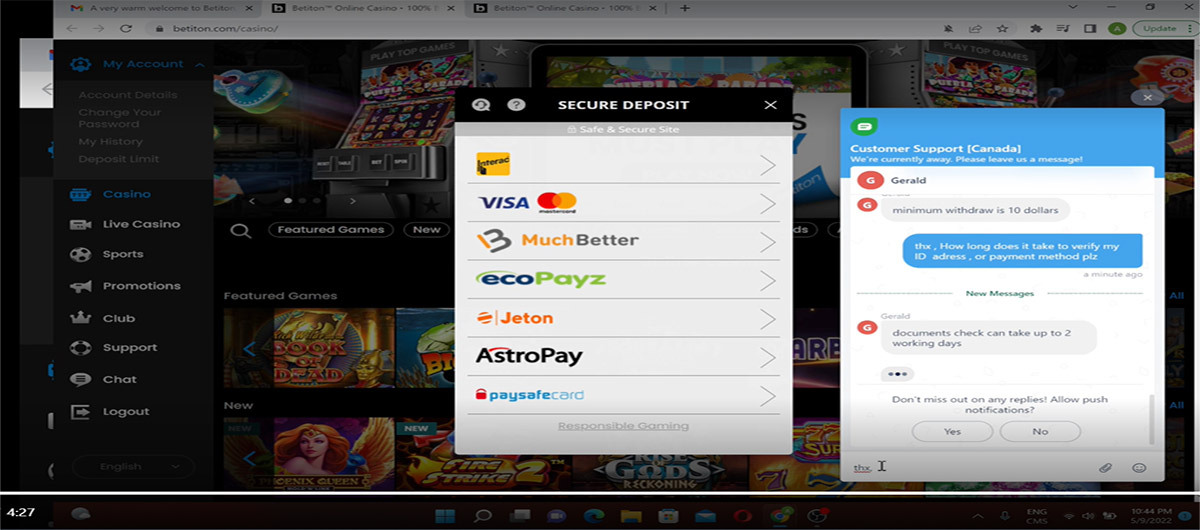 Later on, after making a deposit, the tester discovered that a bonus was added to his balance, even though there was no option to either tick or untick any box while funding the account. He contacted the support department to have it removed.
While waiting for the agent to respond, he opened a couple of games (to be precise, he just tried to launch them but did not play them), and noticed that some of them were not working. The bonus was removed a couple of minutes later, but there were still issues with some of the releases.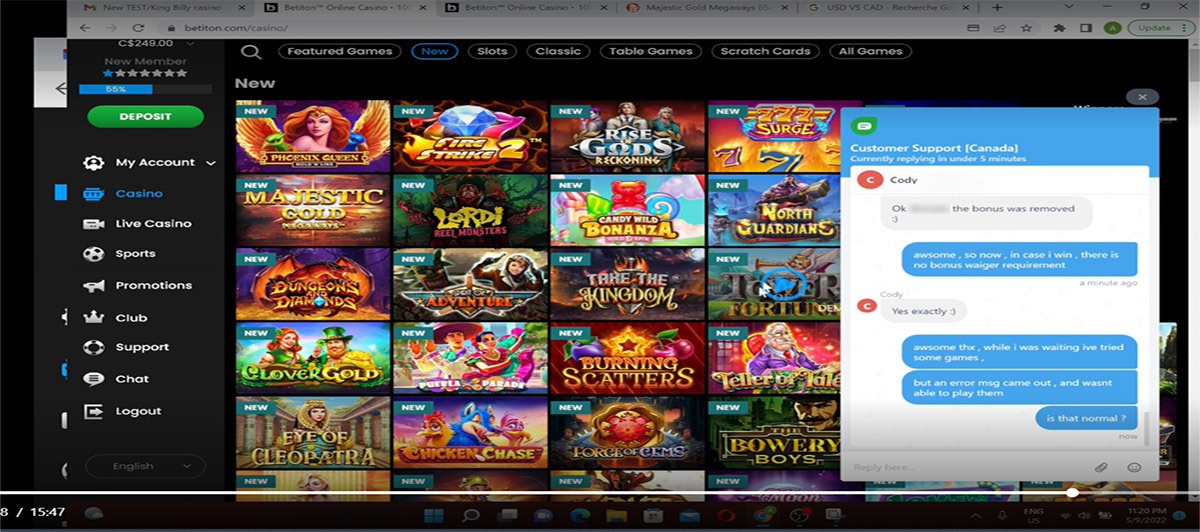 Our tester was offered multiple solutions to resolve the issue, but unfortunately, none of them turned out successful in that particular situation.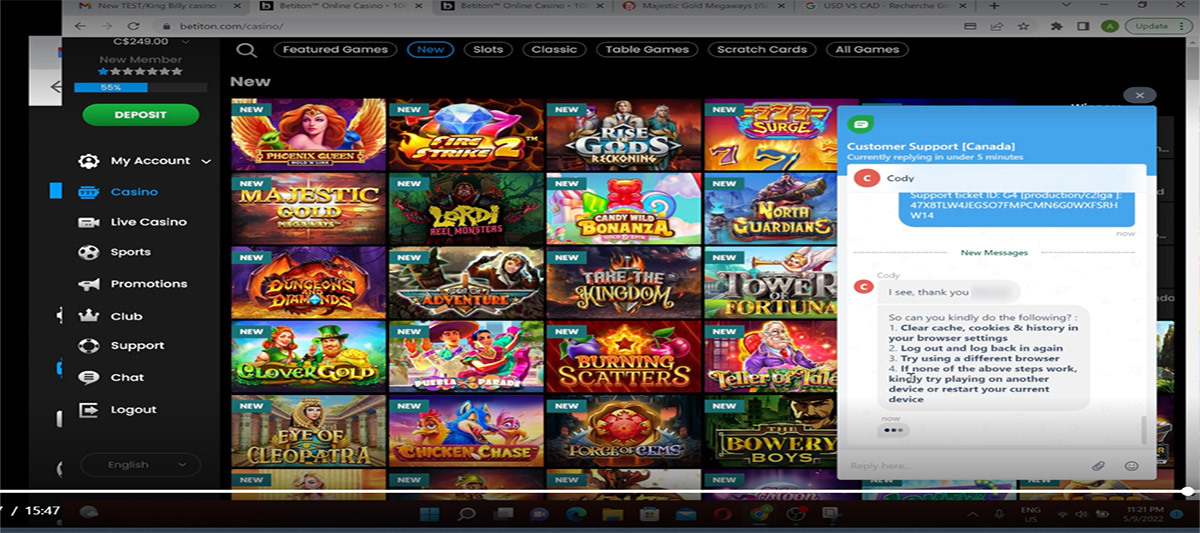 Deposit
As soon as he supplied the documents, the tester entered the next stage of the testing procedure- making a deposit. He selected VISA credit card and typed in CAD 249. Altogether with a fee of 2.5%, he was charged CAD 255.23.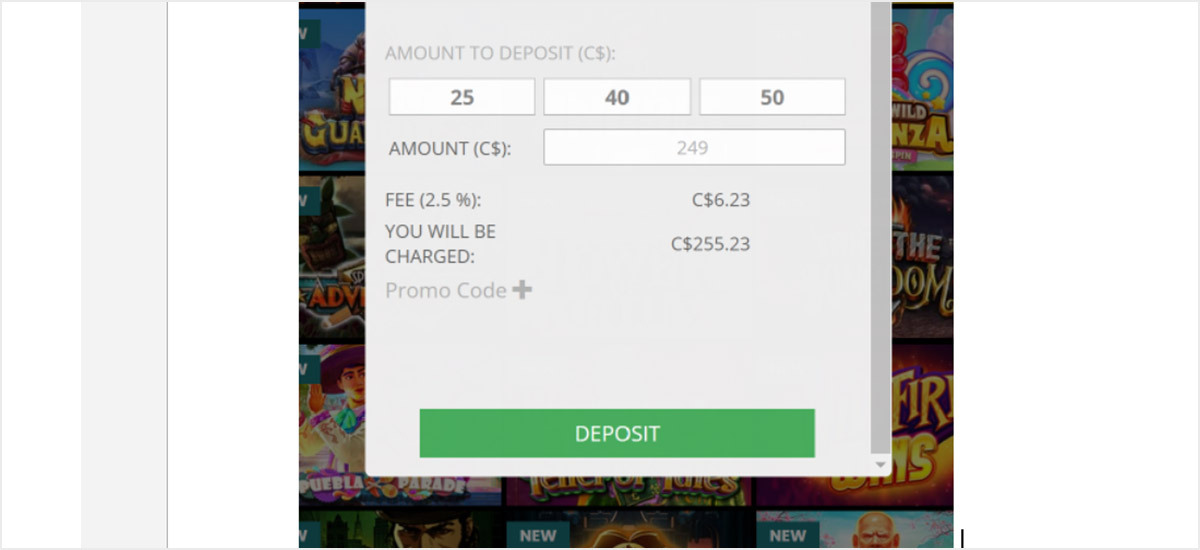 However, as soon as he tried to launch the first game, he noticed that his balance was displaying CAD 399, which indicated that a bonus was added alongside the amount of deposit.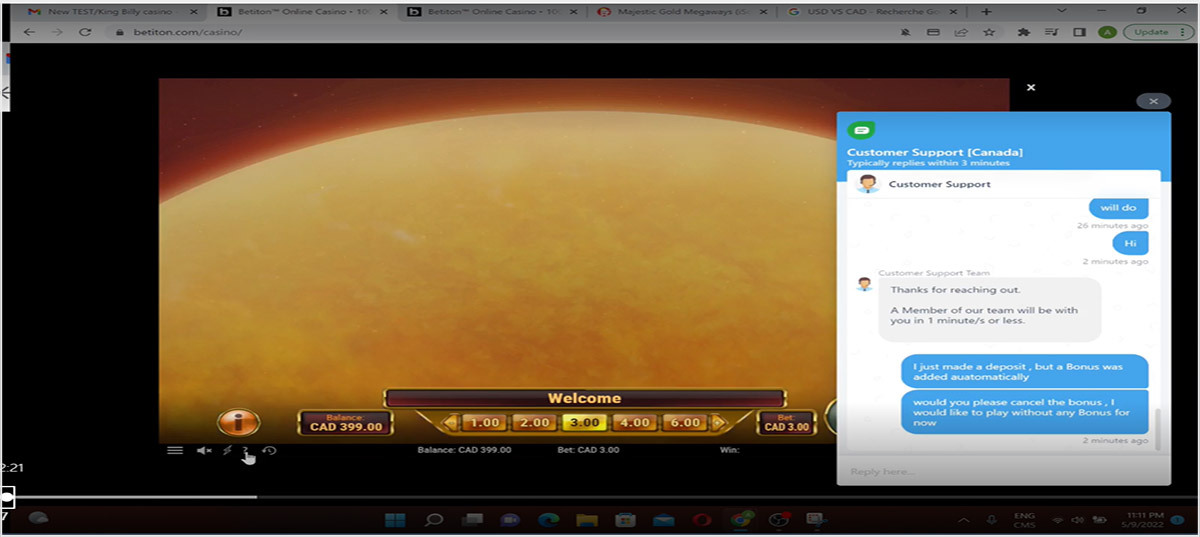 According to the Terms, the introductory bonus on the first deposit is automatic. After asking live chat support for help, he had it removed, so he could continue with his investigation.
The minimum amount to deposit is EUR 10, that is, the equivalent amount in other currencies. Funds are in most cases credited instantly, but deposits via wire transfer may take even up to 5 working days to be processed.
Gameplay
Once the unwanted bonus was removed from the account, the tester went on to play some games. Strangely, each time he tried to log in, he was notified that his e-mail needs to be verified, although he already validated it after registration. So, he clicked the option to resend mail, and made sure the verification process was fully finalized this time.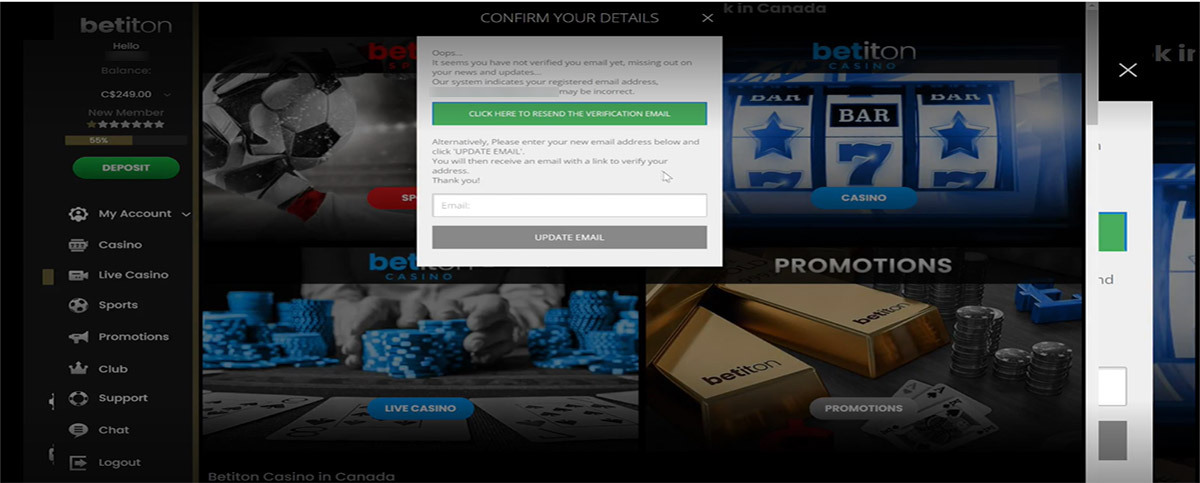 As mentioned earlier, he tried to launch some games, but not all of them worked. Tower of Fortuna and Take the Kingdom displayed an error. Even though he tried all the solutions offered by the live support agent, he couldn't launch the game.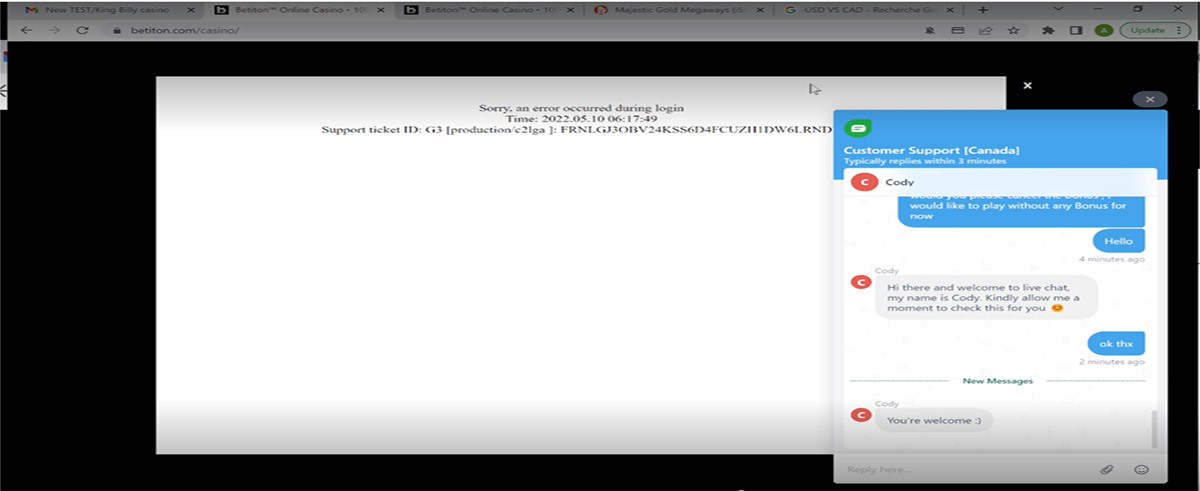 A day later, on May 10, 2022, the tester played a couple of games, among which Legacy of Dead, Majestic Gold Megaways, and Fire Joker.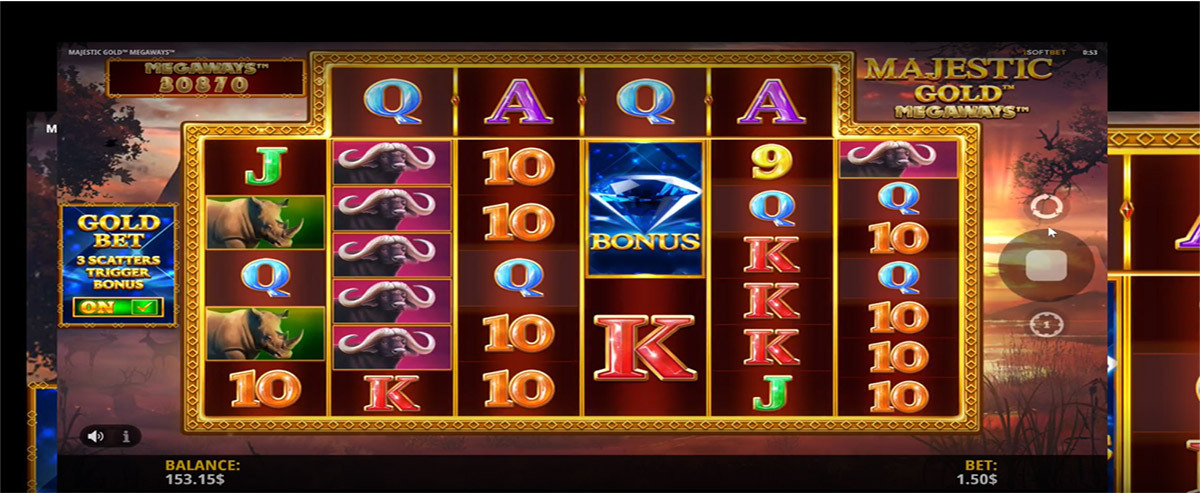 Though the errors weren't fixed using any of the suggestions, the tester did receive an e-mail from the operator, asking him if he still has the same issues with the abovementioned releases.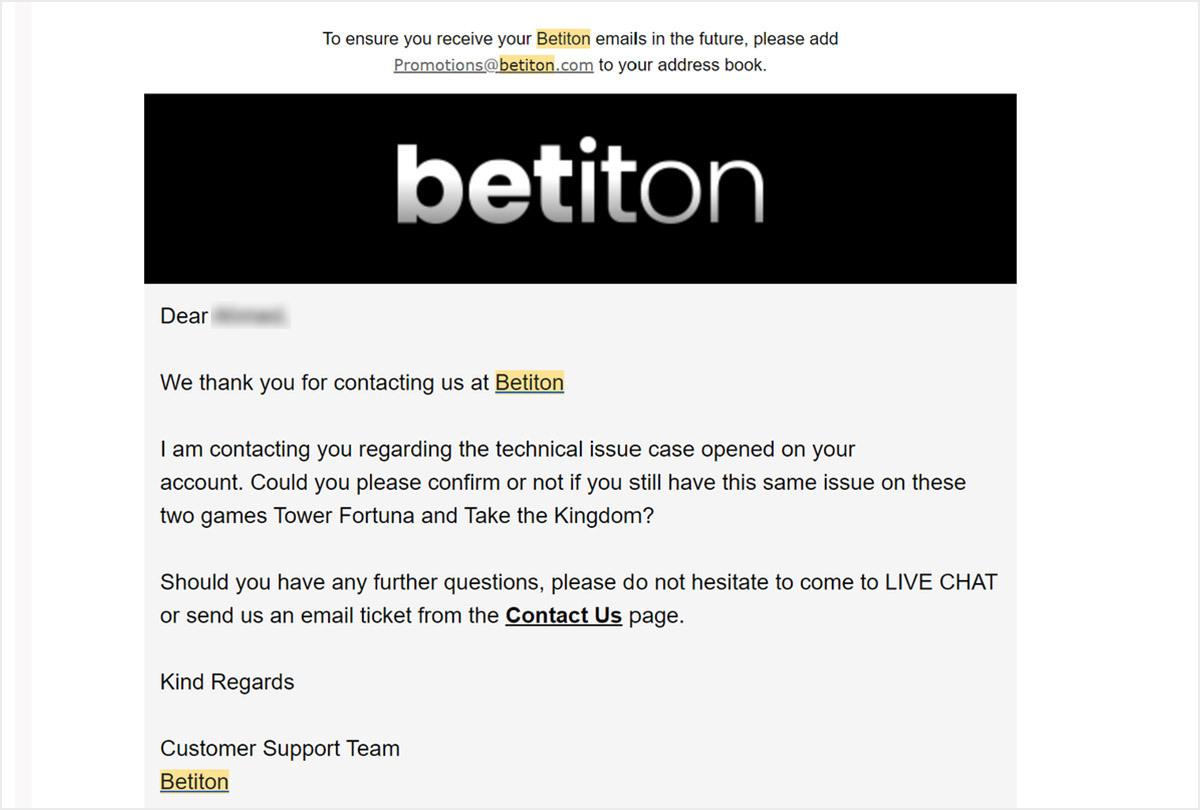 Withdrawal
On May 10, 2022, the tester made a request to withdraw CAD 64. The option was accommodated under "Account details", so he selected the same method as he used to replenish the account.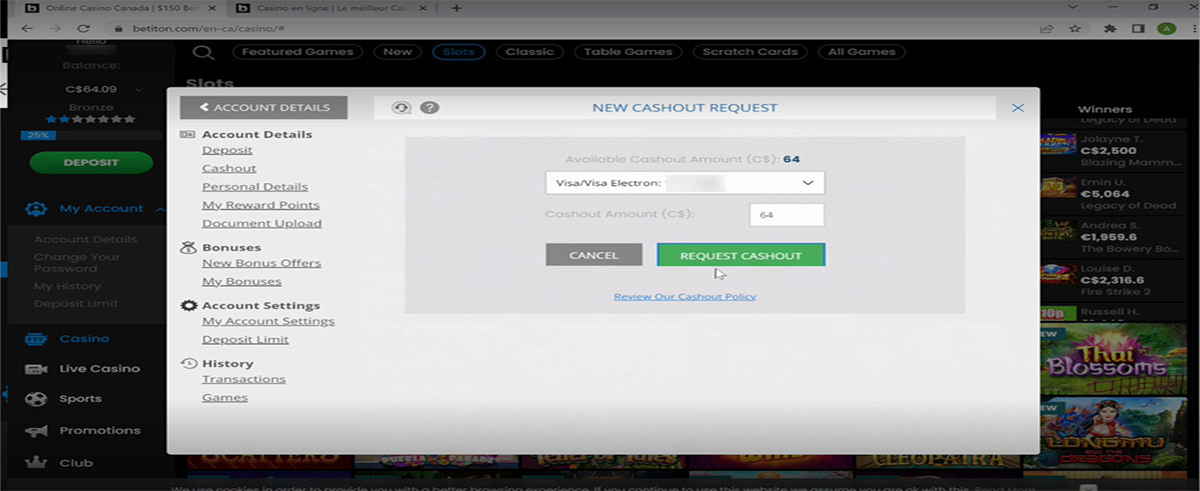 A couple of days later, on May 13, 2022, he checked and saw that both his documents and request weren't processed, so once again he turned to the support department to see what was going on.
As far as the agent noted, some issues emerged, which prevented the card transaction from being processed. He offered a wire transfer as an alternative. So, the tester had to cancel his previous request and make a new one but via a different method- bank transfer.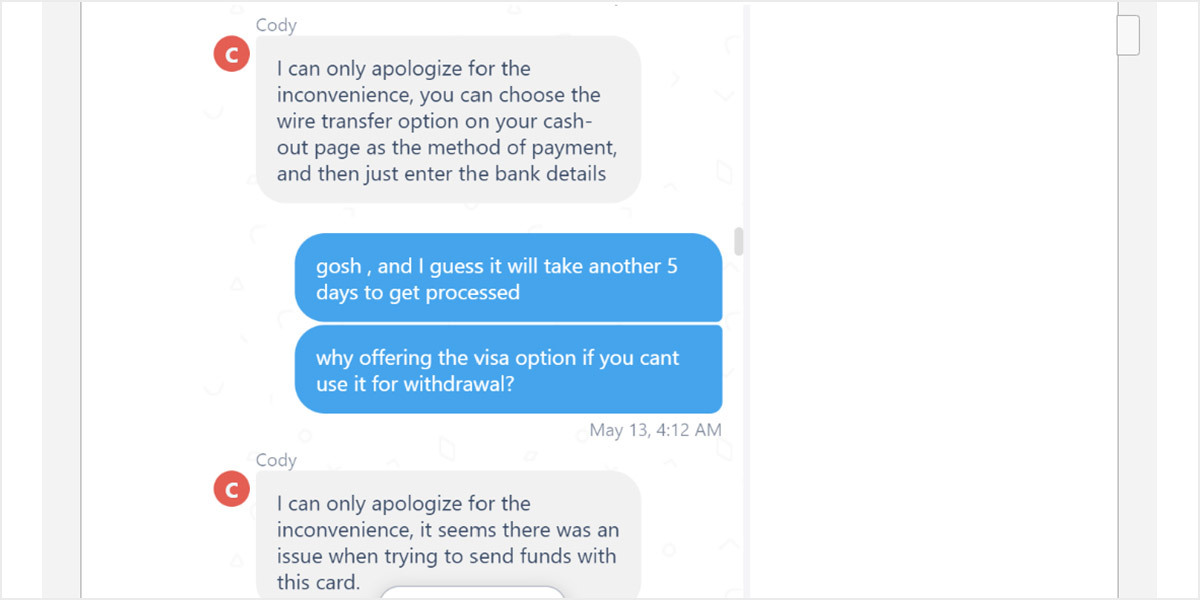 On May 17, 2022, the tester received CAD 64 via bank transfer.
The minimum amount to withdraw is also EUR 10 or equivalent in other currencies. Processing time depends on the selected method, varying from instant to up to 6 working days.
"Cash out requests are processed within 48 hours from the date of request. During this time you may cancel your Cash out request from within the 'Awaiting Process' box in the Cashier and return it to your balance."
"After 48 hours from the date of request, the status of your Cash out request will change to 'Processing' and you will no longer be able to cancel it. You will be notified by email when your Cash out request is delivered and the money is sent to you according to the method you chose."
Conclusion
Altogether, the tester's experience with Betiton casino wasn't the most pleasant one. Even though one of the issues (automatic bonus) was resolved quickly, the rest of his journey was filled with unpleasant surprises.
Verification of documents took longer than indicated, some of the games displayed errors, and withdrawal was processed via a different method than the one tester initially requested.
Though some efforts were put to fix the issue with the games, the tester couldn't launch them even after applying solutions provided by the agent. No thorough explanation arrived in regards to why he couldn't receive the money via credit card, other than an apology and suggestion to switch to another available option.
Take a look at these articles to find out more about the tester's experiences with other operators:
Have you ever played at Betiton Casino? Was your experience equally troublesome as our tester's? Feel free to share your impressions with us in the comments section below.
As ever, gamble responsibly!
"take a closer look at each stage of the procedure!"
From the Players for the Players
Back to articles