Back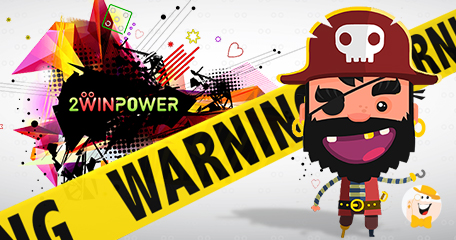 Yet another online casino goes down the wrong path offering fake games to customers. This time its Burnbet with a platform full of rip-offs made to resemble popular video slots from Novomatic, Aristocrat and EGT. Every title that supposedly came from these providers is beyond a doubt a counterfeit product, as confirmed by our team behind software inspection. We first suspected foul play when the name 2WinPower popped up as a supplier of these slots - this company is a known third-party distributor of pirated games, and we have already nailed them once before, as some of you might remember.
Forgeries Everywhere
At this point, we can't be certain if the owners of Burnbet are aware of this issue at all, or if they know they are dealing with a company whose background is anything but reputable. In any case, and this is something everyone will agree with, it is the responsibility of a casino to ensure only genuine games are offered to players. Since they've obviously failed in this regard, and we are talking about more than 50 pirated slots, the only fitting place for this site is on the LCB Warning list. Prior to this unfortunate discovery, they've had mixed feedback from our members - several players reported non-payment issues or slow withdrawals, but none complained officially or asked for our help.
Burnbet is licensed and regulated by the Curacao Gaming Commission, under the trade name Yucatan Gaming N.V., with a head office registered in the United Kingdom. Next, to the above-mentioned forgeries, there are other developers featured on the website: Igrosoft, Alps Games, MegaJack, SpinFun and Unicum, all of which appear to be genuine. While they do look like every other run of the mill venue, there is admittedly nothing about them that would give a casual player any reason for concern. At least not at first glance, but looking past the surface is something most inexperienced gamblers rarely do. However, these fakes are crafted expertly, reproduced almost identically to the originals, and what good is caution when you lack the knowledge to recognize something is off? With that said, we can only hope that Burnbet's deficient terms of service and very low withdrawal limits prevented many of you from depositing there and losing your money.
How We Spot Them
Even the best copies have weak points, and when we can't tell the difference based on appearance, the source code usually reveals the truth. We already know which fake domain 2WinPower is using to host pirated games: https://gmtr3.com/, and it is precisely where this casino's software is coming from. Below is a screenshot taken during the gameplay of EGT's Age of Troy and Novomatic's Dolphin's Pearl slots - nothing seems amiss, but we could still pinpoint the same domain in both cases: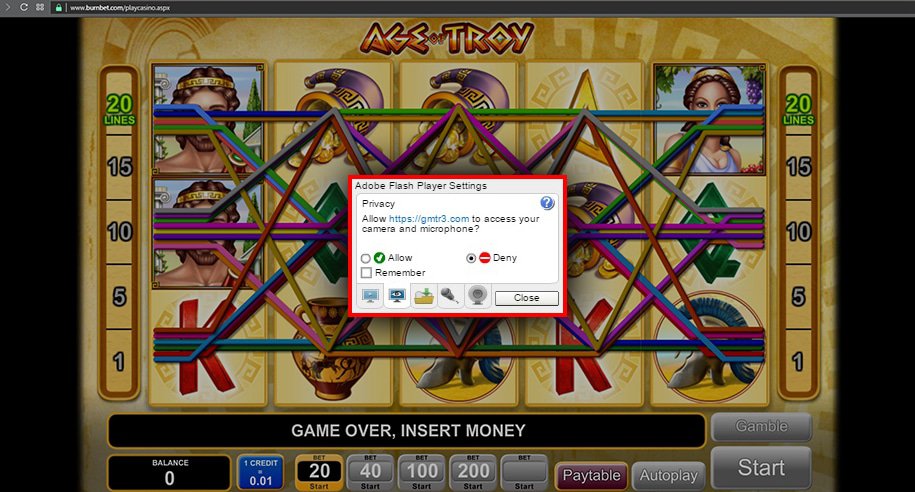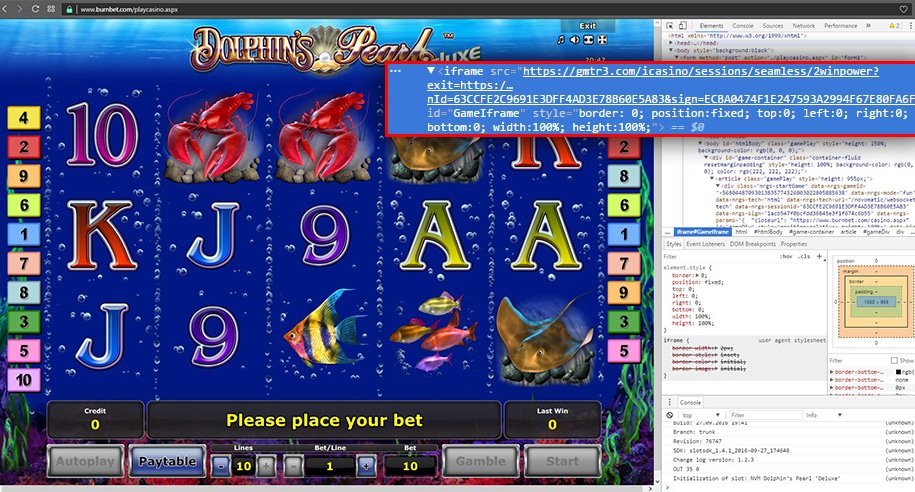 Additionally, the launcher of Dolphin's Pearl provided by 2WinPower differs slightly from the original. We've seen this before, the first time we encountered this shady provider, and it wasn't difficult to establish a connection. Even if you are not an expert in these matters, it's a good idea to compare loaders between the version you want to play at any casino, with that of an original release found on the official website of the provider. While the deviation might not be so apparent, there are small but significant things that can tell you whether a game is original or not. Here is how the fake loader of the above-mentioned slot looks like: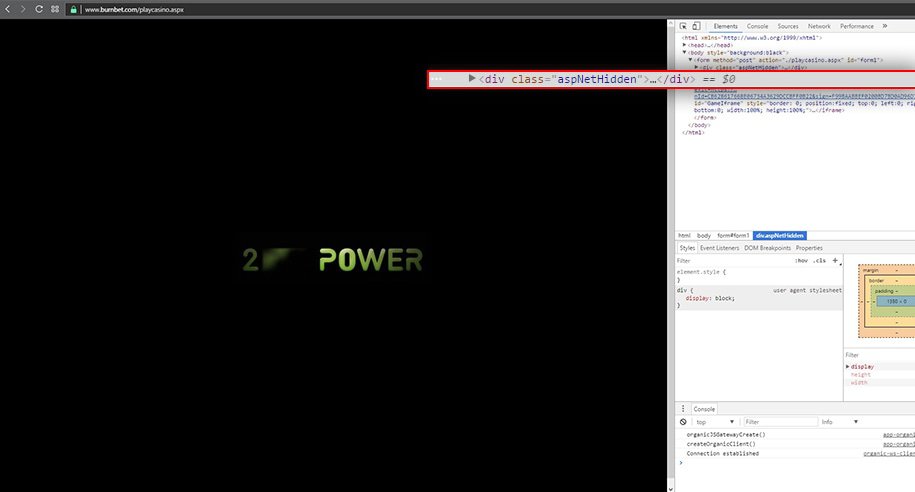 Marvel Slots? Not Quite!
There is one final aspect of this case, which many of you should find suspicious. It has to do with a strange occurrence of Marvel slots from Playtech and Sheriff Gaming releases which, as we all know and lament, are no longer available for play. The former have been discontinued recently, which essentially means they no longer exist as such, and of course, they shouldn't be found anywhere. The latter is a company that closed their doors a long time ago.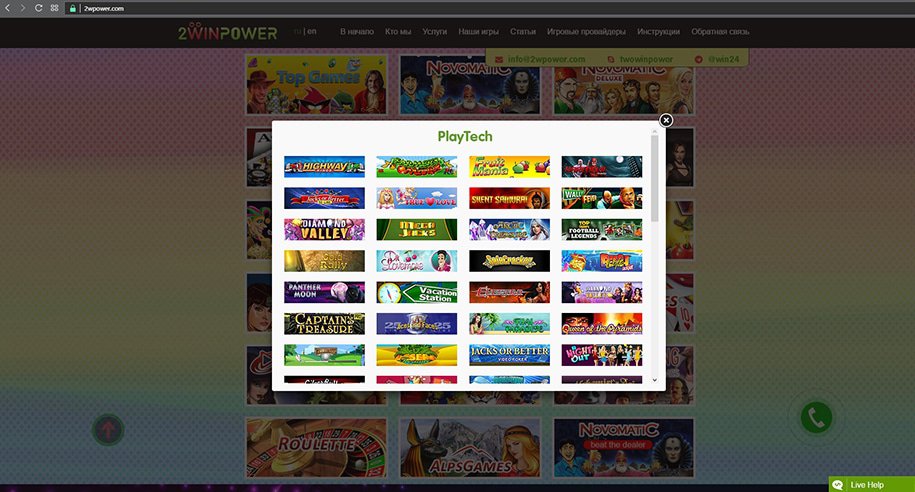 Steer Clear
Burnbet is primarily a sportsbook, and they have genuine casino games as well, which might cause some of you to think it's safe to continue playing there for real money, as long as you're not using any of the above slots. However, being involved in the distribution or hosting of pirated software is not only a deceptive and damaging practice, but it is also illegal as well. There is no reason good enough to trust a gaming site that does this, knowingly or not. It only goes to show they are disregarding the well-being of customers, and that should be priority number one for any respectable company.
Update - June 13th, 2017: After publishing this report, we received a response from Burnbet. They claim to have paid all due winnings, and since they have ''too many active players on the site'', they won't be halting the services. The casino stated more players have been paid than not, hence they assume the pirated games are working as intended. Never mentioning whether or not they plan to remove these slots, they claim to be working with new providers, BetConstruct in particular, and should be integrating their software sometime in September. 
Paying players should go without saying and there is no excuse if you don't. We find it hard to believe they really are so ignorant, as to not comprehend this simple fact. And to think fake games are fine as long as they are working as intended is just another nail in the coffin for these guys. Instead of trying to justify illegal software, they should have removed it right away. Our warning still stands, as we see only poor excuses and no real effort to improve. 
Update - June 23rd, 2017: Today LCB has received threats from a person called Tina, who presented themselves as CEO of this casino. We have advised them against making further threats and invited to post their side of the story or to send us a disclaimer which we offered to publish on their behalf. Suffice to say they did not even address any of these issues and proceeded to making further threats.
Update - June 27th, 2017: New Rogue report - LCB Team Receives Death Threats from Burnbet Casino

LCB firmly believes in protecting the players and we will not budge and remove any of this content.
"it is the responsibility of a casino to ensure only genuine games are offered to players"
Casino Warnings & Rogue Reports
Back to articles