Back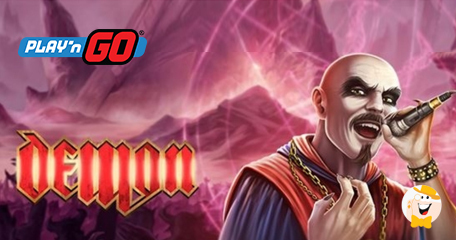 Have you heard? Demon's unleashed, run for your lives! Jokes aside, but if you happen to be a huge fan of the legendary British band, you surely know that the devilish creature we are talking about here is no other than Play'n GO's latest addition to the portfolio.
Proudly introducing another music-inspired release from the collection, the studio points out that this is not just another homage to some popular band. What makes this one so outstanding is that it's a project done in collaboration with Demon!
Helluva Great Partnership
Inspired by the band which left a huge legacy in the world of heavy metal, alongside Iron Maiden, Def Leppard, and Motorhead, the content supplier went live with quite a unique tribute to such a renowned band.
Besides being done in close cooperation with the ensemble…
…the creation is equipped with exclusive content. "Devil Rides Out" comes as an unlockable bonus track within the game. The band seems to have been impressed with the final product, so they will also be releasing an album entirely inspired by the game. Among the songs on the tracklist, fans will be able to listen to Devil Rides Out and enjoy artwork from the title.
The symbols in this 3x5 slot are based around the lead singer Dave Hill, four iconic album emblems along with two crazy Wilds. Moreover, there's a Helluva Night feature which can trigger the Depths of Hell Nested extra spins.
Dare you to have a sneak peek at a devilishly great video from developer's official YT page:
Clash of Pioneers
Demon was one of the pioneers of the New Wave of British Heavy Metal in the '70s, but what makes this agreement pioneering is the fact that it's a first of its kind done in partnership with band personally.
Proud to be the one to promote innovations, the team's CCO, Martin Zettergren, pointed out as follows:
"The thing that sets Demon and our other music slots apart from others is the fact that the bands are part of the creative process so, not only do we bring our usual levels of creativity and entertainment to each slot, but we really capture the spirit of the band, giving it that something extra. Demon is another great release for us as we move into the final stretch of this year, ensuring that we finish this year with the consistency and strength we've shown across 2019."
More Music, Please!
The latest installment represents the third music-based slot from their selection. The one to lead the way was House of Doom, packed with frightening lyrics and plenty of scary (but rewarding) features.
Sabaton is a great homage to the popular band from Sweden, which hosts band members as top-paying icons, along with the whole set of dynamic options. Needless to add that the soundtrack rocks as well.
Source:
"We've Unleashed the Demon!", playngo.com, September 26, 2019.
"it's a project done in collaboration with Demon!"
Casino Games
Back to articles