Back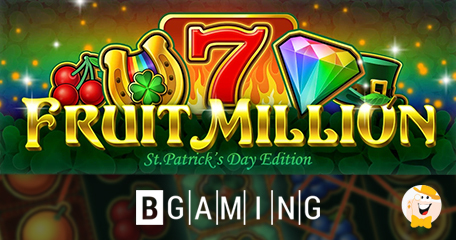 St. Patrick's Day is getting closer, and players should remember the famous Irish legend. It says that everyone who finds a four-leaf clover on Irish Celebration Day will become rich and happy. On this occasion, BGaming offers customers the chance to become winners while playing a popular game with a new look starting from March 11th. Fruit Million, which was released in Dec. 2020, is the first 'chameleon' slot in the provider's portfolio that will change its skin in keeping with the coming holiday.
More About Opportunity
St. Patrick's Day is a festival celebrated in Ireland and all over the globe. Following the massive celebrations, BGaming has taken the opportunity to transform one of its most successful slots that will deliver the same level of excitement and festive vibes. The new-look game Fruit Million includes traditional fruits as well as Irish-style elements such as magic leprechaun hats, horseshoes and four-leaf clovers.
If you take an opportunity to test the game, you will see versatile symbols along the way. Included are golden features, Wild, Scatters and Expanded Wild Symbols that can convert into 100 pay lines for incredible winnings. The reels are filled with different colors, and the game accompanied by impressive sound effects.
Fruit Million slot is specific in many ways. The title is the very first one to celebrate several holidays during the year. It will include a total of five different holidays, whether it be Christmas, St. Valentine's Day, or Halloween. At the same time, the game will get a more sophisticated look and attract additional users. Fruit Million will return to its original state for casino providers after the St. Patrick's Day holiday.
What Was Stated About Release
The Fruit Million slot comes with 97,1% RTP and 4x5 reels, representing another excellent opportunity for players worldwide. The game will be one of the most prominent releases in BGaming's portfolio, with more users choosing the option in the future.
As a reminder, The Christmas Edition of the game was released in the middle of December (2020) and soon became one of the TOP-8 slots with 100M GGR. The title is still one of the leading games in the BGaming portfolio, and the same is expected from the current edition.
Speaking on the new addition to the portfolio, BGaming director, Marina Ostrovtsova said:
"We know that new games come and go on a regular basis. We wanted a long-lasting piece of content. Thus we came up with the idea of the 'chameleon' slot. The game that changes its appearance depending on what is going on in the world. The slot that can always be on point!"
Source:
"Find all the gold and lucky clovers in the new Fruit Million slot edition", bgaming.com, March 11, 2021.
"a popular game with a new look starting from March 11th"
Casino Games
Back to articles