Back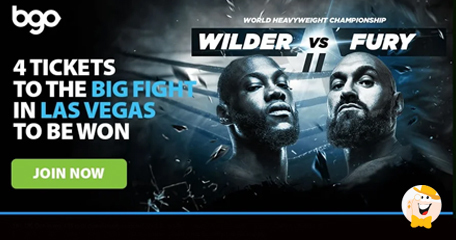 The famous UK online casino bgo wishes to be known that the announced Wilder vs Fury II promotion has been updated with some changes to its terms and other important info.
As a reminder, one year after their split draw that stirred some controversy, boxing heavy-weights Deontay Wilder and Tyson Fury will be having another fight in the ring this year – and bgo Casino is having a complimentary promo!
The Finer Points of a Promo
The rematch will be held in Las Vegas at MGM Grand on Saturday, February 22nd…
…and bgo Casino punters can win one of two pair of tickets for the big match, the return flight tickets, 4 nights at the MGM Grand Hotel with 5 stars and private hotel transfers.
This enticing package can be won by taking part in daily leaderboard competitions until February 7th. New and existing UK players are allowed to participate.
The promo consists of 30 daily leaderboards and a Tournament:
Daily leaderboards: Tuesday 7th January, 00:00 GMT to Wednesday 5th February 2020, 23:59 GMT. The 1st place winner of each daily leaderboard will win a Tournament Entry Token for use in "The Main Event" Tournament which will be held from Thursday 6th February, 12:00 GMT to Friday 7th February 2020, 23:59 GMT. Here they will have the chance to compete for the main prizes.
£25 real cash cumulatively wagered across all games (excluding Bingo) = 1 Leaderboard Point.
Unlimited points allowed each daily leaderboard.
Players must opt-in once during promotional period to be eligible for the promotion. Once opted in, players will only be eligible for daily leaderboards from the day of opt in until the end of the promotion.
As terms and conditions state, only 18+ players are allowed to participate. Look for more details about this offer on casino's promotions page.
First and second-best ranked players will win the Wilder vs Fury package, while the remaining players, ranked from 3rd to 30th, will get an array of prizes such as:
iMac with 4K Retina Display
MacBook Pro,
iPhone 11,
iPad Pro,
iPad Air
Apple Watch
AirPods
Fight Coverage on Pay Per View
Launch of Microgaming Portfolio
Microgaming has launched their portfolio of games this last June with bgo casino…
…which means that bgo now has the access to top performing slots by this producer, to the delight of their many punters.
Product director at the casino, Andy Dymock, has said on the occasion:
"Expanding our offering to include Microgaming's impressive portfolio of content demonstrates our commitment to providing our players with the greatest gaming experiences across our multiple skins. We are always looking to add top new content and are pleased to partner with such a reputable supplier of casino games which we know will resonate well with the BGO database."
"Deontay Wilder and Tyson Fury will be having another fight"
Tournaments, Promos & Bonuses
Back to articles