Back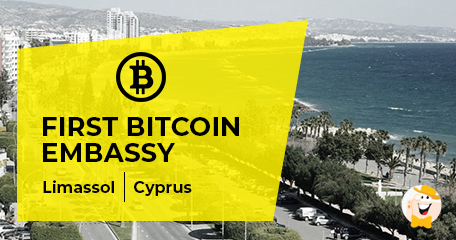 Bitcoin Cash (BCH) adoption is looking rosy. Coinbase and Gdax have all launched their BCH services recently and helped this young cryptocurrency gain further momentum. The time is ripe for the opening of the first BCH Embassy – and this community center will be located in Limassol, Cyprus, the region's second-largest city.
The embassy opening is due in early 2018 and it will be a get-together venue for cryptocurrency enthusiasts and users where they will be able to exchange their ideas and views, attend seminars and discussions and meet experts of the industry. It will be opened by the same company that inaugurated the first Bitcoin ATM in Limassol one month ago – Hello Group.
There is a one key reason why Cyprus was chosen for this. The island has many financial offshore centers that are used by companies from the larger part of Europe and Middle East as well (being so geographically close to this region) that take this opportunity to quickly transfer their money overseas. Another fun fact also proves that the island is one of the unlikely cryptocurrency centers of the world: University of Nicosia (country's capital) is offering Msc in cryptocurrencies, making it the world's first academic institution to do so.
An increasing number of gambling operators are adopting BCH, businesses are also making it their own on a daily basis, it is more cost-effective and quicker than Bitcoin... these are all just some of the reasons why BCH is stirring excitement in the community. With Bitcoin breaking all the records this year and reaching new peaks in value (then stumbling down a bit again – at the time of this writing, Bitcoin value has dropped from $19000 to $13500, although it is expected to rise), transactions are now reported to be agonizingly slow: Roy Sebag, the founder of Goldmoney, has tweeted that he was waiting for 10 hours for a BTC transaction to complete, while he experienced no issues of such kind with BCH. Even the president and CEO of SBI Holdings, one of the largest financial firms in Japan, has stated that Bitcoin Cash is more true to the philosophy of the cryptocurrency than Bitcoin: "The vision of the original Bitcoin white paper written by Satoshi Nakamoto calls for a peer-to-peer electronic cash system. That is a powerful vision, and SBI Group will devote resources to enable a future world where Bitcoin Cash is used globally for daily payments."
Source:
"Bitcoin Cash Embassy to Open in Limassol, Cyprus", Mizrahi Avi, bitcoin.com, December 21, 2017.
"this community center will be located in Limassol, Cyprus"
Bitcoin
Back to articles