Back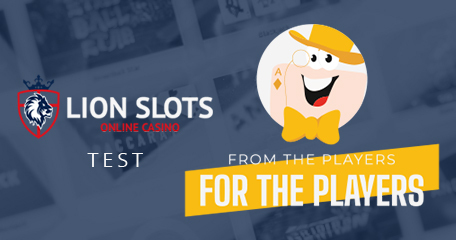 Did Lion Slots Provide Our Tester a Roarsome Experience?
Continuing to bring more value to players, our diligent team keeps on investigating online casinos all over the globe. Filled with both pleasant and unpleasant surprises, these journeys for sure result in a plethora of valuable first-hand information on how those iGaming platforms operate.
This time, the LCB team was curious to see how US-friendly Lion Slots Casino handles deposits and withdrawals in Bitcoin. Our tester of the day went through the well-established procedure, including the KYC process, and eventually withdrew a bit over USD 300 in Bitcoin.
These are the crucial moments of the test:
Tester of the day: Juggaloroscoe
Registration done on March 16, 2022
Deposit made on March 16, 2022, USD 200 in Bitcoin (0.00491169 BTC) and another USD 200 (0.00475791 BTC) on March 19, 2022
KYC documents submitted on March 22, 2022, approved on March 23, 2022
Withdrawal requested on March 23, 2022, USD 300.14 in Bitcoin
Withdrawal received on March 30, 2022, USD 317.21 in Bitcoin (0.00669 BTC)
Paying attention to the dates, you will notice that the withdrawal was requested on March 23, 2022, but received on March 30, 2022. Having in mind that the tester's documents were approved at the time he requested a cashout, what was it that caused such a lengthy delay in processing it?
Keep reading to discover!
Lion Slots Casino Overview
Lion Slots Casino is home to a variety of slot games, video poker, and table games coming from the most renowned developers such as BetSoft, Saucify, Rival, Fresh Deck Studios, and more. Thus crypto-friendly operator offers a diversity of promotions and bonuses, along with the possibility to join the Loyalty program.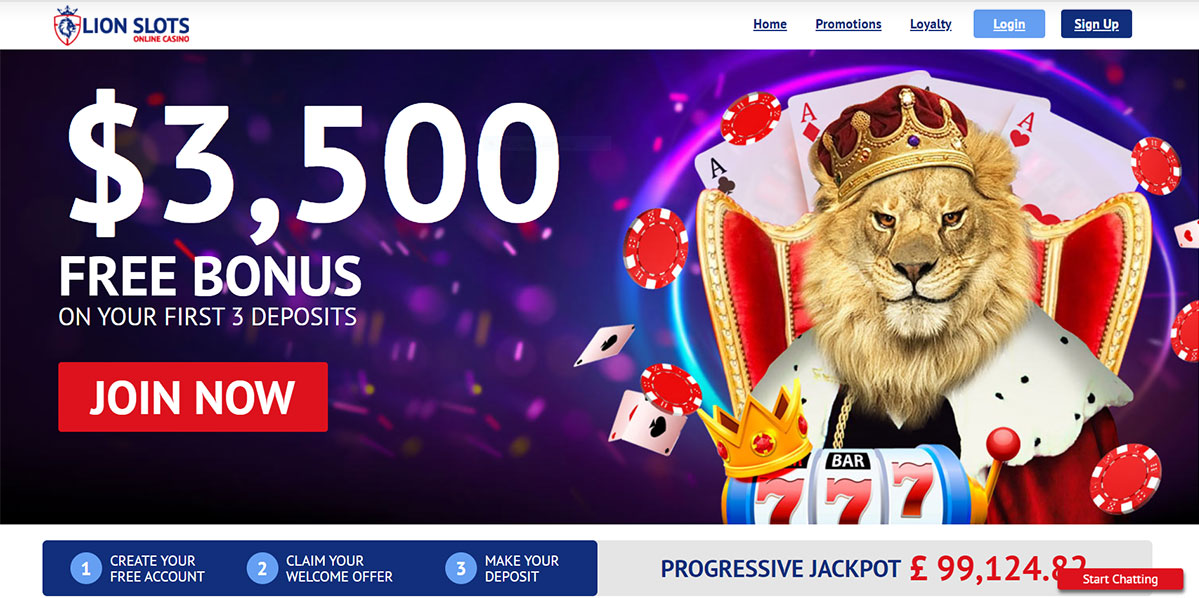 This platform belongs to Number1Affiliates, a rapidly growing network that gathers multiple brands- Diamond Reels, Vegas2Web, Platinum Reels, LaRomere, Mega 7s, OG Palace, Sloto Stars, and Slots Win. One of them has already been examined as a part of "From the Players, for the Players", so feel free to read the following article for more details Slots Win Casino test report.
Registration
On March 16, 2022, our tester registered at Lion Slots casino. To join the platform, all he had to do was complete a simple form that consists of 3 steps, type in a couple of basic info, and became part of the community.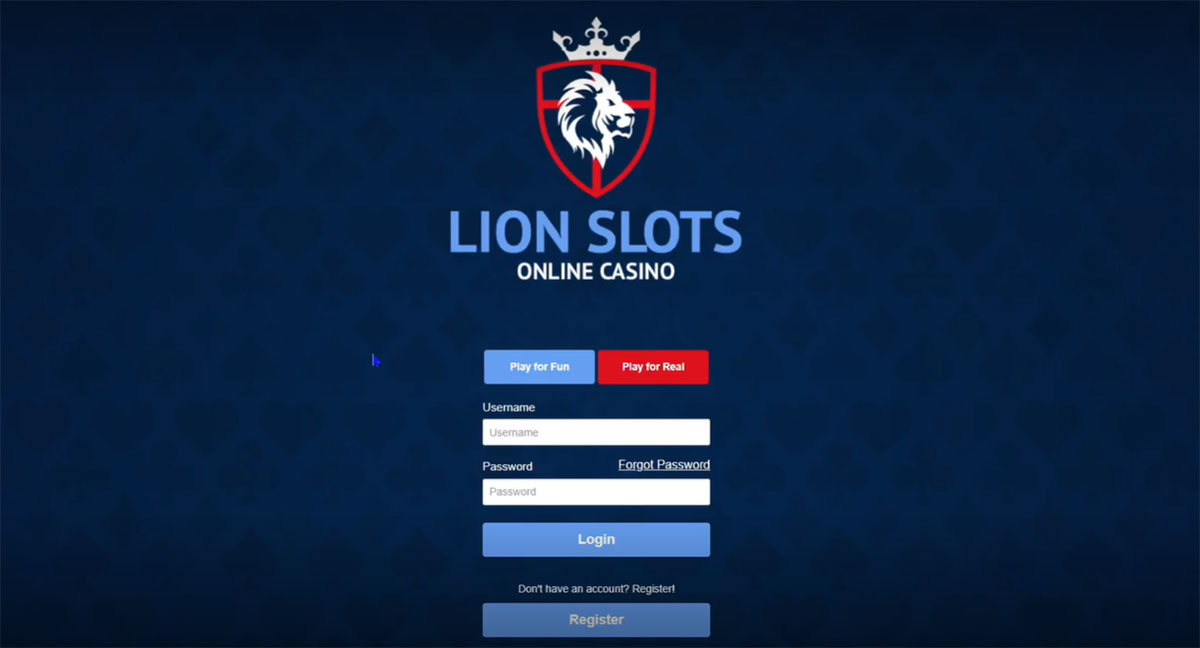 An email arrived as well, welcoming the tester to Lion Slots casino's community. Pay attention to the form as there are two different options- play for fun and play for real. Both of them require registration.
Also, the company reserves the right to cancel a customer's account for any reason whatsoever at any time without sending any notice.
Deposit
As soon as he completed registration, a notification appeared, offering the option to go directly to the cashier and fund the account.

He pressed the "Yes" button, so he was navigated to the cashier. The tester opted for an instant Bitcoin deposit and entered $200. He copied the BTC address to his wallet to have the funds transferred.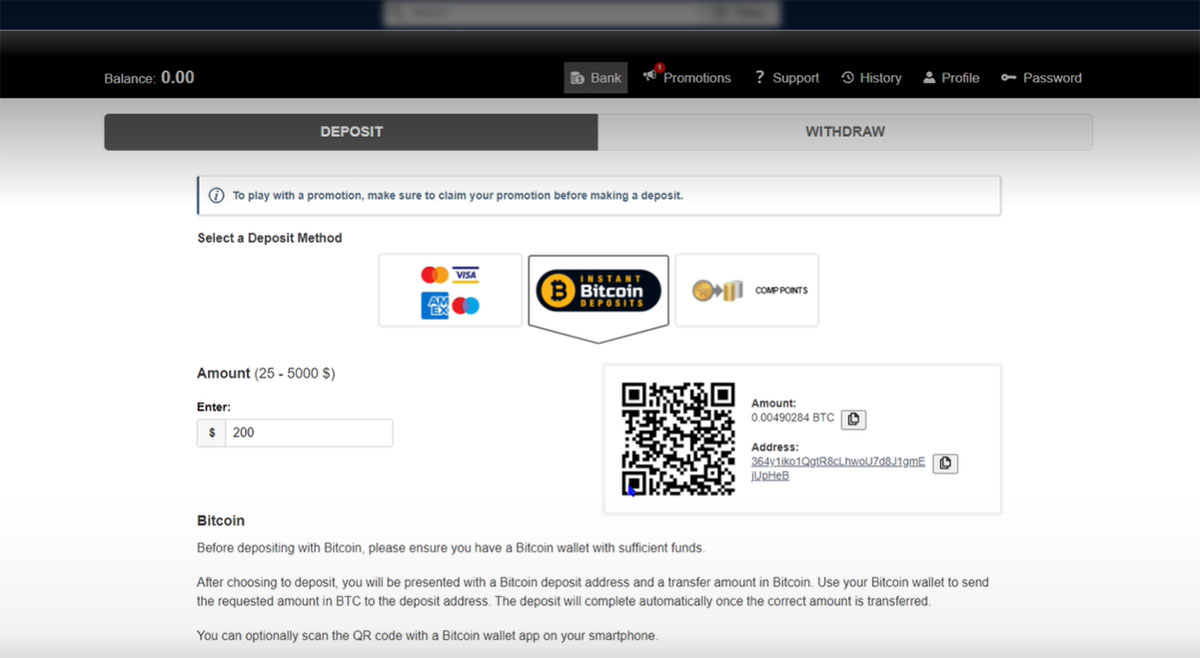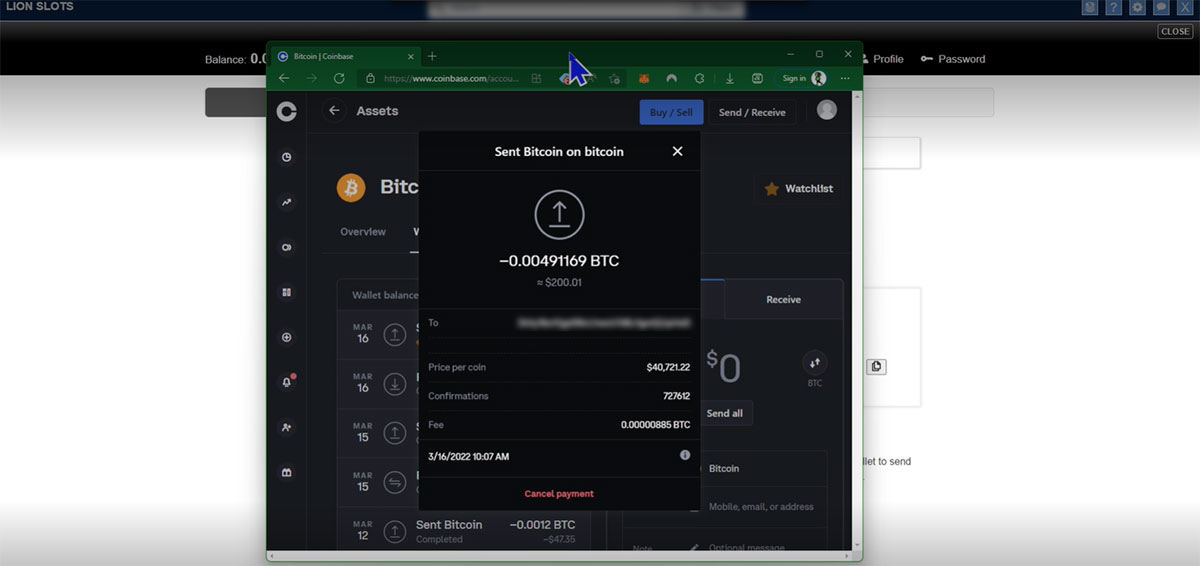 Juggaloroscoe logged into the account slightly more than one and a half an hour later, and the funds were available in his casino account. Worth noting is that he received a confirmation of deposit via e-mail.
Three days later, on March 19, 2022, the tester funded his account with the same amount of money via the same payment method. He entered USD 200, and just like the previous time, an e-mail arrived to confirm that money was added to the account.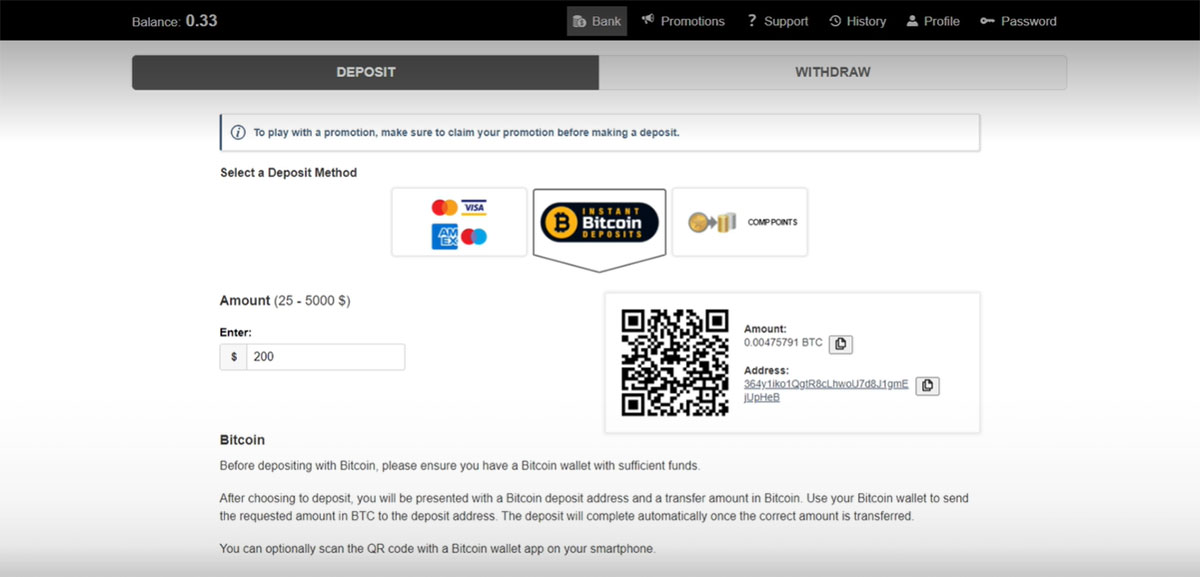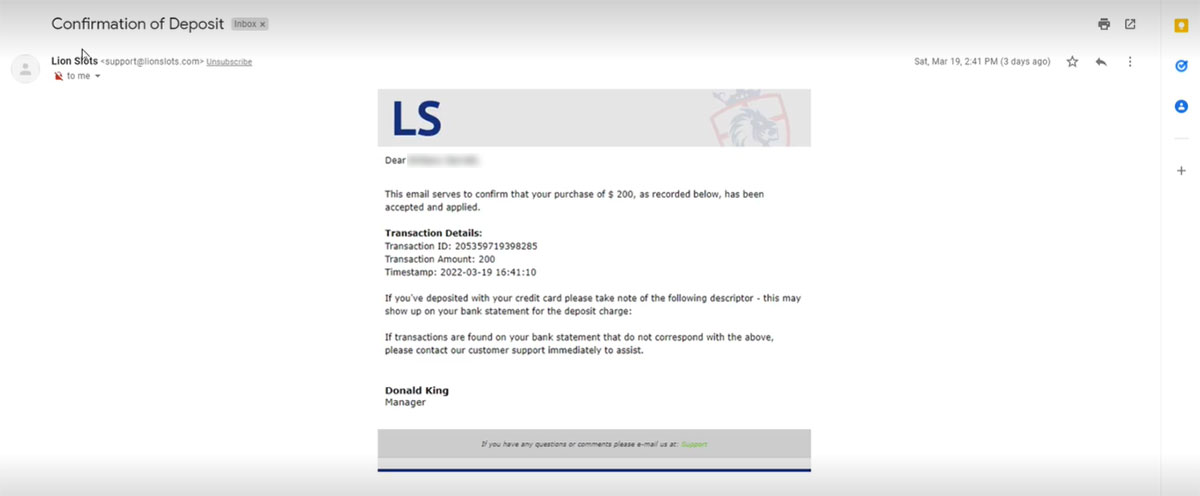 It needs to be mentioned that the tester actually tried to fund the account twice on the same day (March 16), but was denied the second time. That's the reason he funded it three days later.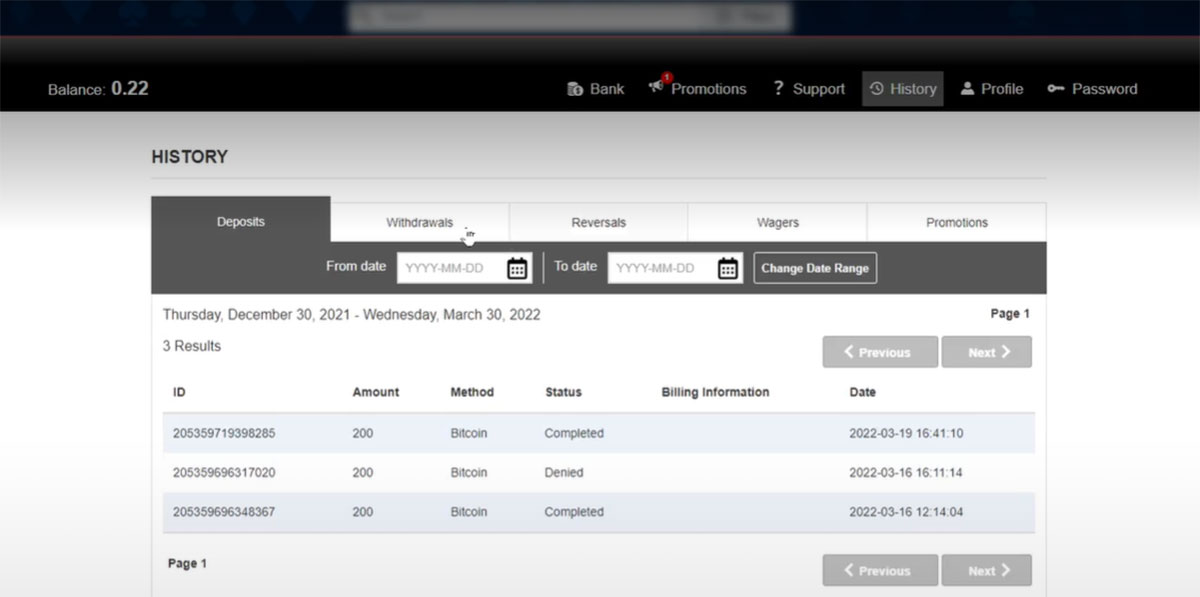 The minimum amount to deposit is $/€25. The available methods to fund the account include credit and debit cards, Bitcoin, and e-wallets.
Gameplay
The tester went on to explore some games on the same day March 16, 2022. His first choice was Snow Wonder, followed by Raving Wildz.
The next in line were Reindeer Wild Wins and Almighty Dollar, and then Blackjack Multihand.
Three days later, on March 19, 2022, he tried to make a withdrawal request, but couldn't complete it, as he typed in less than the minimum permitted amount.
That's why he returned to the lobby to play more games - Genesis Island and Big Cash Win, which brought him a $30 win.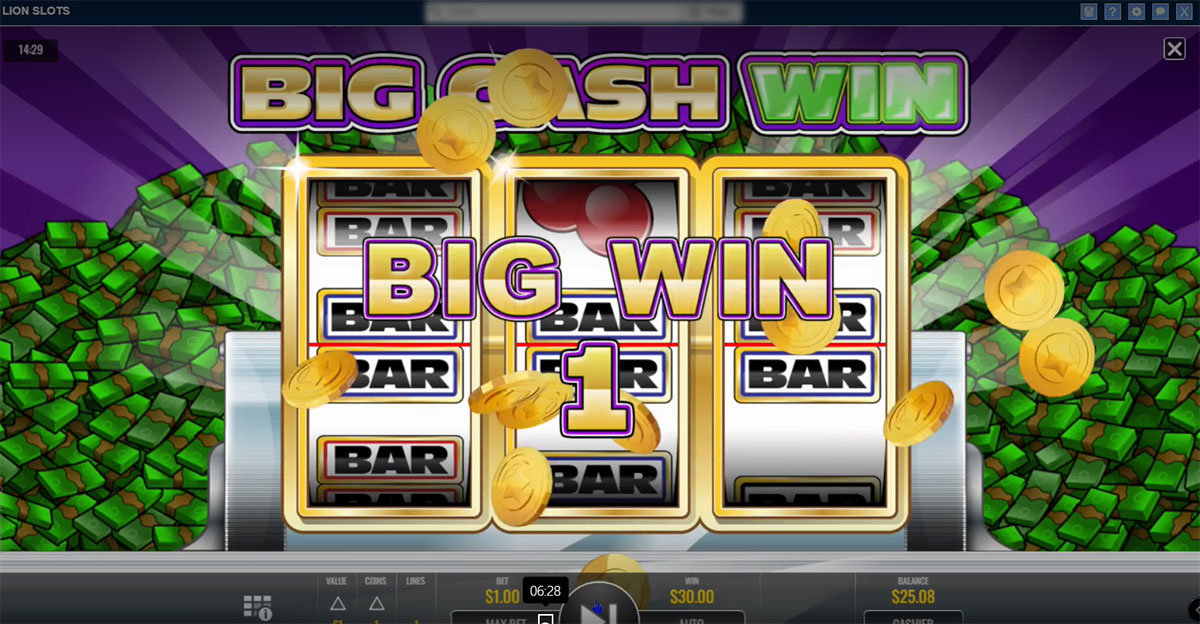 After that, he ventured into Raving Wildz once more, had a couple of spins on Heroes' Realm, and also played Jolly Roger's Jackpot. As his balance went all the way down to USD 0.33, but he wanted to play more, the tester funded the account once again on March 19, 2022.
As soon as the money was added to the balance, the tester ventured into Keno Vegas Jackpot and then switched to Great White Buffalo which brought him a "Buffalo Win" of $24. The next in line was Beach Bums, followed by Future Fortunes.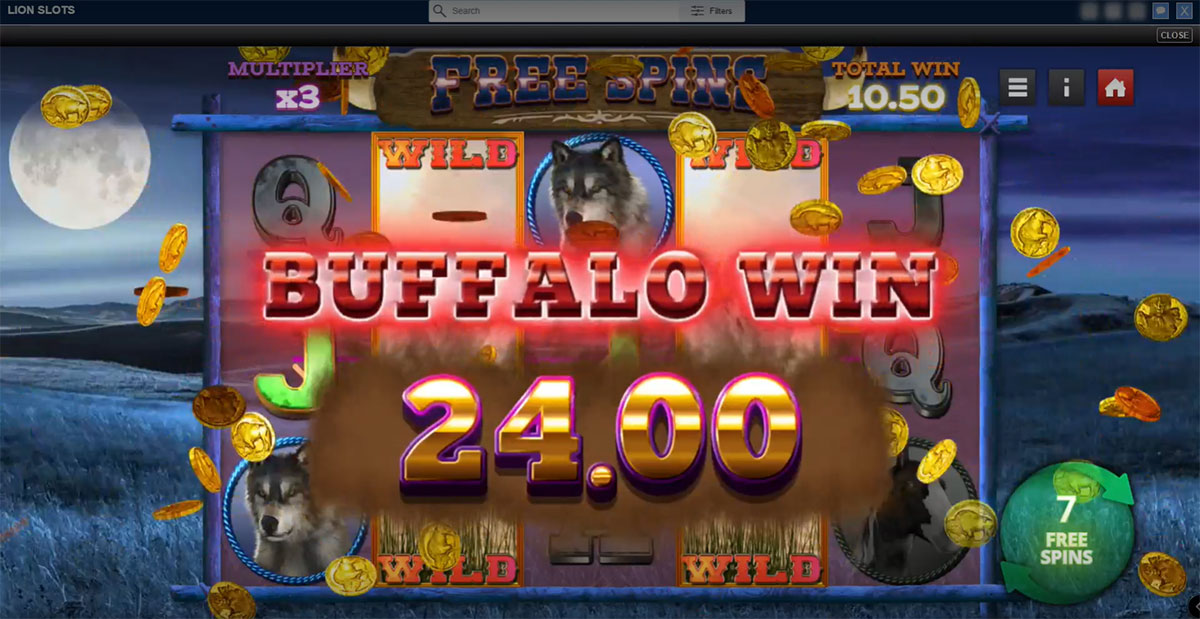 A day later, on March 20, 2022, the tester played Bigfoot Mountain, where he scored a massive win of $168.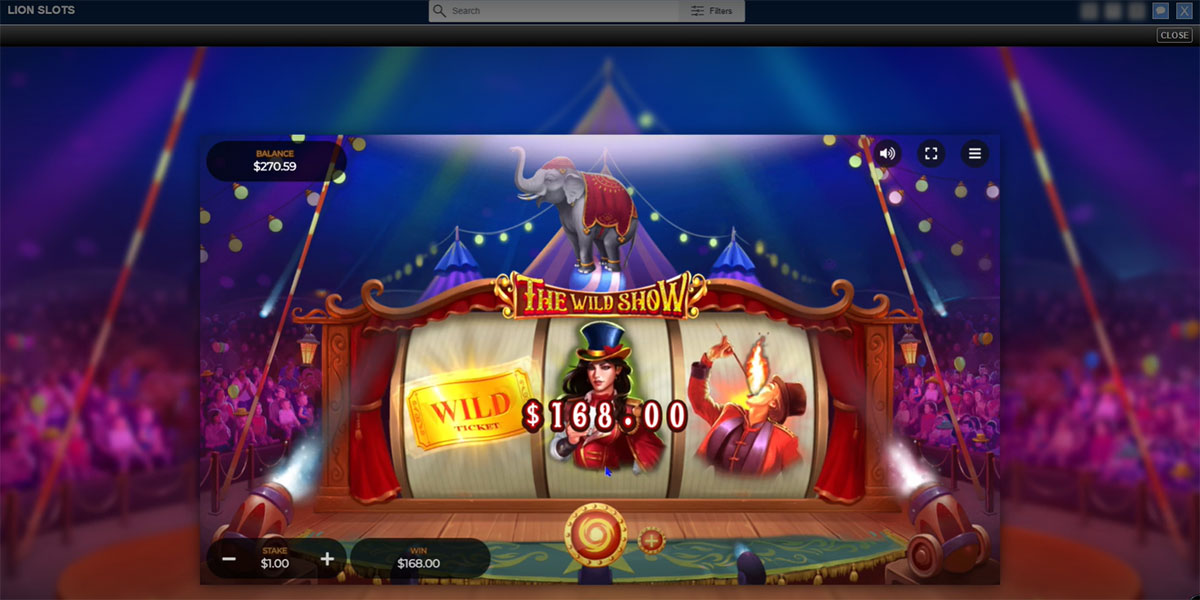 His next choice was Dark Mystic, followed by Light Dance, where he triggered an even bigger win of $240.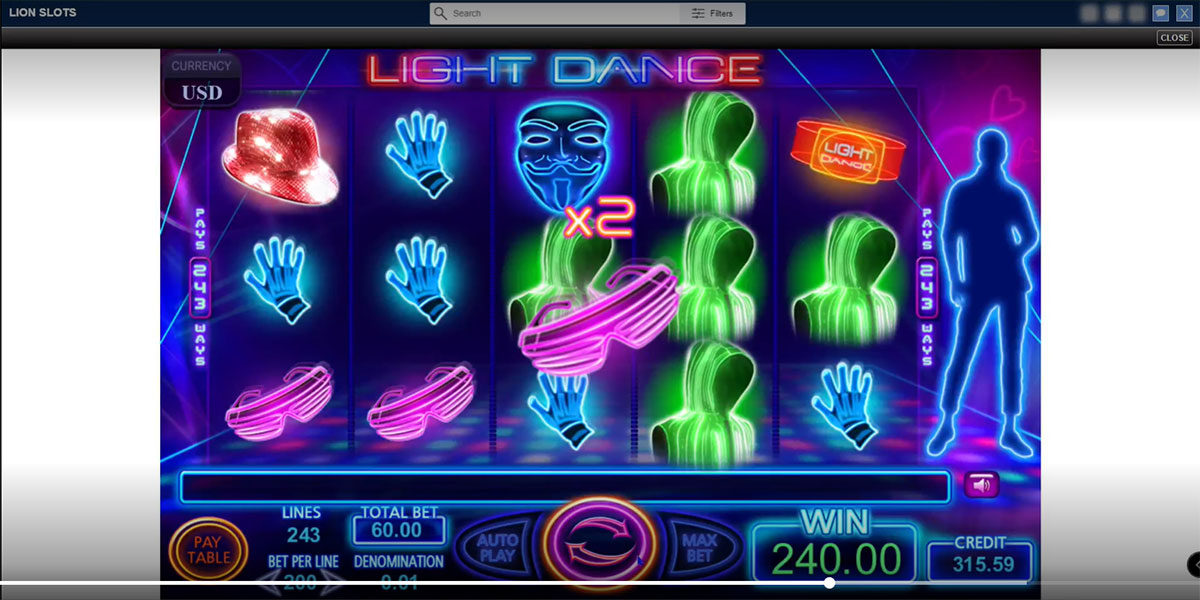 KYC and Communication with Support Department
On March 22, 2022, the tester got in touch with the support department to check how to have the account verified so that he could request a withdrawal.
Two minutes later, the agent responded, informing the tester that he has to send the following via e-mail: front and back copies of driver's license/ ID, and utility bill no older than 3 months.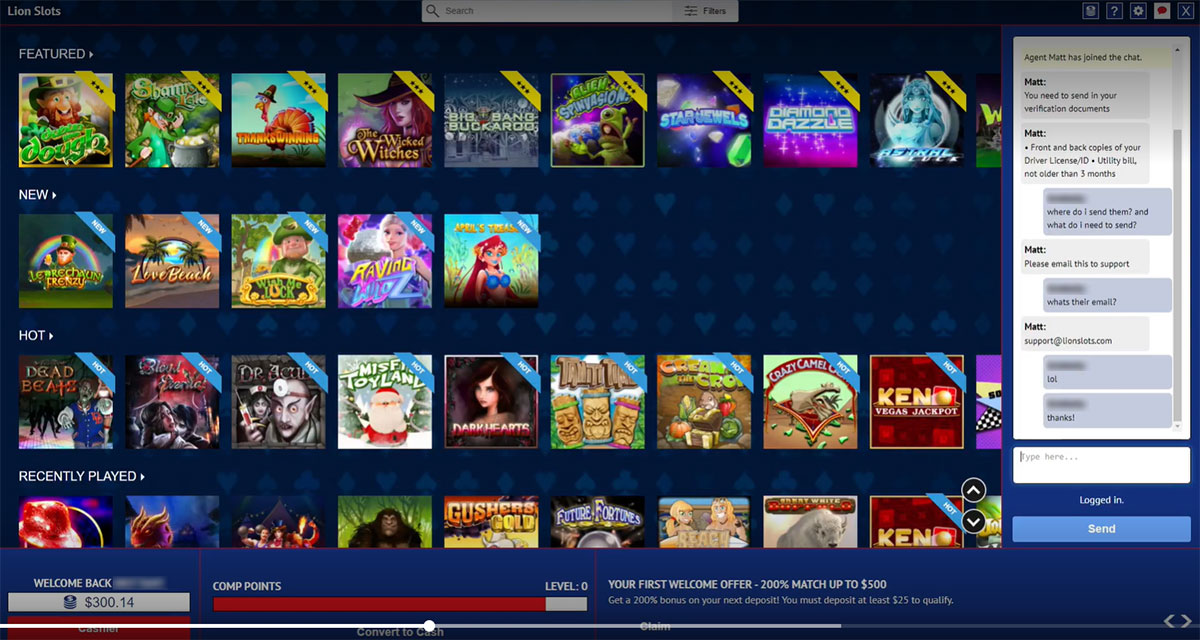 He submitted the driver's license, and utility bill, but also included a selfie with the ID. As the message was too large to be delivered, he attached documents one by one and sent them in four separate emails.
It's interesting to mention that on the same day the tester sent the documents, an e-mail arrived informing him that he can become a privileged customer and gain access to a variety of incentives.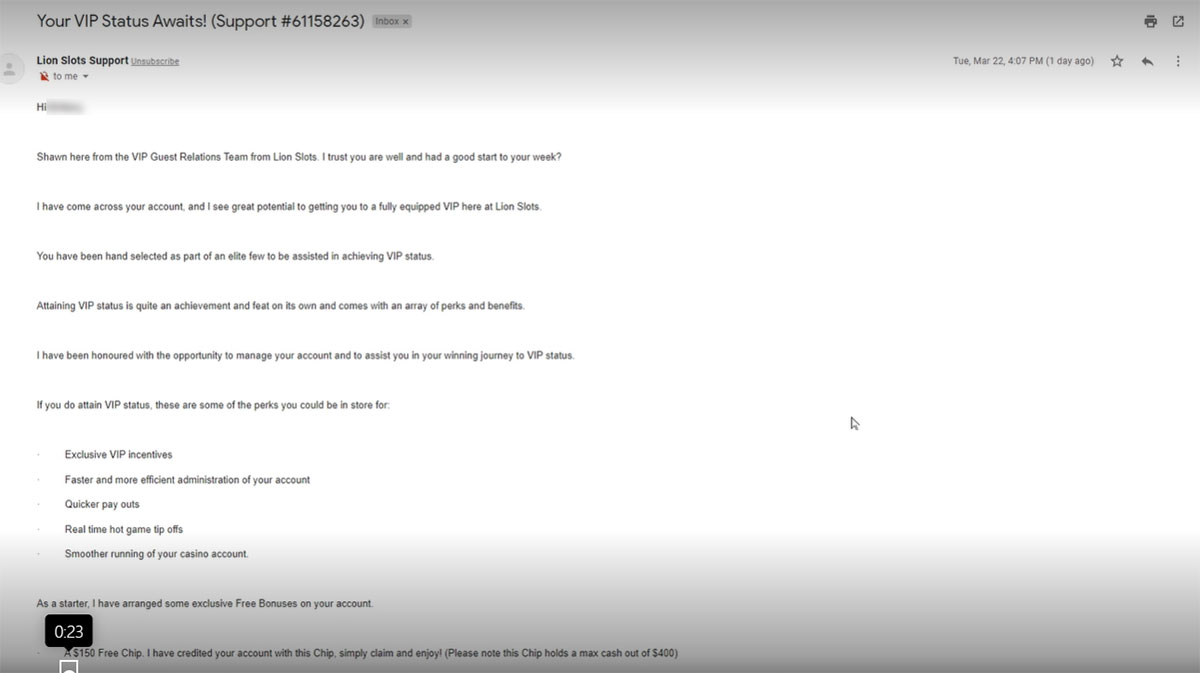 Also, he received a couple of emails with special promotional offers and bonuses.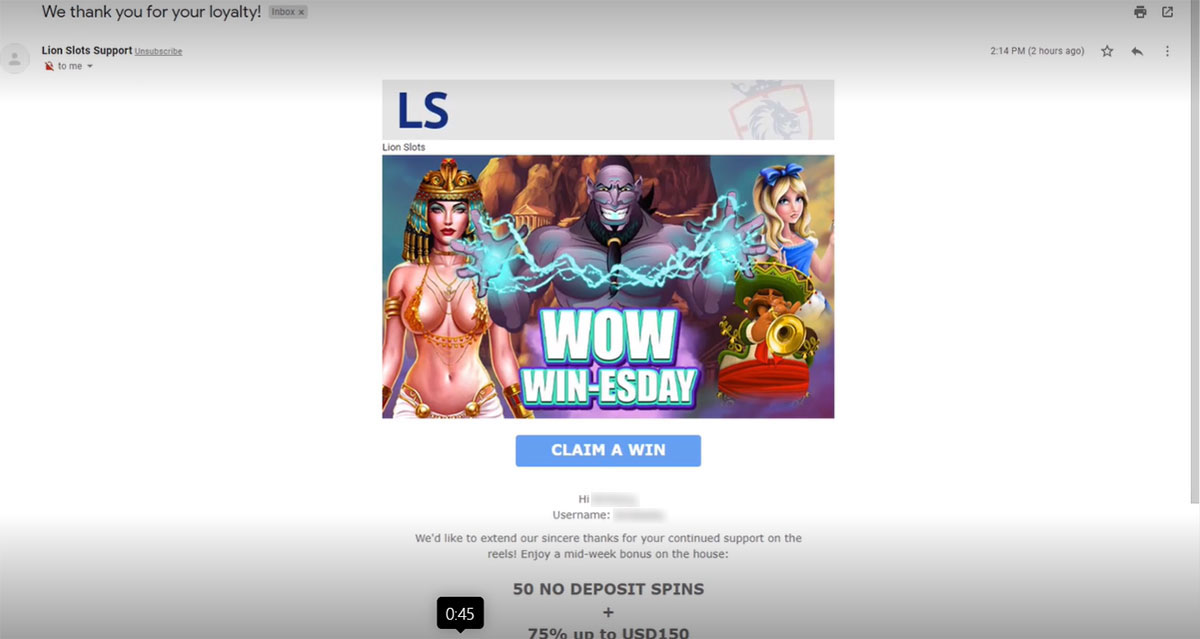 A day later, on March 23, 2022, he received a confirmation e-mail from the support department, letting him know that the documents were approved and saved.

As indicated in the Terms, aside from the abovementioned documents, the casino operator may seek a verification call to confirm the customer's identity. Our tester wasn't required to go through this step.
Withdrawal
The first attempt to withdraw took place on March 16, 2022, but the tester wasn't able to do so, as the amount he requested was less than the minimum. He wanted to cash out USD 50, but the minimum to require is USD 100.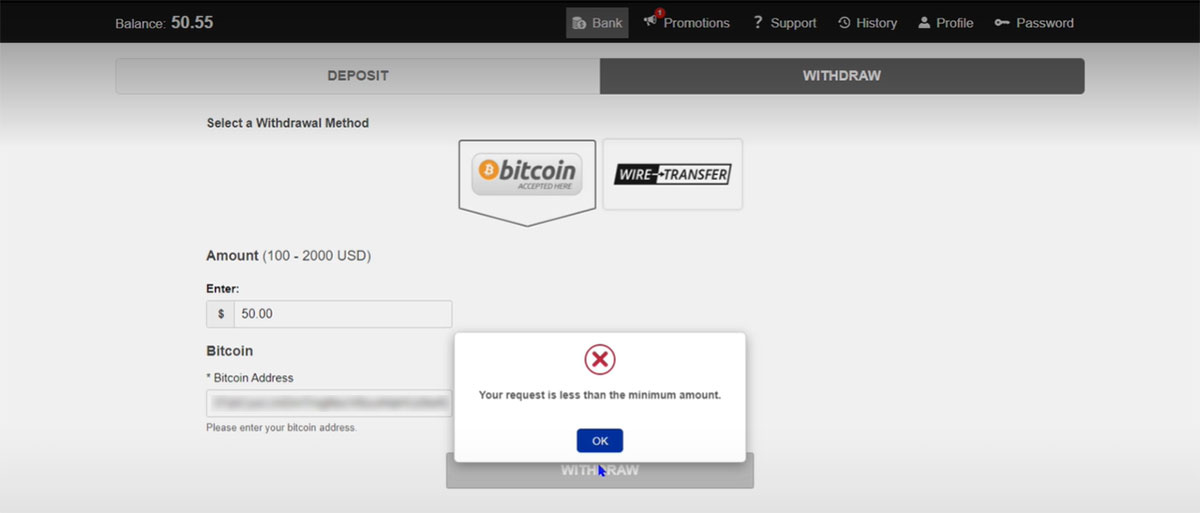 A week later, on March 23, 2022, upon receiving confirmation that his account was verified, the tester requested to withdraw his entire balance- USD 300.14 via Bitcoin.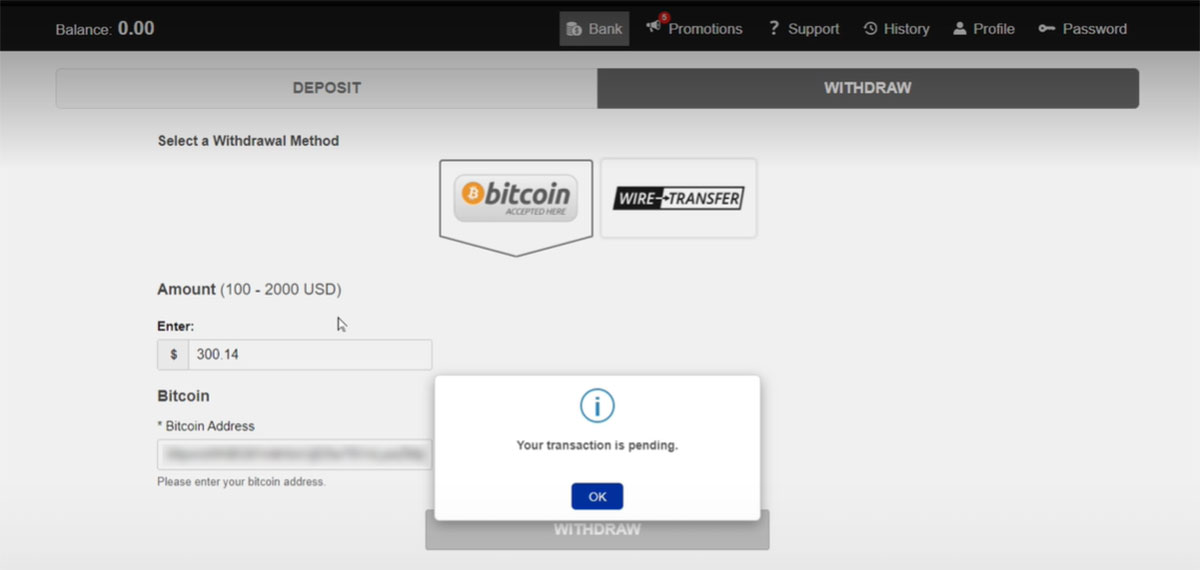 Upon checking the Cashier on March 30, 2022, he noticed that his request to cash out USD 300.14 was completed on March 29, 2022. Despite typing in the entire withdrawable balance, USD 0.22 was still on his balance after the transaction was approved and credited.

Coinbase confirmation arrived a day later, on March 30, 2022, stating that the tester received 317.21 in Bitcoin (0.00669 BTC). The amount was slightly higher due to BTC value fluctuations. No fee was charged on this occasion.

These are some of the important withdrawal-related rules:
"For withdrawal payments, less than 500.00 USD, where the payment method has been selected as Check/Wire, a 35 USD processing charge will be incurred which will be automatically deducted from the withdrawal payment amount. (…)
Payment of withdrawals may incur a processing fee of up to £35. The £35 fee will not be charged on withdrawals in excess of £500. In addition, processing limits may apply, up to £5,000 per player per week.
Withdrawals can take between 2-5 business days to be processed. During this time, the withdrawal will remain reversible from within your casino lobby."
Also, a player needs to wager the original deposit at least once before requesting a cashout. In case a deposit hasn't been made for 90 days, a punter will have to make a minimum verification deposit of £25 and wager it 1x before a withdrawal can be paid.
To withdraw funds, players can opt for Bitcoin, Bank Wire Transfer or some e-wallets.
Conclusion
Although the stated timeframe for withdrawal processing is up to 5 working days, Bitcoin transactions are usually processed much quicker.
Also, one mystery remained unsolved- how come his balance after the withdrawal request was made and finalized still displayed USD 0.22? Just to remind you, he requested the entire available sum (USD 300.14 in BTC) displayed at the cashier.
We hope this extensive report brought you some valuable insights into Lion Slots casino business practices.
Have you already visited this iGaming platform? If so, feel free to share your experience with us in the comments section below.
Always read the Terms and Conditions, gamble responsibly!
"some valuable insights into Lion Slots casino business practices"
From the Players for the Players
Back to articles