Back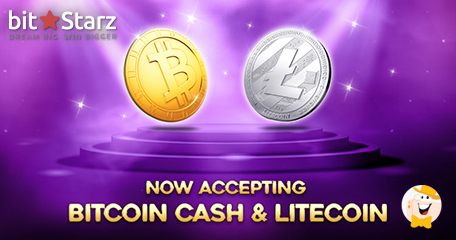 Bitcoin Cash (BCH) just seems unstoppable at the moment. In what was an iconic year for Bitcoin, 2017 was a time of its unprecedented rise, but also the year of BCH's birth. 2018's initial stages are not looking as bright for the cryptocurrency (the value of it has dropped significantly, with it being just above $8000 at the moment), but they sure are for BCH. It's fast, slick, lightweight and, with cheaper fees, it's no wonder we can announce that another online casino has begun accepting it as their currency of choice.
That's right, BitStarz Casino has now added Bitcoin Cash among their accepted deposit and cashout currencies, thus joining the ever-growing list of online casinos and operators who opt for cryptocurrencies. The casino is quite versatile in terms of currency options it has on offer, as it accepts both Bitcoin and BCHs as well as standard currencies like USD, EUR, RUB, CNY and more. Besides BCH, Litecoin has also been introduced as another option on offer for punters who want to use it.
BCH was recently picked up on Coinbase and its beneficiaries such as fast transaction rates and smaller transaction fees above all are making it hugely popular with casino players and the public in general. This was not lost on most operators and financial conglomerates who are rushing to introduce the currency to their clients via services they provide. In fact, BCH's nature is causing many to deem it the true heir of Bitcoin as envisaged by the elusive Satoshi Nakamoto – which is, perhaps surprisingly, giving it the edge over its predecessor in becoming a valid candidate to fight the likes of Visa.
The digital currency is definitely having its moment right now – what are your predictions about it? Will it dethrone its predecessor as the world's major cryptocurrency this year, with BTC's value plummeting as general hysteria around it seems to deflate somewhat? Let us know in the comments…
"BitStarz Casino has now added Bitcoin Cash among their accepted deposit and cashout currencies"
Bitcoin
Back to articles