Back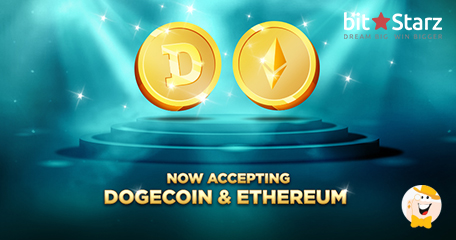 BitStarz Casino really is on an expansion roll. They proudly announced the "killing of two birds with one stone" when they began accepting Bitcoin Cash and Litecoin and now they've replicated the feat in an almost identical manner: on Thursday, February 15th it was officially proclaimed that Dogecoin (DOGE) and Ethereum (ETH) are now also a part of casino's currency availability.
BitStarz has, thus, cemented their reputation of being one of the leading online casinos in the world when it comes to adoption of cryptocurrencies. Right now, they are supporting Bitcoin, Bitcoin Cash, Litecoin, Ethereum and Dogecoin. Another trait that separates them from the rest are their lightning-quick withdrawal methods that punters can use to cashout their winnings on one of more than 1000 games they have in their library. As a reward for their continuous efforts and thriving in excellence, the casino caught the attention of numerous instances within the business and, most notably, quickly became a player-favorite.
The cryptocurrency market was going through a very turbulent period in recent months, with Bitcoin taking hard punches in particular. However, overall it's been positive for smaller cryptocurrencies who have gained more stability and recognition - and, consequently, a higher demand for their inclusion was voiced by online gamblers everywhere.
Ethereum is widely regarded as the world's prime alt-coin – meaning, it is only second in ranks to the undisputed ruler of the cryptocurrency world that is Bitcoin. ETHs strengths lie in its blockchain technology use and decentralization principles, as well as its unique programming that introduces new ICOs.
Dogecoin is an open-source currency that originally began its course as an internet joke and a BTC parody, but has since turned into a serious force to be reckoned with.
Casino Marketing Manager, Srdjan Kapor, comments on the site's recent surge in cryptocurrency adoption: "We here at BitStarz take a huge amount of pride in being one of the most adaptive and inclusive online casinos in the world. For that reason, the list of deposit and withdrawal options just keeps growing, as we continue to expand our player base. Just recently we added LTC and BCH support to great success, so we've now decided to add ETH and DOGE to our cashier options as well. We are sure that with the increased number of payment options at hand moving forward, players are going to be able to enjoy BitStarz bonuses, promotions, and games that much more."
"they are supporting Bitcoin, Bitcoin Cash, Litecoin, Ethereum and Dogecoin"
Casino Banking
Back to articles