Back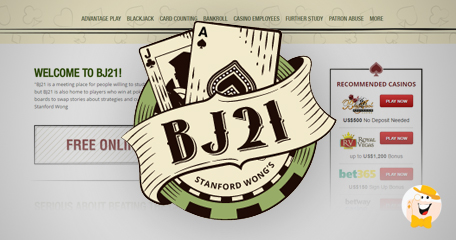 Attracting a wider audience of blackjack players by improving the quality of their website, BJ21 gives new meaning to "hit me with your best shot"! They value your feedback and are confident it meets their customer expectations, so go ahead and fire away!
It is one of the newest additions under the LCB Network which doesn't fall far from the tree of gambling wisdom. It is not your average run-of-the-mill site because in this case, more truly is better. Whether you're a newbie or a real connoisseur of blackjack, there is plenty of knowledge to be absorbed and grow into one the greatest card masters out there.
Sections to Give Players That Winning Edge
Advantage Play – To gain the skills necessary to conquer the art of BJ this section is your educational bible to succeeding. The essentials are all right here offering indispensable articles from highly regarded experts. Learn from the pros and avoid the mistakes so commonly made.
Blackjack – If considering to jump in the ring for the first time this is where your computer should be parked for a while. Comprehensive information to guide the newbie in the right direction and build the type of confidence necessary before pulling up a chair at the tables.
Card Counting – Always an intrigue especially when celebrities like Ben Affleck are counting up more than the number of awards won. Learn everything there is to know about counting cards and if slick enough you could be the next giant cash cow. And to answer your question, no card counting is not illegal but casinos do frown upon it.
Bankroll – Finances are on the back of everyone's mind and trying to maintain a bankroll at the tables can be not only a risky venture but a tricky one as well. Read the publications written on protecting your money.
Casino Employees – Do you have those burning questions that are on the back of your mind during every hand dealt? We thought so, that's why those for those inquiring minds this section is here.
Further Study – While the title of this section may not indicate there is not a whole lot of insight worth reading, think again. This happens to be one of the most interesting reads available regarding 21.
The site is light and airy straying from the otherwise overly dramatic designs commonly seen. It's the ultimate spot to decompress, share stories, chit chat and interact with other BJ players.
Given the integrity of the network, it keeps within the parameters of being reliable, educational and keeping players on top of the latest information. It is the glue that will hold this newly revamped site together and has a bright future of succeeding.
"the newest additions under the LCB Network"
LCB News
Back to articles