Back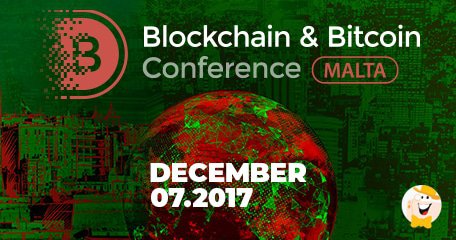 A very special cryptocurrency conference will be held in Malta on December 7th. It will see all the major business representatives, members of the cryptocommunity and blockchain enthusiasts around the Mediterranean get together for an entire day of discussions on promoting the fintech industry across the region – but also the implications for the gambling industry.
As one of the largest events of this kind in Europe, the Maltese get-together is just one in the series of events to be taking place in the coming months: during the first three months of 2018, similar forums will be held at Ljubljana, Tallin, Gibraltar, St. Petersburg, Geneva, Manila, Bengaluru, Istanbul and Bangkok. The conference is organized by Smile-Expo which is behind similar events held in the past.
The Blockchain & Bitcoin Conference will be graced by the presence and seminars held by such illustrious names such as Malta's Secretary for Financial Services, Digital Economy and Innovation, Silvio Schembri; Agilis chief software architect, Loui Mercieca; STASIS CEO and founder, Gregory Klumov, EXMO Finance LLP's co-founder Ivan Petuhovski, GANADO Advocates Senior Associate, Leonard Bonello and many other key figures from the realms of investors, lawyers, payment systems and financial organizations representatives, industry experts, IT specialists, entrepreneurs and government officials.
They will be discussing industry trends, cryptocurrency development, the fintech sector's legislative regulation challenges and more. Some of the lectures' subjects are "How to Get Started Writing Applications For Ethereum," "Digital Assets as Liquid Alternatives Investment," "Why Bitcoin is Not Anonymous Anymore," "Investing in the Future of Mankind" and "Benefits of Margin Leading." There will also be a Panel discussion taking place on the matter of legal and regulatory challenges. One part of the discussion will also be dedicated to some of the trending aspects of digital currency use in the online gambling community, which is one of the leading fields for the application of blockchain technology. The yearly growth for related capitalization of the gambling market is 10%. Experts on such gambling systems will also be sharing their knowledge and experience during the event in Malta.
Source:
"Blockchain & Bitcoin Conference Malta", malta.blockchainconf.world
"sharing their knowledge and experience during the event in Malta"
Bitcoin
Back to articles