Back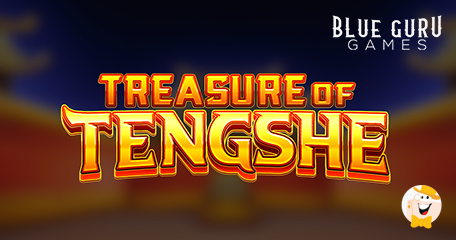 The Newly Formed Studio from LeoVegas Returns with Ancient Chinese Myth
One of the biggest challenger studios of today, Blue Guru Games, is back one month after presenting Reel Big Fish. This time, the software company from Malta is taking players on a fantasy adventure where they must fight the mighty flying serpent in the midst of a a festival with firecrackers and fireworks.
Named Treasure of Tengshe, the provider's game from August is packed with expanding wilds, fizzing firecrackers and an ancient sky-dancing serpent that devoures fireworks. This entire scenery plays out on a high-volatility, 50 payline grid, while the slot is exclusively available on the Oryx Hub Platform.
Wild Dragon Mechanics
If you take a closer look at the growing portfolio of Blue Guru, you will see that the up-and-coming provider, established by LeoVegas, has made quite a bang in the gaming space for a very short time.
Some of the studio's most comprehensive series of highly engaging slots with cinematic audio-visuals to date are Curse of the Mummies, Octopus Armada, and the Nemean Lion, focusing mainly on storytelling.
The latest release is based on mythology, history, esoterica, and eastern philosophy, as Tengshe is a legendary dragon, featured in ancient Chinese classic texts. It brings good fortune and riches to all who see him, by the way.
Perhaps the biggest highlight of the game comes in the form of the "Wild Dragon" bonus spins, appearing at a length of two symbols. Each complimentary spin can set off fireworks, and this is where the graphics kick in. Tengshe now chases the explosions across the sky, but only to devour them and grow in size.
Tengshe will always take the shortest route to the fireworks, and with each one consumed, the flying beast will increase by one additional symbol in length. He will also act as the wild symbol wherever he goes. Moreover, fireworks can have multipliers attached for a bigger reward at the end of the round.
Since the Chinese dragon is not a fire-breathing beast and destroyer of villages, but rather a spiritual and cultural symbol of good fortune, Tengshe will be leaving quite a trail this August at all partners casinos, so take a look!
"Chinese Mythology is such a deep and fascinating well to draw from and it inspires bright and vibrant games like this one," commented Andy Braithwaite at Blue Guru.
He hopes that players will like Treasure of Tengshe, as it not only comes with a great mythological theme but an exciting mechanic that fits the narrative perfectly.
Simple to Understand and Engaging
According to Niklas Mravlje, director of product marketing at Oryx, the latest Summer release from Blue Guru Games, Treasure of Tengshe, is very simple to understand. The game offers a powerful and engaging story, and it is a perfect introduction into the next month's title, called Clash of the Seraphim.
The young studio is excited about its new release full of fresh ideas, structured around successful game mechanics and a biblical battle between the forces of good and evil. It will feature a 7x7 cluster pays grid where 5 or more connecting symbols trigger a payout, including wild expansions and mini games.
Stay tuned for the official release in September.
Source:
"Treasure Of Tengshe' from Blue Guru Games Hits Oryx Hub Platform", Pal, Hunor, europeangaming.eu, August 3rd, 2022.
"the up-and-coming provider has made quite a bang in the gaming space"
Casino Games
Back to articles