Back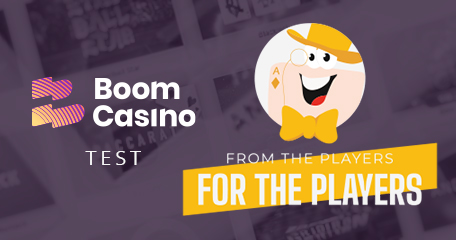 As a part of the "From the players, for the players" project, the LCB team has put versatile online casinos to the test, both respectable and blacklisted. Continuing to evaluate the transparency and business practices of entertainment facilities, we bring you another insightful report.
Our tester of the day for Boom Casino was R0UNDER. He visited this betting shop and went through registration, depositing, as well as the withdrawal procedure.
These are the highlighting moments of our tester's experience with Boom Casino:
Tester of the Day: R0UNDER
Deposit of EUR 150 via MuchBetter made on March 31, 2021; the transaction was processed instantly
Withdrawal request of EUR 50 via MuchBetter was submitted on March 31, 2021, right before midnight
Cashout was finalized on April 1, 2021 (04:20 PM, GMT+0), approximately 16 hours after the request was submitted
There wasn't any KYC procedure on this occasion
Without further ado, here comes the entire procedure- from registration, through depositing and withdrawal including communication with the support department, so stay tuned!
Introducing Boom Casino
Packed with content from more than 30 different software developers, Boom Casino, managed by Hero Bet Ltd, offers a diversity of online casino games. This section is equipped with various custom-made features and quite simple to navigate.
In addition to this…
…there's a dedicated department with promotional campaigns as well as Infinite Loyalty Program. Approved by Malta Gaming Authority, an institution that values social responsibility, the operator offers various tools which assist punters in managing their gambling habits well.
On top of that, the page itself is optimized in multiple international languages and offers two channels of communication for customer support-live chat and e-mail. Among the payment options, consumers can find credit cards, e-wallets, and bank transfers.
Smooth Registration and Depositing
To register in this betting facility, our tester had to fill in a simple form. During the first step, he entered e-mail, password, and phone number, while in the next the tester entered his name, last name, address, and other personal data. Registration was successfully completed on March 31, 2021.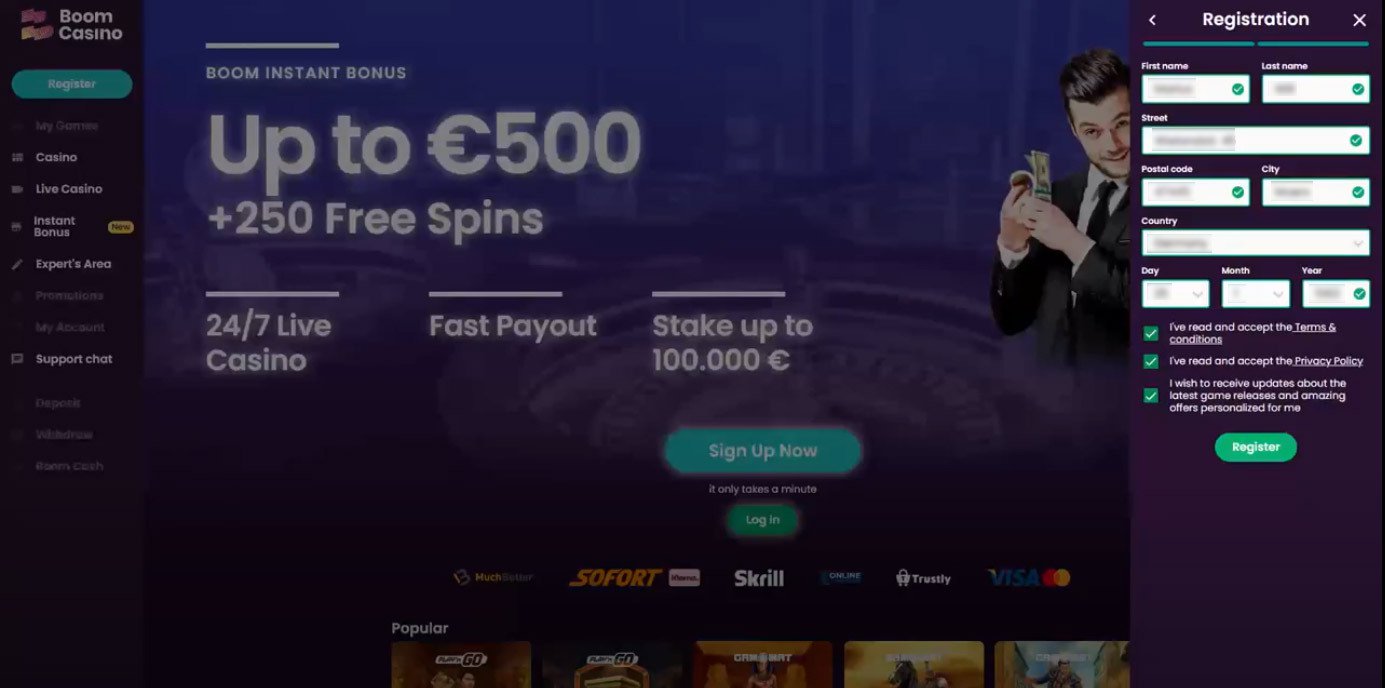 Upon registering, R0UNDER explored the platform a bit, with a particular focus on the "My Account" section. This corner is equipped with multiple useful tools such as reality check, deposit, loss, and wagering limits as well as time out and self-exclusion.
Also, the tester received an e-mail from the casino, with all the details regarding the welcome offer, as well as a brief introduction of their loyalty scheme.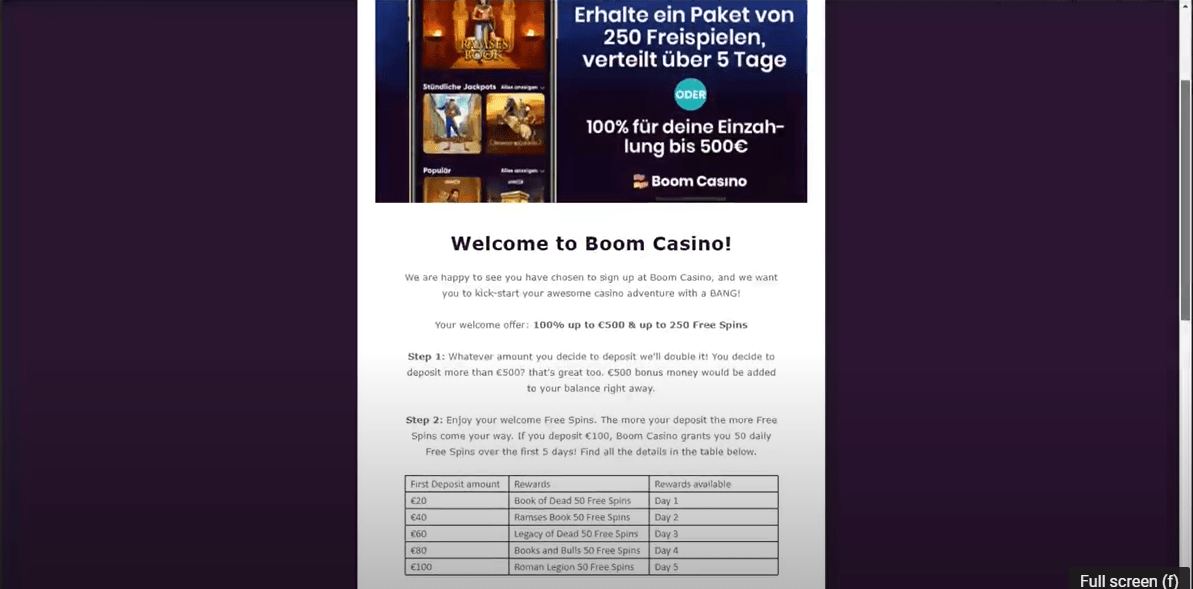 Having completed registration, R0UNDER deposited EUR 150 via MuchBetter on March 31, 2021. The transaction was processed in a matter of seconds.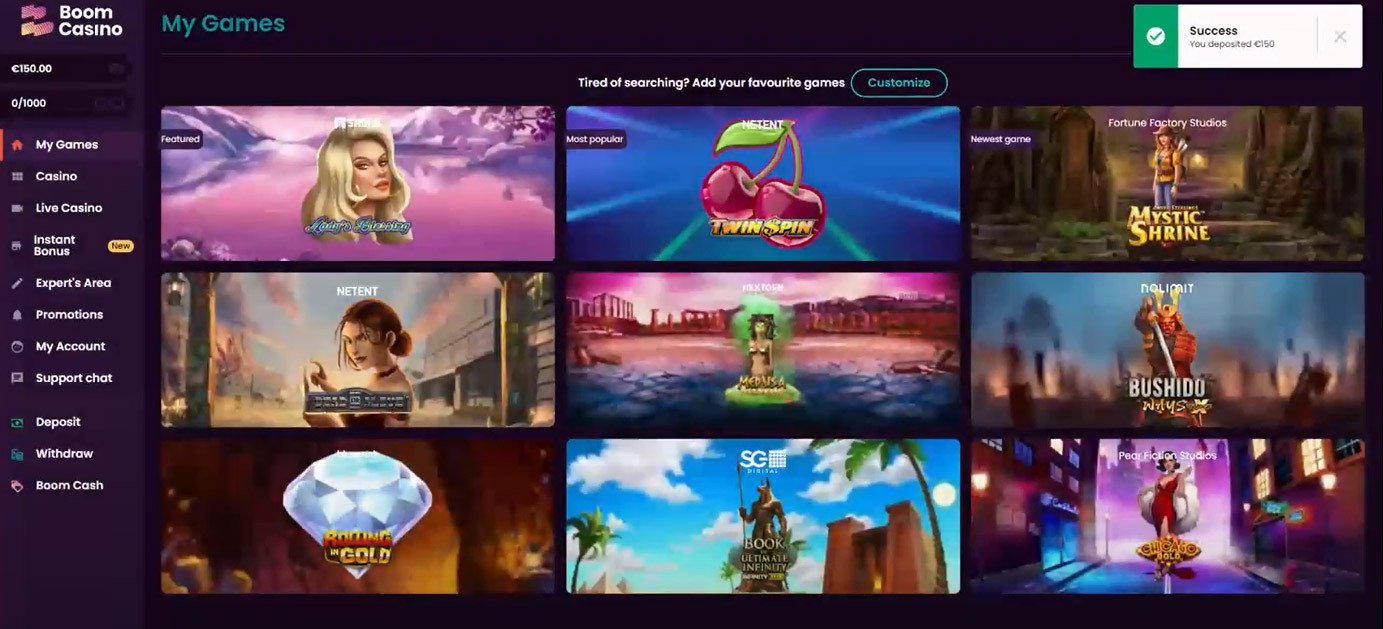 To double-check whether everything went well, the tester visited the "My Account" section once again. There was a confirmation on the transfer he made in "Receipts".

Exploring the official Terms, players shall find the following information:
"We accept deposits made Canadian Dollars. If your payment account (such as your bank account or your eWallet-account) has a different currency than Canadian Dollars, we'll convert the funds to Canadian Dollars before depositing them to you. Likewise, the funds you withdraw will be sent to you in CAD and your bank/eWallet, as the case may be, will convert the funds to your payment account currency. Please note that any exchange costs are payable by you. Funds held in your account do not generate interest."
Also:
"Please note that we may authorise commercial agents to process any deposits or withdrawals on our behalf."
Real Money Play Overview
After depositing and making sure the transaction was processed successfully, the tester went on to explore the operator's portfolio.
He picked slot games with "Instant Bonus". As explained, this new concept is designed to deliver a hassle-free experience, as players can access the bonus round immediately after opting for buy-in.
Wanting to see how it works, he selected Ignite the Night by Relax Gaming, where the cost of the bonus round is EUR 7.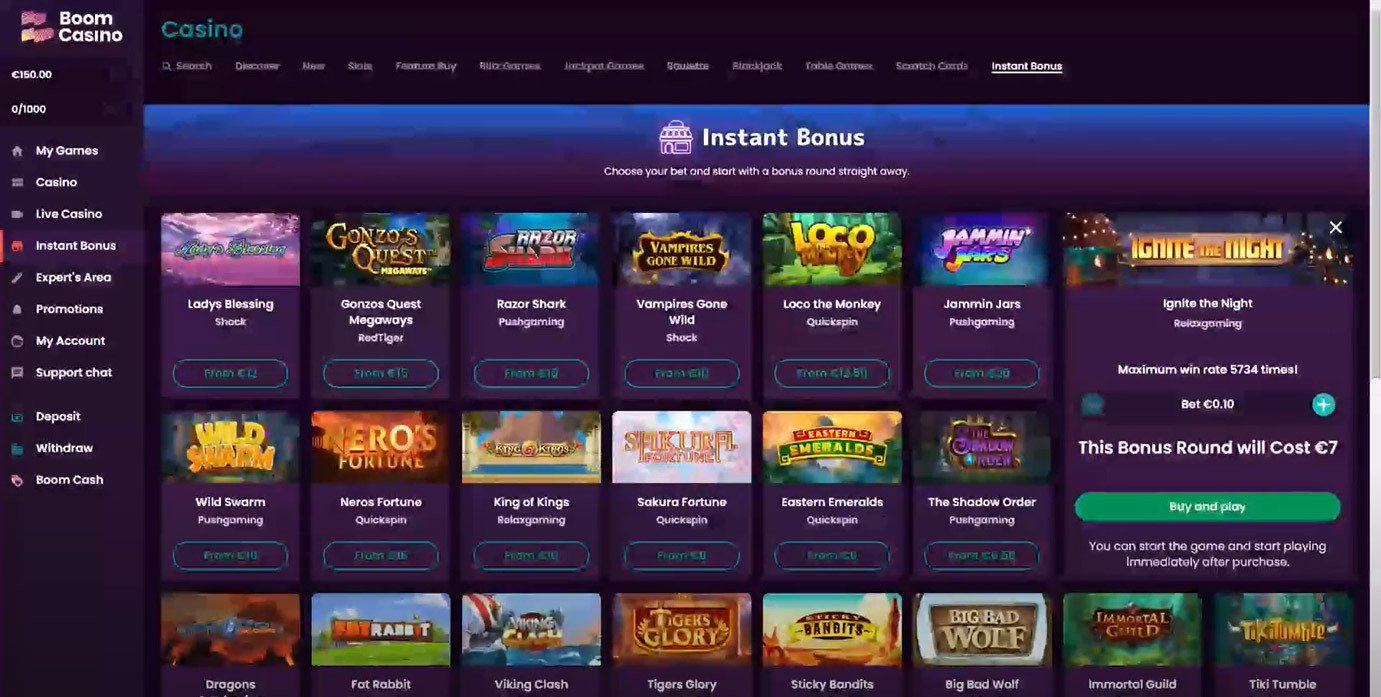 So, when he launched the game, the starting balance was EUR 143.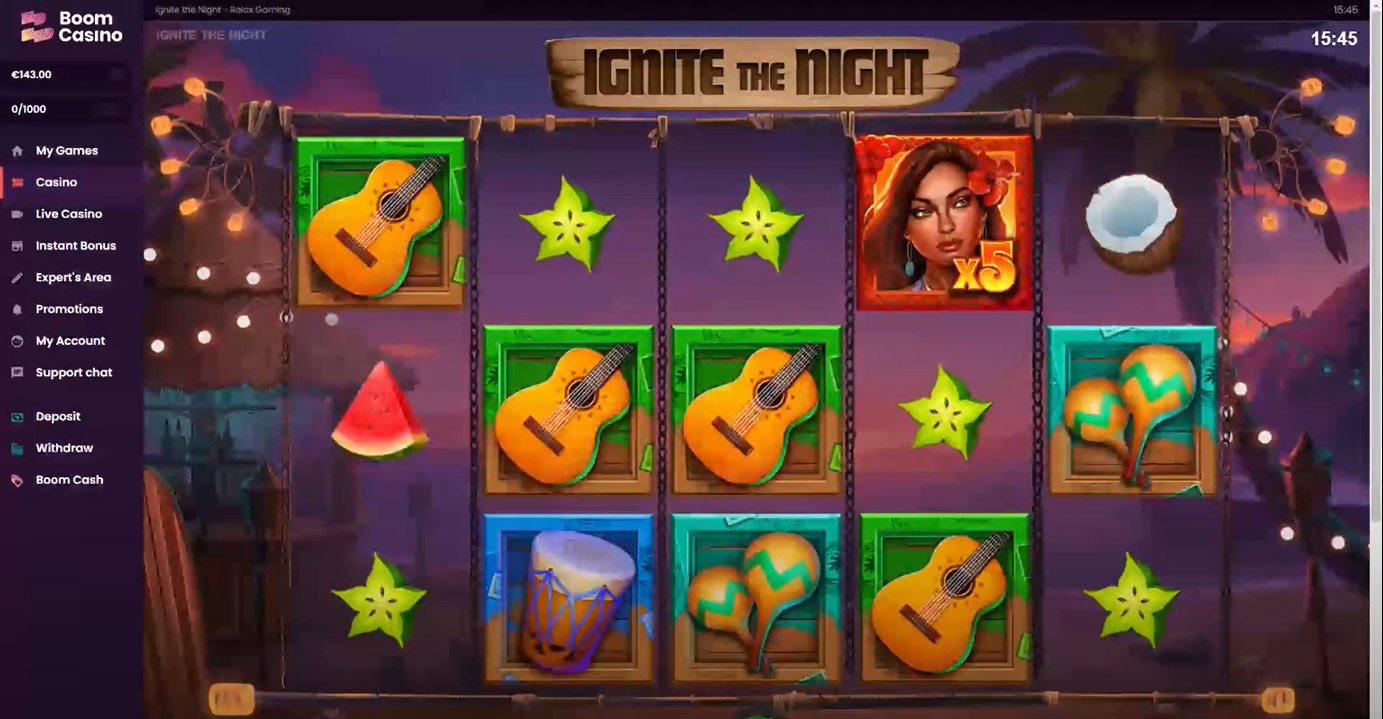 Eager to explore other releases from this section, the tester launched Sakura Fortune by Quickspin, where the cost of the bonus round is EUR 8.
The starting balance in this one was EUR 136.08. While playing this one, the tester triggered a couple of features and had some noteworthy winnings as well.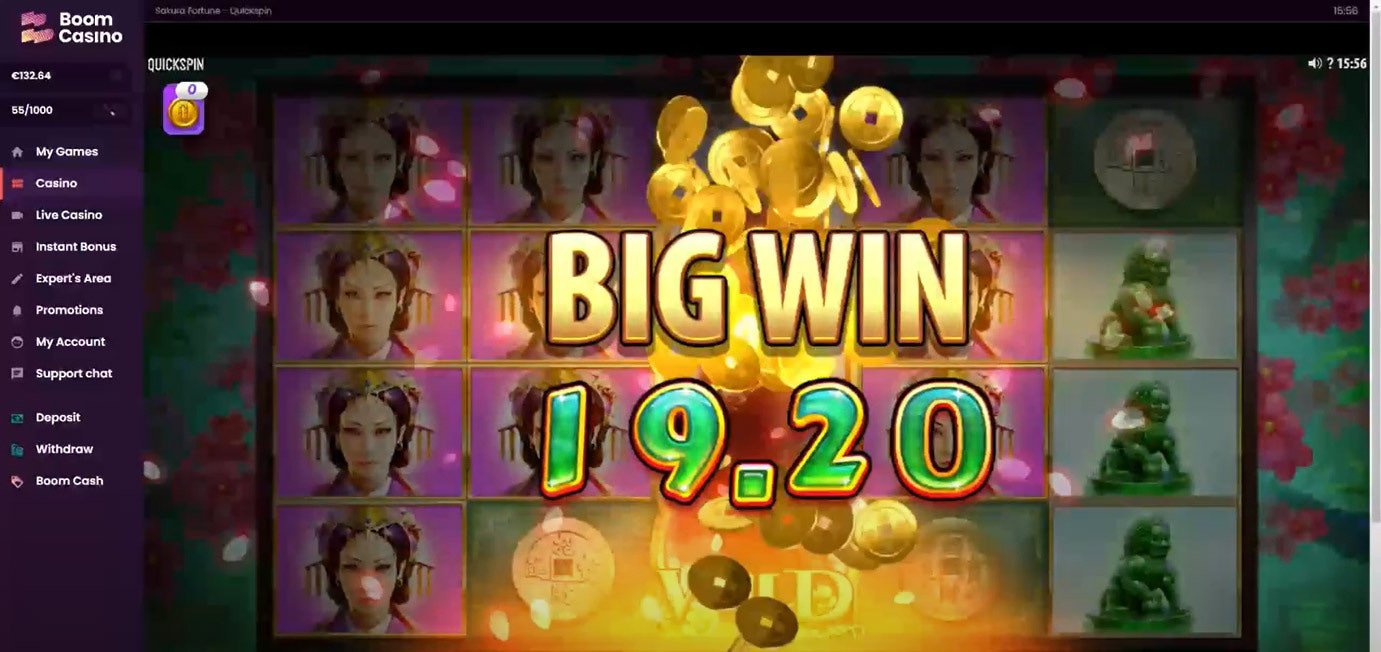 The next one in line was Medusa Megaways by NextGen.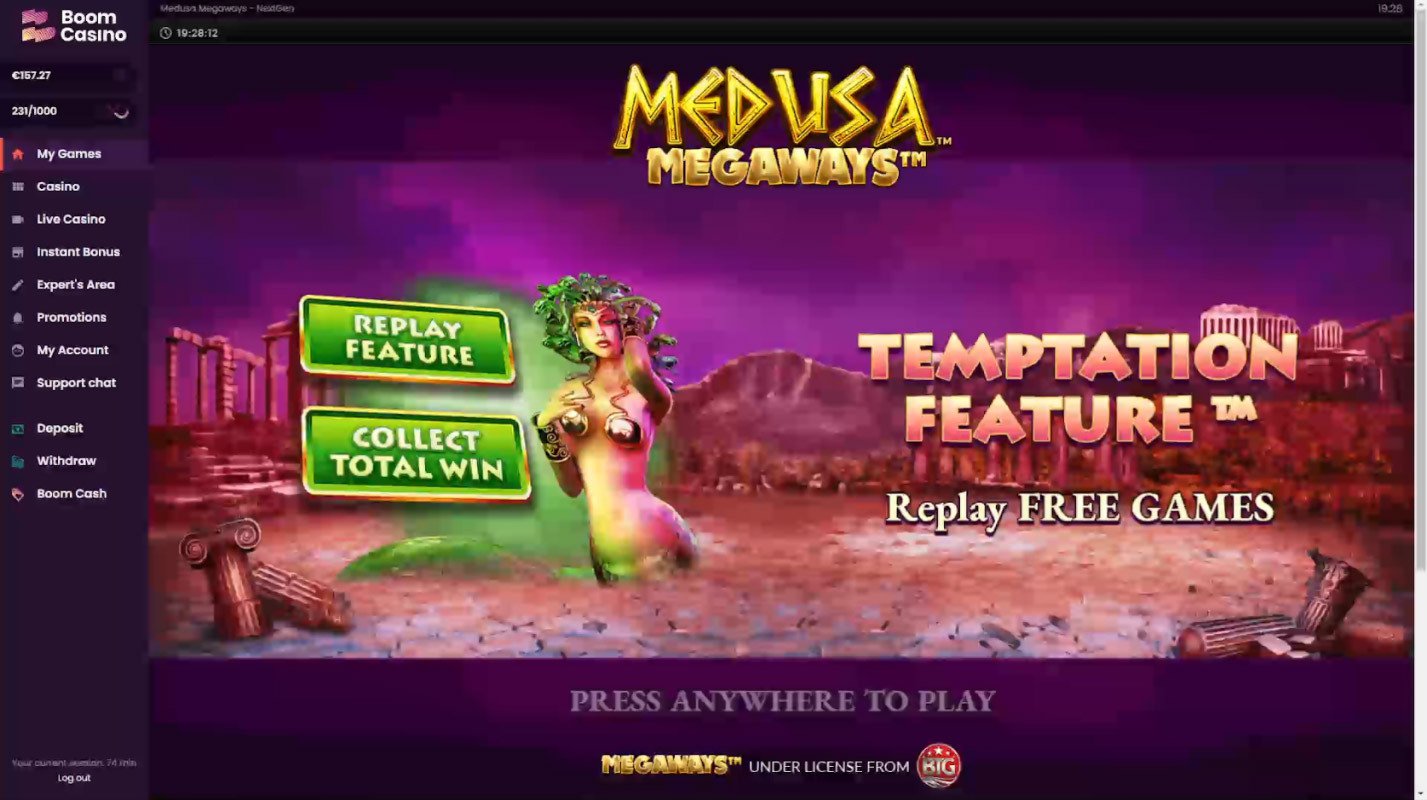 Were There Any Problems with Withdrawal?
After finishing his playing sessions, the LCB tester made a withdrawal request- EUR 50 via MuchBetter, the same method he used to fund the account. The request was sent on March 31, 2021, a couple of minutes before midnight.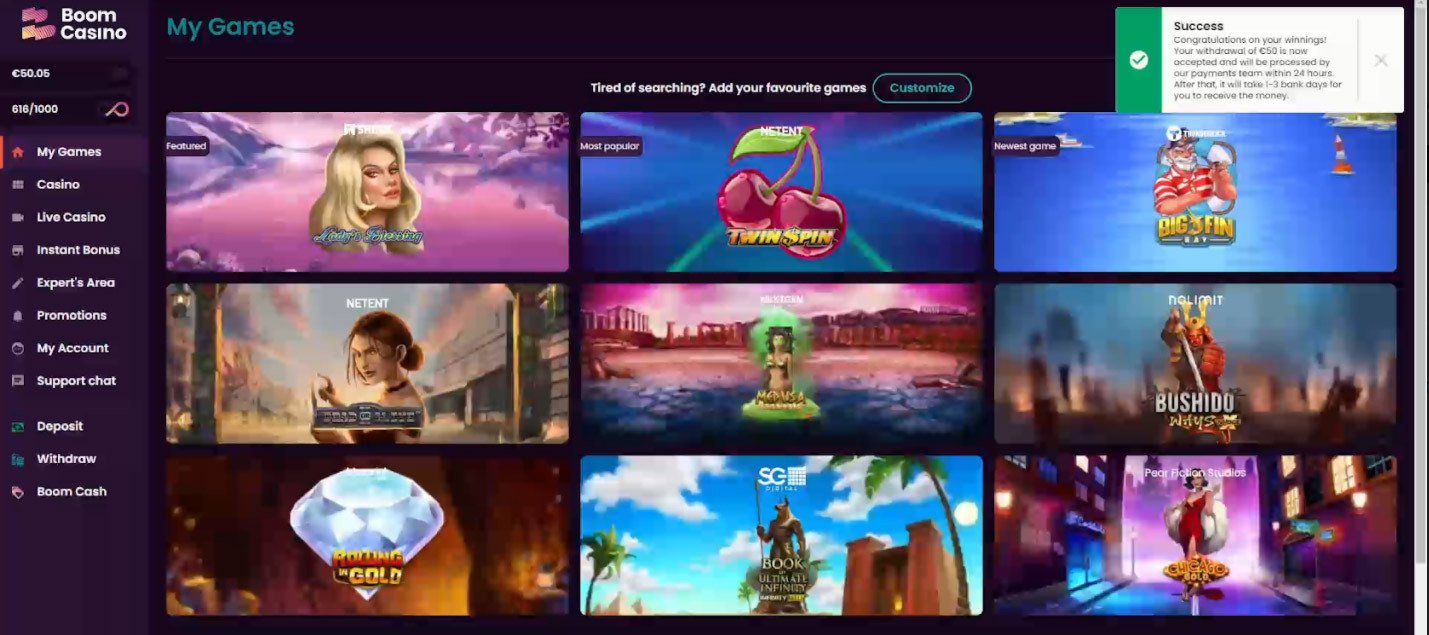 As far as written in the confirmation notification, the payment is expected to be processed within 24 hours, after which it will take between 1-3 banking days for the player to receive the funds.
The payment was finalized the next day, on April 1, 2021, approximately 16 hours after the request was sent, which means, it was processed within the stated timeframe.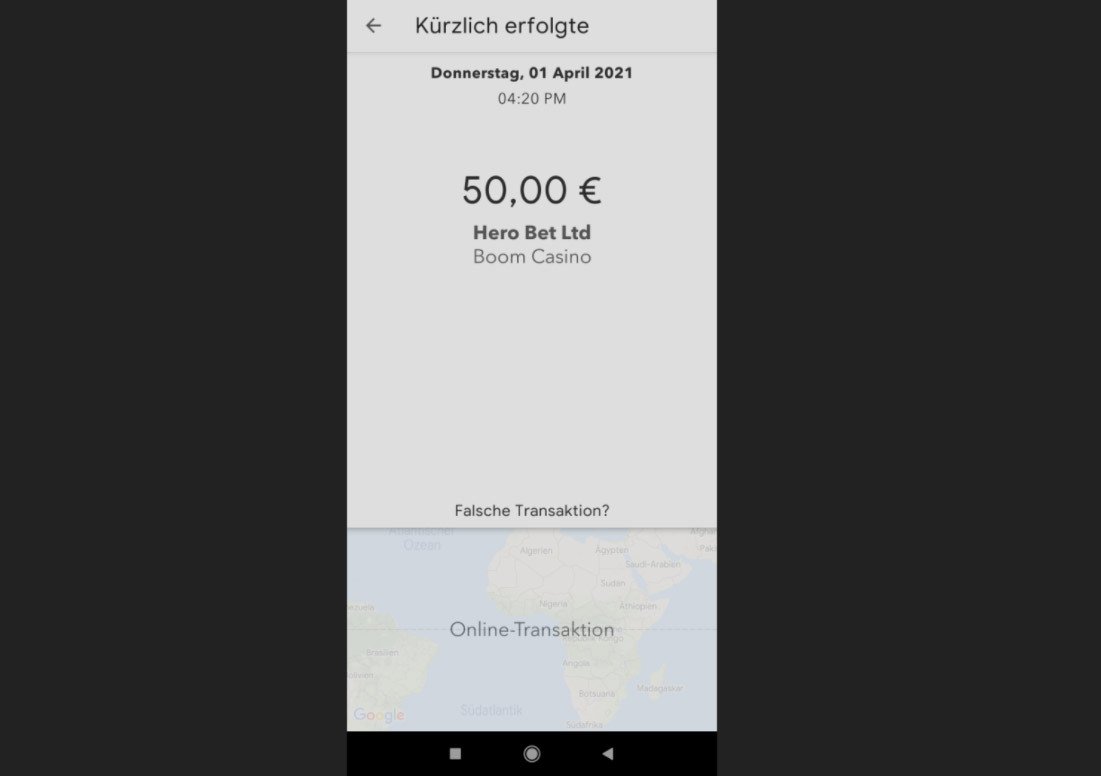 During depositing and withdrawal, the tester haven't had any fees charged, but in some cases, they may be charged. According to the rules:
"4.2. Fees. We may charge fees for processing deposits and withdrawals. If such fees apply, they will be clearly communicated during the deposit process."
Communication with Support Department
Even though the instruction stated that the transaction is usually processed within 24 hours from the moment the request was sent, the tester wanted to know if there were any problems.
So, before the cashout confirmation arrived, he got in touch with the support department, and received the following response: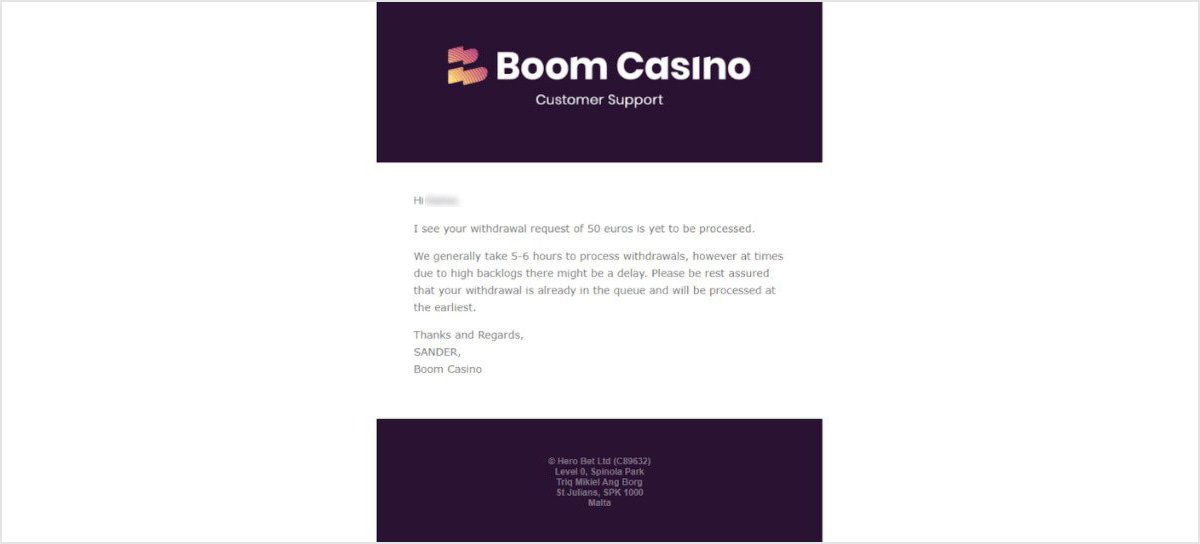 Later on, he contacted live chat department. His communication with the agent took place a bit earlier the same day- April 1, 2021 (12:38 PM, GMT+0). As we mentioned, he received confirmation that the cashout request was finalized on April 1, 2021 (04:20 PM, GMT+0).
The agent was efficient and helpful. The tester got an explanation that sometimes it may take a while for the request to be processed.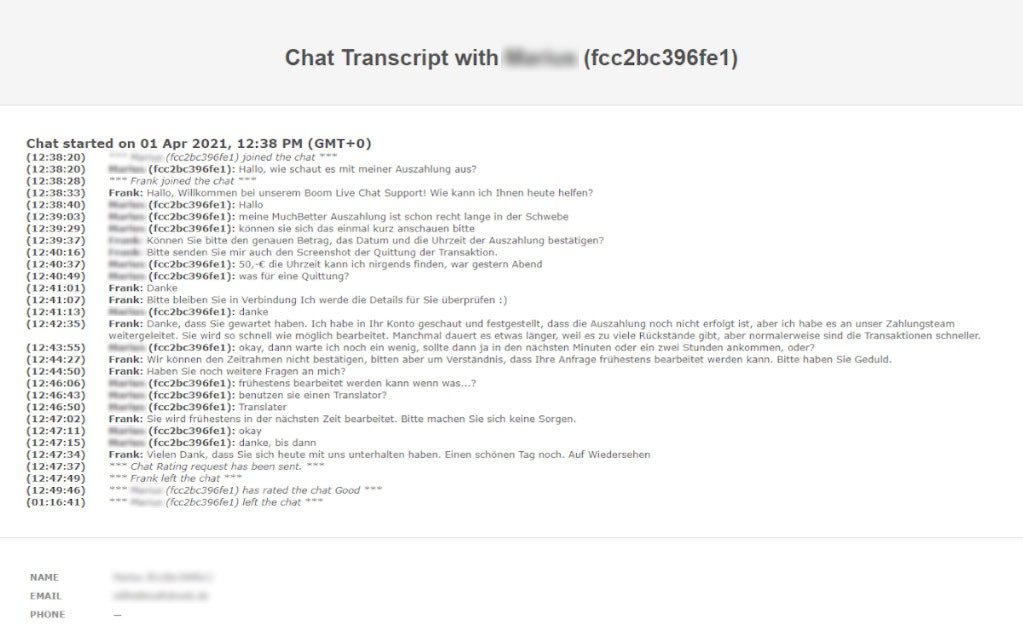 Nevertheless, the transaction, as stated earlier, was processed within the given timeframe.
Here's what the relevant section from the Terms says:
"4.4 Processing Time. The time it takes between making a deposit and availability of the deposited funds in the account as well the time it takes between requesting a withdrawal and availability of the withdrawn funds in your account, may vary depending on the payment method used. A withdrawal attempt should generally be approved or denied within a reasonable time. However, withdrawals may be delayed as a consequence of our legal obligations to request additional documentation and information from you. If you win and decide to withdraw $20,000 or more over a period of 30 days or less, we reserve the right to pay out your winning in instalments over time."
Was There Any ID Verification Procedure?
Our tester didn't have to go through any KYC procedure to deposit and/or withdraw the funds.
Here's what the official Terms say on the matter:
"3.4. Customer Due Diligence and Duty of Care. In order for us to fulfill our legal obligations we may ask you for information in addition to the registration details when you apply for an account and at any time while you hold an account with us. This could include, but is not limited to, proof of your identity, address, age, origin of funds deposited, utility bills, and bank statements. We may also obtain information about you through publicly available sources and databases. We will always request additional documents if your cumulative deposits, or a withdrawal request, reaches EUR 2,000 but documentation may be requested at lower levels. We may block your account at our discretion at any time if we are not satisfied with the information with which you have supplied us or in the event that there is delay in supplying the requested information. Failure to provide correct information or to provide any information requested to enable us to comply with our legal obligations may result in you being reported to the relevant regulatory body. This may include criminal and serious crime monitoring/reporting agencies. Please note that we may be restricted by law from informing you about such reporting."
Closing Comments
Based on our tester's first-hand experience, Boom Casino performed well in all key sectors. There were no obstacles with any of the steps- registration, depositing, and withdrawal. What's even more, the support agent was efficient and professional.
FYI, R0UNDER has tested a couple of online casinos so far, and if you want to check what was his experience with those betting facilities like, these are the articles to read:
Have you visited Boom Casino so far and what was your experience like? Share your thoughts and comments in the comments section below, and let us know which casino you'd like us to test next.
Gamble responsibly!
From the Players for the Players
Back to articles