Back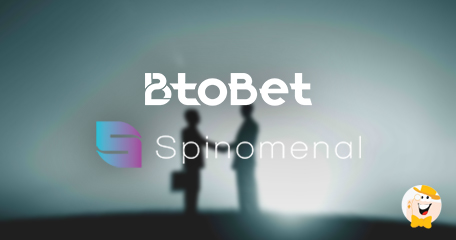 Cross-platform games supplier, Spinomenal, has signed a partnership agreement with BtoBet, one of the world's largest iGaming and sportsbook platforms. The supplier's highly innovative gaming content, that is already found across numerous online casino operators around the globe, will therefore find new players via the deal.
BtoBet, a multinational brand (with branches in Rome, Skopje, Ohrid, Bitola, Belgrade, Nis and Tirana), with over 20 years of experience in various IT fields, is highly committed to providing the best gaming solutions available to their network of operators. The company's understanding of the market requirements leads them to joining forces with the most creative names in the iGaming industry, which is why they turned to the supplier in this instance.
BtoBet's CEO, Kostandina Zafirovska, comments: "Spinomenal has interesting set of games and we're enthusiastic about integrating their content onto BtoBet's platform, ready for any regulated market. I firmly believe the combination of Spinomenal's games proposal and BtoBet's platform will definitely provide operators with the possibility to elaborate unique offers, tailored for every single market, offering more than 3,000 exciting games. Additionally, with our sophisticated Recommendation engine, operators can suggest to players their preferred games, at the ideal time and on their preferred device."
Lior Shvratz, who founded Spinomenal in late 2014 with Omer Henia and is now the company's CEO, stated: "We constantly strive to reach the perfect balance of amazing graphics, fun game flow and easy access for worldwide clients. Since its foundation, Spinomenal has created more than 85 original cross-platform games and we are just getting warmed up! We are very excited about the integration with BtoBet and are always happy to work with such a responsive and professional team of experts who are able to make the process easy and fast."
Source:
"BtoBet and Spinomenal New Partners in Gaming", btobet.com, December 29, 2017.
"Spinomenal, has signed a partnership agreement with BtoBet"
General Gambling News
Back to articles