Back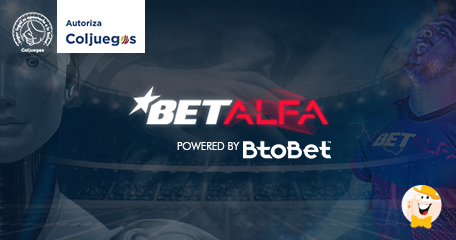 BtoBet has announced the launch of a new website, namely Betalfa.co. The move is to strengthen the company's presence in Latin America, specifically in Colombia. This iGaming and Sportsbook provider has been recently granted its 13th licensing agreement by Coljuegos, country's gambling regulator.
Betalfa's marketing director, Daniela Gutiérrez says:
"Having a deep knowledge of the Colombian market and strong presence in Latam, BtoBet was the ideal partner to support us with our operation. Their experience in the region definitely helped us tackle all teething problems in the most appropriate way, considerably reducing the time to go live."
Bright Future Ahead
Gutiérrez thinks that opting for "the right technological partner" to assist the company in all aspects of its operations is a decision of extreme importance. By considering the fast and constantly evolving context of the iGaming industry, she adds, BtoBet will enable Coljuegos to be continually updated with the latest technology.
BtoBet's chief marketing officer, Sabrina Soldà, believes the partnership will have a "bright future", given that both parties share the common goal of anticipating the players' needs and delivering a personalized and tailored experience for the Colombian market.
Boasting of her company's "most innovative technological solutions on the market", Soldà also adds that the necessary know-how in the matter of achieving results in such a "demanding, evolving, and growing market" is what makes BtoBet a leader in the region.
"Tomorrow's Technology Today"
BtoBet is a multinational software development company that has been around for 20 years. Its operations cover multiple branches, including IT, finance, telecommunication, e-commerce, and banking.
The business is strongly committed to technology, which is best illustrated by their generous investments in research and development. The business puts technological intelligence at the core of all their operations, offering flexible cloud-based systems capable of supporting any change in consumer behavior.
Their "tomorrow's technology today" vision makes them a leader in the iGaming and Sports betting industry. With a deep understanding of the requirements of the market, Bto is proficient in predicting trends and envisioning bookmakers' and operators' needs.
"A true partner in technology", the business continually devises training programs in order to offer impeccable support to its clients anytime, anywhere. To help its partners grow alongside them, Bto offers completely personalized services for Sports betting and iGaming business, online mobile and retail.
The Malta-based business has offices in Skopje, Ohrid, Bitola, Belgrade, Nish, Tirana, and Rome.
To illustrate the scope of its operations, suffice it to say that, back in October, Bto launched a White Label Certification Program through its partner network.
A poor choice of words, perhaps. Rather than "introduced", Bto made its cert program accessible to everyone, as it was originally available in-house exclusively. BtoBet Certified partners can provide White Labels to other businesses. However, the licensing process isn't an easy one. As Soldà puts it:
"To become a BtoBet Certified Partner, all our partners have to undergo a rigorous screening process that ensures that they are capable of effectively delivering the same high-level of service that has become synonymous of our brand and technologies."
Source:
"BtoBet Strengthens Presence in Colombia", btobet.com, November 8th, 2018.
"The move is to strengthen the company's presence in Latin America"
Gambling Law & Society News
Back to articles