Back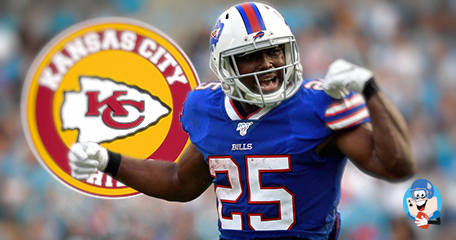 Just last week, the Buffalo Bills released veteran running back, LeSean 'Shady' McCoy, from their team. It did not take long for McCoy to find a new home for the 2019-2020 NFL season with the Kansas City Chiefs.
Apparently, there were two teams that were highly interested in picking up the 31 year old running back after his release from the Buffalo Bills. Those teams being the Los Angeles Chargers and the Chiefs.
McCoy and the KC Chiefs have agreed to a one-year, $4 million contract that involves $3 million in guaranteed money according to sources close to the breaking news. This deal will coincidentally reunite the player with his first NFL head coach in Andy Reid with the Philadelphia Eagles.  
Chief's Running Backs:
Prior to the 2019-2020 NFL season training camps the Kansas team released their number one running back on the depth chart, Kareem Hunt, due to a domestic violence incident. Upon his outright release Hunt was quickly picked up by the Cleveland Browns even though he will have to miss the first four games of this year due to suspension.
As of now the Chiefs depth chart begins with Damien Williams as their number one starter at the moment. The second spot will go to LeSean McCoy who will be followed up by Darrel Williams in the third slot. Darwin Thompson currently holds the fourth string on the Chief's running back depth chart, and Tremon Smith concludes that list as of now in the fifth spot.
Career Accomplishments and Honors:
Shady McCoy has played in the NFL for 10 grueling seasons at the demanding running back position. During his time in the League, he has been selected to the Pro Bowl 6 times (2011, 2013, 2014, 2015, 2016, 2017). He was honored by making the NFL's First Team All Pro two times (2011, 2013).
McCoy was the NFL's leader in rushing yards during the 2013 season, and he led the league in touchdowns in 2011. He has eclipsed the 10,000 yard mark over his long and successful professional football career while rushing for 69 touchdowns and was also a threat catching passes out of the backfield. He has 475 receptions for 3,616 receiving yards as well as 15 receiving touchdowns.
Career Statistics:

 

Game

Game

Rush

Rush

Rush

Rush

Rush

Rush

Rush

Rece

Rece

Rece

Rece

Rece

Rece

Rece

Rece

Rece

Rece

Tota

Tota

Tota

 
 

Year

Tm

G

GS

Rush

Yds

TD

Lng

Y/A

Y/G

A/G

Tgt

Rec

Yds

Y/R

TD

Lng

R/G

Y/G

Ctch%

Y/Tgt

Touch

Y/Tch

YScm

RRTD

Fmb

16

4

155

637

4

66

4.1

39.8

9.7

55

40

308

7.7

0

45

2.5

19.3

72.7%

5.6

195

4.8

945

4

2

2010

15

13

207

1080

7

62

5.2

72.0

13.8

91

78

592

7.6

2

40

5.2

39.5

85.7%

6.5

285

5.9

1672

9

2

15

15

273

1309

17

60

4.8

87.3

18.2

69

48

315

6.6

3

26

3.2

21.0

69.6%

4.6

321

5.1

1624

20

1

12

12

200

840

2

34

4.2

70.0

16.7

67

54

373

6.9

3

36

4.5

31.1

80.6%

5.6

254

4.8

1213

5

4

16

16

314

1607

9

57

5.1

100.4

19.6

64

52

539

10.4

2

70

3.3

33.7

81.3%

 
Gambling Law & Society News
Back to articles