Back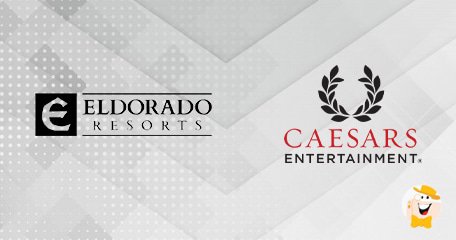 Top-performing casino companies and real giants of the industry, Caesars Entertainment and Eldorado Resorts, continue its ongoing negotiations in one of the most promising deals in gaming history. The deal still waits to be approved by Indiana, New Jersey, and Nevada authorities as well as the Federal Trade Commission's greenlight.
The same has been announced by Nevada Gaming Commission Chair Tony Alamo. He said:
"The board is still investigating. The merger is going like any other merger. It's just going through the process, which includes a normal investigation".
Previous State of Things
Eldorado and Caesars had expected to close the transaction in mid-April, but several sources have reported that June seems more realistic for both providers. It is also confirmed that both companies are in good condition to continue with the negotiations in a period of financial instability.
A reputable source also shares that Caesars disposed $3 billion of its balance and has just unloaded the Rio Las Vegas for an additional $460 million. Eldorado, on the other hand, waits to receive a $230 million from the upcoming sale of two facilities in Mississippi and Missouri. It will bring about $850 million to the established casino company.
The situation is not favorable for Eldorado which is paying a rising ticking fee of $2.3 million which should be delivered to Caesar's shareholder upon the finalization of the deal. If the merger comes to an end in June, the ticking fee would increase from $17.3 billion to $17.5 billion.
The source further added:
"The deal was constructed with a balance sheet to survive a crisis, with ample liquidity and no debt maturities until 2024."
Current Situation
With the current state of things and closures of worldwide locations, Caesars has released some employees without mentioning the exact number. The Reno Gazette-Journal delivers a piece of bad news that 3,200 Caesars employees at Las Vegas facilities were laid off after the state closed the casinos.
It remains to be seen how fast the industry will recover after the closures and customers will have the main role in giving the response.
Nevada Gaming Commission chair is optimistic. He concluded:
"The gaming industry won't turn back on like a faucet with water. Once they open, it will be the economic drivers and the psychology of this country that's going to restart the gaming industry, and that timeline nobody knows."
Source:
"Caesars merger with Eldorado reportedly moving forward, expected to close in June", yogonet.com, April 1, 2020.
"to be approved by Indiana, New Jersey, and Nevada authorities"
Land Based Casino News
Back to articles