Back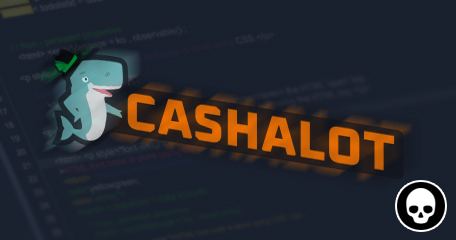 UPDATE: As of December 2022, pirated Novomatic / Greentube games are no longer available, however NetEnt games are still present. 
As dynamic as it is, the online gaming industry is like a vast ocean filled with all sorts of fish, some of which taste delicious, while the others are smelly. The purpose of this picturesque intro is to tell you that you can expect anything- top-class operators offering great games, and the other ones, seemingly okay, serving copied slots. We are more than happy to tell you our diligent team has caught one such villain.
The newest rogue report brings the story of Cashalot Casino, caught red-handed for hosting counterfeit products from two renowned studios- NetEnt and Novomatic. As in a couple of previous investigations, it was the license that inspired us to dig deeper and confirm our suspicions.
Keep reading for more details!
Seemingly Attractive Business Offer
On September 16, 2021, our team from Affiliate Guard Dog (AGD) received the following mail from Nick, the affiliate manager on behalf of the TopTraff program:
"Hi team,
I represent TopTraff affiliate program which has an exclusive rights to represent Cashalot gambling brand on the market.
We have a strong presence in North America, Europe, and CIS markets.
Checking your website I saw a huge potential between our companies. That would have been a great deal for both of us."
As we do with any other brand interested in cooperating with our network, we paid a visit, to see what's beneath the attractive surface.
Opening its virtual doors in 2021, Cashalot casino instantly captured the attention with its highly diversified selection of games and promotional campaigns.
Aligned with more than 45 top-notch providers…
…it seemed like a place suitable for various profiles of consumers. Among the listed studios, punters can spot smashing hits delivered by Novomatic, Microgaming, NetEnt, Tom Horn Gaming, Pragmatic Play, BetSoft, and many more.
Exploring the website further, we encountered a neatly organized FAQ page, withdrawal policy, betting rules, Terms and Conditions, and a certificate granted by Curacao.
Novomatic games combined with a Curacao license - that doesn't add up, does it? While there's nothing problematic with the Curacao license itself (but, unfortunately, it is often linked to non-trustworthy brands), this combination raises questions. To clear away the doubts, we proceeded to examine this betting venue, and here's how the investigation unfolded.
Fake Games Spotted!
Our team of in-house detectives in charge of checking slot game authenticity is located in Serbia, which turned out to be a perfect coincidence for this particular investigation.
How so?
Fact number one – Novomatic games cannot be offered by Curacao-licensed online casinos. Fact number two – Novomatic games aren't available in Serbia.
Yet, our team managed to launch some Novomatic titles, which only confirmed our suspicions. Wanting to check if the operator's portfolio accommodates other falsified games, we opened a couple of NetEnt releases. FYI, this studio's slots are often targeted by forgers.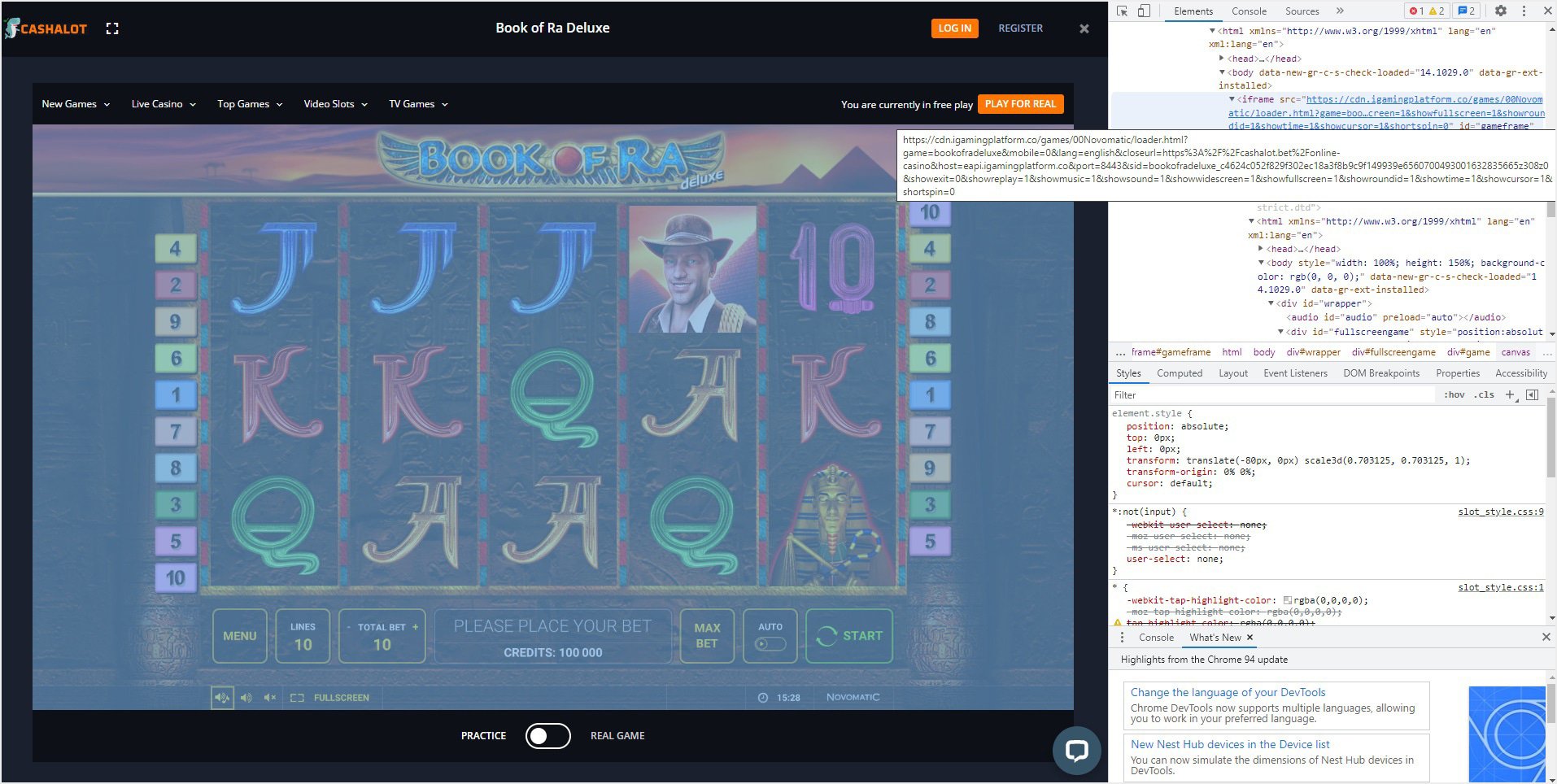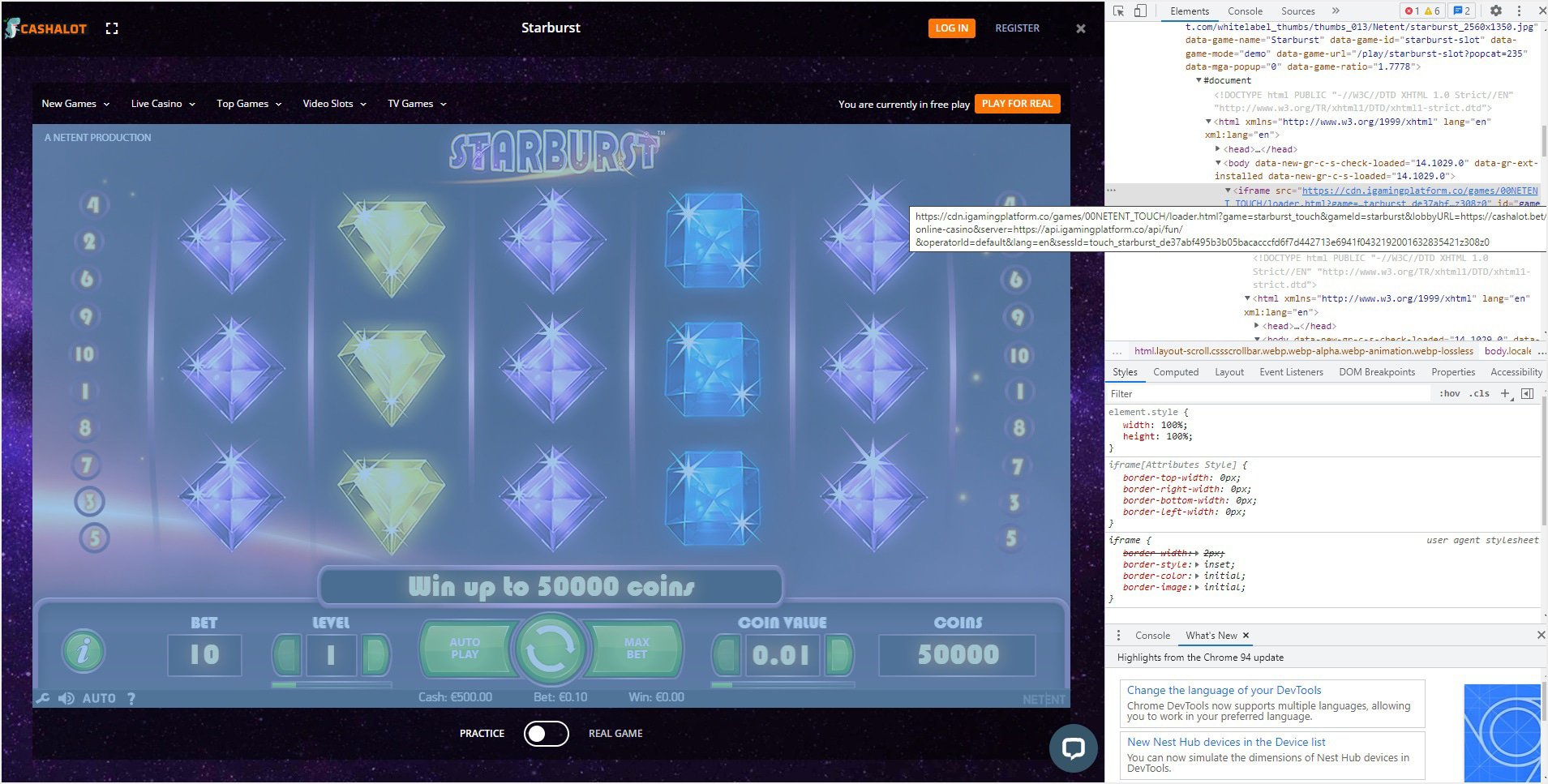 As we suspected…
…these games weren't genuine either. Both Novomatic and NetEnt slots were hosted from the same (unknown) domain. So, even if the surface of a game looks legitimate (graphics, command buttons, menu…), its inner components reveal whether the content is fake or not.
On September 28, 2021, the AGD manager responded to the abovementioned business offer, stressing out that counterfeit products were spotted. She kindly asked them to remove the games.
Did Cashalot Casino Remove Bogus Games?
Two days later, our team paid one more visit to this betting parlor, hoping that the problematic releases were removed. They weren't.
No response from the operator arrived, so we sent a follow-up e-mail on September 30, 2021. The response from the TopTraff manager arrived on the same day.
Here's how he explained the situation:
"The game providers that you mentioned are offered by our white label partner that has an MGA license, they are well known on the market and that was fully legal from their and our side.
Also, we see that some of the partners that are placed on your website and have the same license like we have are offering the same games from the same providers.
Let me know if there are still questions from your side and if we could move forward regarding my initial email about partnership possibility."
Our agent noted that LCB, AGD, and other websites from the network give zero exposure to such brands, and if they are already featured on our sites- they are on the warning list. Our platform promotes brands that have genuine games from official software providers with their official domains rather than from white labels.
Nick let us know that he forwarded the information to the management, stating that it may take anywhere between 2 weeks to 2 months to resolve it.
Closing Thoughts
Analyzing the Cashalot Casino Terms, punters will notice one interesting rule. If the player is suspected of fraudulent activity, foul play, using illegal techniques and strategies to play in the casino, the operator reserves the right to close the customer's account and, charge any applicable withdrawal fees, refund the user's account balance at the casino's sole discretion without giving any reason or prior notice.
Now, what do players do if a casino is CAUGHT in fraudulent activity?!
This Curacao-certified venue is neither the first, and unfortunately, won't be the last to try to get away with falsified games. This year has so far brought us an insightful report on BeepBeep Casino, also caught serving pirated products.
Whenever we discover a problematic casino, we create a report on it, be it listed on our directory or not. Players need to be warned of all the fraudsters, and their misdeeds. While this venue does look more than fine on the surface, falsified content is a huge no-no. All there's left to do is wait and see whether they will eliminate non-genuine releases from their library.
Do you think Cashalot will remove the pirated slots and prove that they are worth cooperating with? Share your thoughts with us in the comments section below and stay tuned for updates!
"caught red-handed for hosting counterfeit products from two renowned studios"
Casino Warnings & Rogue Reports
Back to articles