Back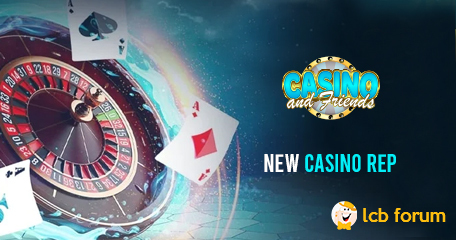 In the ever-growing world of online casinos, it is often said that player satisfaction and engagement play a vital role in determining early success.
Recognizing the importance of excellent customer support and assistance is essential for running a good business, and Casino & Friends have recently assigned a new representative on our forum.
Her duty will be to serve and support all new and existing members.
Building a Safer Gaming Community
This strategic move of Casino and Friends highlights the company's commitment to enhancing the overall gaming experience and building a stronger relationship with our player community.
The decision to appoint a dedicated forum representative stems from the understanding that online forums play a vital role in fostering a sense of belonging and camaraderie among players.
On that note, our forum has served for almost two decades as a virtual meeting place of many like-minded individuals, allowing them to discuss gaming experiences, share strategies, or seek advice.
By having a representative actively participating in these discussions, Casino and Friends are ensuring that their members will receive timely assistance, accurate information, and personalized attention.
The new forum representative, Mia_slotstars, has recently opened a new topic to bring a wealth of information about the casino.
This iGaming brand is licensed and regulated by reputable authorities in the UK, Sweden, Germany, and other countries, meaning that players can expect a fair and transparent gaming experience.
With several years of industry experience, the rep's presence on the forum will not only reassure members that their voices are being heard but also demonstrate Casino and Friends' dedication to transparency and accountability.
One of the primary responsibilities of the new forum rep will be to address member queries and concerns on the forum promptly.
Whether it's a question about a specific game, a request for technical support, or assistance with account-related issues, Mia is there to provide timely and accurate responses.
Her active presence on the forum will also ensure that players receive immediate solutions to their queries, eliminating any unnecessary delays or frustrations.
Additionally, Mia may also actively engage in discussions, offer tips, strategies, and insights to help members maximize their gaming experience, so stay tuned and regularly visit our forum!
Feedback is Appreciated
Furthermore, the recently launched gaming brand, Casino and Friends, also understands the importance of feedback in shaping their services and offerings.
With Mia as their dedicated forum representative, they are in a better position to gather feedback, suggestions, and ideas from their members.
Mia will act as a liaison between the player community and the casino, ensuring that player concerns and suggestions are relayed to the relevant departments within the customer support and management.
Such a direct line of communication should strengthen the bond between the casino and its members, fostering a trustful environment.
In conclusion, by having a dedicated individual like Mia to actively participate in discussions and member queries, Casino and Friends is creating an inclusive and supportive community for their new and existing players.
So, feel free to get in touch with Mia anytime and drop by to our forum today to say 'HI' to her and other friendly members.
"online forums play a vital role in fostering a sense of belonging"
LCB News
Back to articles