Back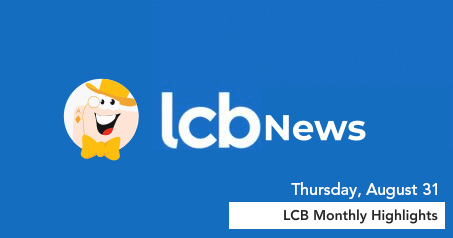 As the sun sets on the hazy days of summer, we step into a month filled with anticipation and the promise of new beginnings.
August arrives with its warm embrace, ushering in a new chapter of moments and possibilities, so join us as we recap the highlights, unveil the latest developments, and explore the stories that have shaped this month's journey.
August gracefully unfurled its wings, ushering in a cascade of excitement with new Exclusive Contests on LCB, adorned with free chip giveaways.
The month also marked the eagerly awaited next round of our ongoing real cash contests, while playing host to a splendid influx of six new entrants to our Member Rewards Program, enriching the LCB community experience.
We sincerely hope that you doubled the thrills this time as Vegas Crest Casino unveiled its Exclusive LCB Contest: Wild Free Chip Giveaway, while the excitement continued at Black Lion Casino with the Exclusive LCB 'Free Chip' Contest, which reached their climax on the cusp of August and September!
Also, as the echoes of spinning reels and casino tests fade into the closing days of August, we extend our hopes that you reveled in the thrill of competition and emerged victorious in the $250 Real Cash Contest: Modern Slot Machines Are Fun! and the $500 LCB August Real Cash Contest: Let's Test Casinos!
May your winnings be as unforgettable as the experiences that brought them forth.
Additionally, in a grand expansion of opportunities, we joyfully introduced 6 new brands to our Member Rewards lineup this August, including LTC Casino, ApoloBet, LionSpin, BlazzioCasino, Thunderbolt, and BC.Game.
Now, you can seize the chance to earn valuable LCB chips for your initial deposits and embark on a rewarding journey through our shop's array of enticing items.
The US featured casino of the month is Grande Vegas, one of the venerable figures in the industry that brings forth a legacy of excellence that transcends time.
To kick off the introduction, this esteemed casino brings forth not one, but two exclusive promotions that promise to ignite the thrill for players. First, you can plunge into the 'Bonus Wheel Jungle' with an irresistible offering of 60 Free Spins, where each spin is opening doors to potential fortunes.
As the excitement builds, we invite you to embrace the world of 'T-Rex II' with a colossal 100 Free Spins, tapping into the ferocious energy of this popular slot.
But the festivities don't stop there – this casino is a proud participant in our Rewards Program, showering players with opportunities to earn valuable LCB chips for every deposit.
As you embark on a new gaming journey, a generous standard welcome bonus awaits, extending a warm embrace to all newcomers. The casino's crypto-friendly disposition adds a modern touch to its traditional values, and its dedicated representative on our forum will enhance the direct interaction between players and the casino at all times, fostering a strong sense of community.
The non-US featured casino of the month is Wolfy Casino, so if you step into its captivating world, you can find only thrilling experiences and boundless rewards at every turn.
Exclusivity takes center stage with the casino's exceptional offering of Free Spins on the renowned 'Total Overdrive' slot. Delving deeper, Wolfy Casino pampers its players with an enticing LCB Shop Item – 40 Casino Spins on 'Tower of Fortuna.'
However, the magic doesn't stop with the games – Wolfy Casino is a proud participant in our Rewards Program, where each deposit propels players towards valuable LCB chips.
Also, a dedicated representative on our forum enhances the sense of community, ensuring that players' voices are heard and their needs are met.
Moreover, one of the defining features of Wolfy Casino is its no-wagering approach to welcome bonuses, allowing you to fully enjoy the benefits of welcome bonuses without any hidden strings attached.
Amidst the flurry of new casinos introduced in August, two luminaries emerge, casting their brilliance upon the gaming landscape, so get a glimpse at
1) Beastino Casino, a non-US platform which we recently welcomed to the LCB fold. It beckons with its irresistible allure and has a captivating sign-up package, coupled with wager-free cashback and an engaging loyalty program that creates a haven for players.
This establishment's global appeal is enhanced by a plethora of currency choices and an array of crypto payment options, underscoring its commitment to diversity and innovation.
The second gaming destination from August worth visiting is
2) Solis Bet, a beacon of excellence holding a coveted Curacao license. Its generous welcome package extends a warm embrace to all, setting the tone for an unforgettable journey.
With a dynamic range of live casinogames, the casino elevates the thrill to new heights with ease.
Make sure to check out its inclusion of various languages that ensures a seamless experience for players worldwide, exemplifying Solis Bet's dedication to inclusivity and quality.
That's the report for August 2023.
Hope you like it, so be sure to share your thoughts in the comments section below so we can continue to deliver the best content possible!
Remember, you can find us on Facebook, Twitter, Instagram, Twitch, Tik-Tok, and YouTube.
Play responsibly and stay tuned for more news coming soon.
LCB Monthly News Reports
Back to articles