Back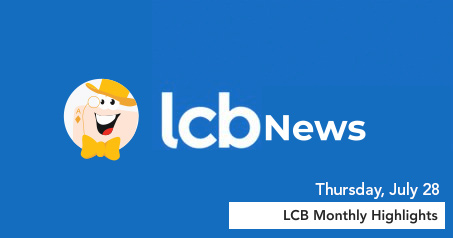 As July kicks in, we hope you're all having a great summer! Savor it while it lasts! Relax, get a tan, take a dip into the pool, eat lots of ice cream, and go on vacation!
But don't forget to visit LCB whenever you have free time to click your way to the best casino perks online!
Let's see what July has in store here at LCB.
Are you proud to be an American on July 4th Independence Day? See the handful of Independence Day Casino Bonuses and Tournaments that were featured on LCB to commemorate the passage of declaration.
At the beginning of this month from 5th - 8th of July we attended iGB Amsterdam 2022. It was a wonderful chance to meet up with our global partners and strengthen our relationships.
If you'd like a chance to win a portion of the $500 Prize Pool offered exclusively by LCB and other great cash prizes, assist us in choosing which online casinos to test in July.
Remember to check out the LCB Awards Contest! Prize pool of $12,000 is no joke! Make sure to cast your vote for your preferred casinos in each category! There is just little over a month remaining and voting is to close on September 1st. Have a sense of urgency and cast your vote, LCB'ers!
Have you ever been at a toss between which online casino to choose from? LCB has a great new feature, "Compare Online Casinos". This feature allows you to compare and contrast two brands side by side. All statistics are transparent on this page, so have a look!
The US featured casino of the month is Casino Extreme, known for their instant pay-outs and always being better than last time. This month, they decided to up their game with LCB Exclusives! Casino Extreme offers an astounding $69 Exclusive No DepositBonus to LCB'ers, and on top of that, they give weekly no deposit bonuses.
We also have a new and improved Exclusive Sign-up Bonus for LCB members that goes hand-in-glove with our $3 LCB Chip Rewards Program. Last but not least, if you want to have that competitive edge and participate in an ExclusiveFreeroll Tournament for LCB Members every month, Casino Extreme is the place to visit. What more do you want? Casino Extreme has it all! Enjoy the summer playing here!
The non-US featured casino of the month is BetSofa Casino so grab some popcorn, take a seat on the couch, and start playing. With BetSofa Casino, everything is always very relaxed and laid back. They have been with LCB for little over a year. This Curacao licensed brand recently decided to upgrade our partnership and bring together many features that LCB has to offer. BetSofa is now at your disposal for assistance. Casino Rep has been appointed to our forum and with a great rating on LCB, they earned the right to be our Reward Partners too. More is in store with BetSofa Casino, with LCB Exclusives in the works coming soon!
Our directory is teeming with new casinos in July so we bring you two new exclusive brands to check out. The first one is
1) Sultanbet Casino, new to LCB but founded in 2016. This Curacao licensed casino comes with a load of experience behind their name. Sultanbet is currently one of the fastest growing live casino platforms in Europe. This operator offers a variety of games, sporting events, promotions, deposit and withdrawal methods, among many other things. Stay tuned, as we have plans to appoint a casino rep on our LCB Forums and implement a few exclusives too.
Next, it's
2) MiraxCasino, your guide to a fantastic cryptocurrency gaming experience. Here you can play a huge selection of top-notch Bitcoin casino games from reputable providers and take advantage of Mirax's several special BTC casino bonuses too! Mirax is not your typical casino. Players are moved to France's futuristic circus carnival on sign-up so they can experience the delights of a thrilling, engaging show with steampunk themes!
MiraxCasino is perfectly positioned for success with an approachable Casino Representative available to assist right away. This new brand is a sibling brand to 7Bit Casino, which has a wonderful rating and presence on LCB already. We have big plans for both sister brands so stay tuned for more new things!
That's our report for July 2022.
Hope you like it so share your thoughts with us in the comments section, so we can continue to deliver the best content possible.
Remember that you can find us on Facebook, Twitter, Instagram, Twitch, Tik-Tok, and YouTube.
Play responsibly and stay tuned for more news coming soon!
LCB Monthly News Reports
Back to articles