Back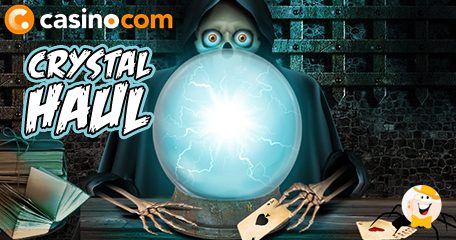 Apparently, not only Christmas is a time of giving – so is Halloween. This year's festival is shaping up to be the most abundant one yet, as a cornucopia of casino-related goodies keep flowing in in all forms and shapes. Now, one of the industry's big guns, Casino.com, is stepping up to join the ranks of Halloween do-gooders.
Until November 1st, all players registered with the casino can have their fortune read by the clairvoyant ghoul – take a peek, if you dare, into the crystal ball offered in the casino's latest promo – Crystal Haul.
What needs to be done? Like we said above, the first prerequisite is being a registered member. Secondly, head out to the Crystal Haul promo page every day to have your fortune told and can claim bonuses.
What's in it for you? Quite a lot, actually. Pick your favorite – there are free Spins on some of the most popular of slot games such as Fairground Fortunes: Ghost Train. Or maybe you prefer to get Reload Bonuses? You will get a special reload bonus code and to claim it, you must make a deposit. Oh, lest we forget, the Casino Bonuses are another: should the crystal ball give you one, claim it in My Account by entering the given bonus code!
Before indulging and claiming these goodies, make sure you familiarize yourself with the site's T&Cs and check out if there are any special terms applied to this promo.
Remember, this offer is valid until November 1st, so be quick!
"Until November 1st, all players registered with the casino can have their fortune read"
Promotions & Bonuses
Back to articles