Back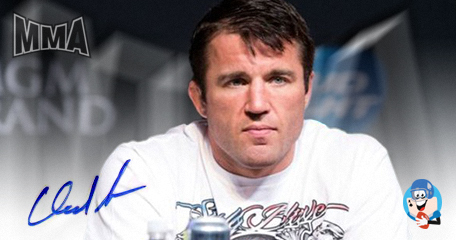 On Friday, June 14th, 2019 42-year-old MMA fighter, Chael Sonnen, retired in front of a packed house at the Madison Square Garden in New York, New York. This happened immediately following his Bellator 222 fight with Lyoto Machida. Sonnen ended up losing that fight in the second round via a TKO involving flying knees and punches. He claims he had no intention of retiring prior to fighting last Friday.
Sonnen has endured a long, legendary, and historic career in the brutal professional sport of mixed martial arts (MMA). The Oregon native's pro MMA career spanned 22 years which is absolutely incredible. He definitely left his mark in the octagon and on the sporting industry as he has been around for about as long if not longer than the popularity of the brutal, primitive, violent, and overall competitive battle action sport.
Career Statistics:
"The People's Champ" or "American Gangster" were just some of the fighting names he went by over the years. His 22-year career attributed to 49 total fights. In the world of sports betting, I am confident he generated quite a bit of revenue as 49 professional fights is quite a lot of action. He ends his career with a final MMA record of 31-17-1 which the details of can be seen below.
Out of his 31 wins, 7 of them came from knockouts, 5 from submissions, and 19 from decisions. Out of his 17 losses 7 were by knockout, 9 by submission, and 1 by decision. This goes to show you he won an astonishing 95% of his fights that came down to a judge's decision. His one and only draw came in 2003 in a fight against Akihiro Gono.
Mixed Martial Arts Record:
Result

Record

Opponent

Method

Event

Date

Round

Time

Location

Notes

Loss

31–17–1

TKO (flying knee and punches)

June 14, 2019

2

0:22

New York City, New York, United States

Sonnen announced his retirement post-bout.

Loss

31–16–1

TKO (punches)

October 13, 2018

1

4:46

Uniondale, New York, United States

Bellator Heavyweight Grand Prix Semifinal.

Win

31–15–1

Decision (unanimous)

January 20, 2018

3

5:00

Inglewood, California, United States

Heavyweight debut. Bellator Heavyweight Grand Prix Quarterfinal.

Win

30–15–1

Decision (unanimous)

June 24, 2017

3

5:00

New York City, New York, United States

 

Loss

29–15–1

Submission (rear-naked choke)

January 21, 2017

1

2:03

Inglewood, California, United States

 

Loss

29–14–1

TKO (punches)

November 16, 2013

1

4:05

 

Win

29–13–1

Submission (guillotine choke)

August 17, 2013

1

4:47

Boston, Massachusetts, United States

Submission of the Night.

Loss

28–13–1

TKO (elbows and punches)

April 27, 2013

1

4:33

Newark, New Jersey, United States

Return to Light Heavyweight. For the UFC Light Heavyweight Championship.

Loss

28–12–1

TKO (knee to the body and punches)

July 7, 2012

2

1:55

Las Vegas, Nevada, United States

For the UFC Middleweight Championship.

Win

28–11–1

Decision (unanimous)

January 28, 2012

3

5:00

Chicago, Illinois, United States

UFC Middleweight title eliminator.

Win

27–11–1

Submission (arm-triangle choke)

October 8, 2011

2

3:51

Houston, Texas, United States

 

Loss

26–11–1

Submission (triangle armbar)

August 7, 2010

5

3:10

Oakland, California, United States

For the UFC Middleweight Championship. Fight of the Night. Fight of the Year (2010). Sonnen tested positive for elevated testosterone levels.[147]

Win

26–10–1

Decision (unanimous)

February 6, 2010

3

5:00

Las Vegas, Nevada, United States

UFC Middleweight title eliminator. Fight of the Night.

Win

25–10–1

Decision (unanimous)

October 24, 2009

3

5:00

Los Angeles, California, United States

 

Win

24–10–1

Decision (unanimous)

May 23, 2009

3

5:00

Las Vegas, Nevada, United States

 

Loss

23–10–1

Submission (triangle choke)

February 21, 2009

1

2:37

London, United Kingdom

 

Win

23–9–1

Decision (unanimous)

November 5, 2008

3

5:00

Hollywood, Florida, United States

Non-title fight. Filho failed to make weight.

Win

22–9–1

Decision (unanimous)

March 26, 2008

3

5:00

Las Vegas, Nevada, United States

 

Loss

21–9–1

Submission (armbar)

December 12, 2007

2

4:55

Las Vegas, Nevada, United States

For the WEC Middleweight Championship.

Win

21–8–1

TKO (punches)

SF 20: Homecoming

October 27, 2007

1

4:31

Portland, Oregon, United States

 

Win

20–8–1

TKO (punches)

BodogFIGHT: Alvarez vs. Lee

July 14, 2007

2

3:33

Trenton, New Jersey, United States

 

Win

19–8–1

Submission (D'Arce choke)

BodogFIGHT: Costa Rica Combat

February 18, 2007

1

0:13

San José, Costa Rica

 

Win

18–8–1

Decision (unanimous)

BodogFIGHT: USA vs. Russia

December 2,
Gambling Law & Society News
Back to articles