Back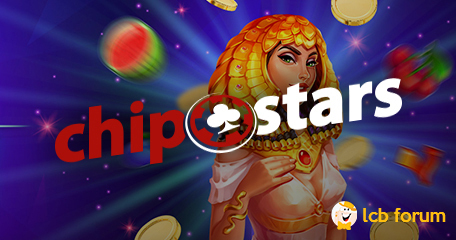 LCB Community and Direct Support Grow in Numbers as New Rep Joins the Ranks
This week, we would like to draw your attention to our forum and present a new dedicated rep in the direct support section, coming straight from Chipstars – an online poker room using EvenBet Gaming software.
It is powered by more than 42+ software providers and builds up a roster of 2500 games, including a sportsbook and casino – totally available in crypto and other fiat currencies.
Available for Feedback, Questions and Queries
As you check in to one of our forum's liveliest topics this month (or in the future), better known as direct support, you may come across its most recently opened tab – Chipstars support and complaints thread.
It was created on February 24 by the casino's recently assigned rep, Bojan, and he will be available on the forum as this brand's official admin in our growing LCB community. If you experience any trouble with this casino in the future, feel free to reach out right here; otherwise, drop by to say "HELLO", leave feedback or ask a question about Chipstars.
As an online poker, casino, and sportsbook platform, this place likes to think highly of itself and also goes under a name of "hybrid casino". The operator accepts standard and crypto payments, but it also has token chips that will be integrated deeply into the platform in the future.
Behind the newly launched iGaming platform is a young team that tends to bring the trust into poker, casino and sportsbook betting, primarily by bringing premium gameplay closer to its customers and amplifying the user experience with a myriad of introductory perks.
That being said, Chipstars is a one of a kind place, enabling its clients to jump from sportsbook to casino and back to poker with a single click. While on board, players can even try their luck with eSports, but possibly the biggest perk and supreme goal of its business concept is to present safety and innovation in the rapidly changing iGaming environment.
As stated by its staff, Chipstars is created by users for users, and as a gaming provider, the company's main advantage in comparison to other new operators is giving tips and inputs to players while chasing the best odds.
Premium Gifts and Tournaments
In case you're wondering what type of novelties you may uncover after registering, get ready to claim premium gifts for newbies, casino spins with no wagering requirements, cashback offers, participate in tournaments and other interesting comps too.
Chipstars will keep you coming back for more and even surprise you with some special offers from time to time.
So, make sure to keep your phone on and your e-mail inbox at hand – otherwise, ask Bojan everything else you need to know on our forum or via messenger!
"he will be available on the forum as this brand's official admin"
LCB News
Back to articles