Back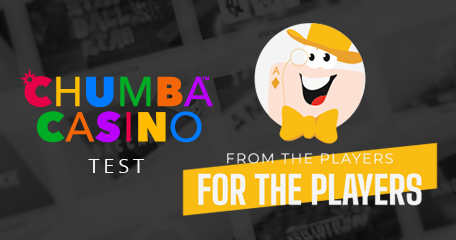 Was This a Smooth Social Casino Experience?
Though it may seem that a large market such as the United States is crowded with all sorts of Internet-based casinos, the reality is quite different. Online gambling is permitted in a limited number of states, which automatically limits the number of operators who accept locals. They offer the same old games, but when Chumba Casino entered the stage, the situation has drastically changed.
Using a concept that some refer to as a loophole, this operator allows consumers to play casino games without making real money bets, meaning, without breaking the law. It is called a social casino. To find out how it works, we tasked one of our testers from this part of the globe to explore it thoroughly and share his findings with us.
Before we guide you through the entire investigation, take a quick look at the milestone moments of his journey:
Tester of the day: Juggaloroscoe
Registration date: Already registered member
Made purchases worth $200 via Mastercard Debit Card on June 24, 2022 to obtain playing credits; the payment, which later reflected as coins on the tester's casino balance, was divided into two transactions each worth $100
KYC procedure done on some previous occasion
Prize redemption requested on June 25, 2022; $25 to be redeemed as a gift card
The tester received a card code on June 26, 2022
If we were to judge this book by covers, things seem to have gone well for our tester, haven't they? Yet, let us not jump to conclusions before we see all the details from the crucial phases of the investigation, with a special accent on procedures which coincide with deposits and withdrawals in ordinary online casinos.
Chumba Casino Overview
Licensed by Malta, Chumba Casino is a US-friendly online casino that encompasses a fine selection of games available both on mobile and desktop platforms. Although currently available in the United States and Canada only, the company plans to expand all over the world and become recognized as a brand with a global value.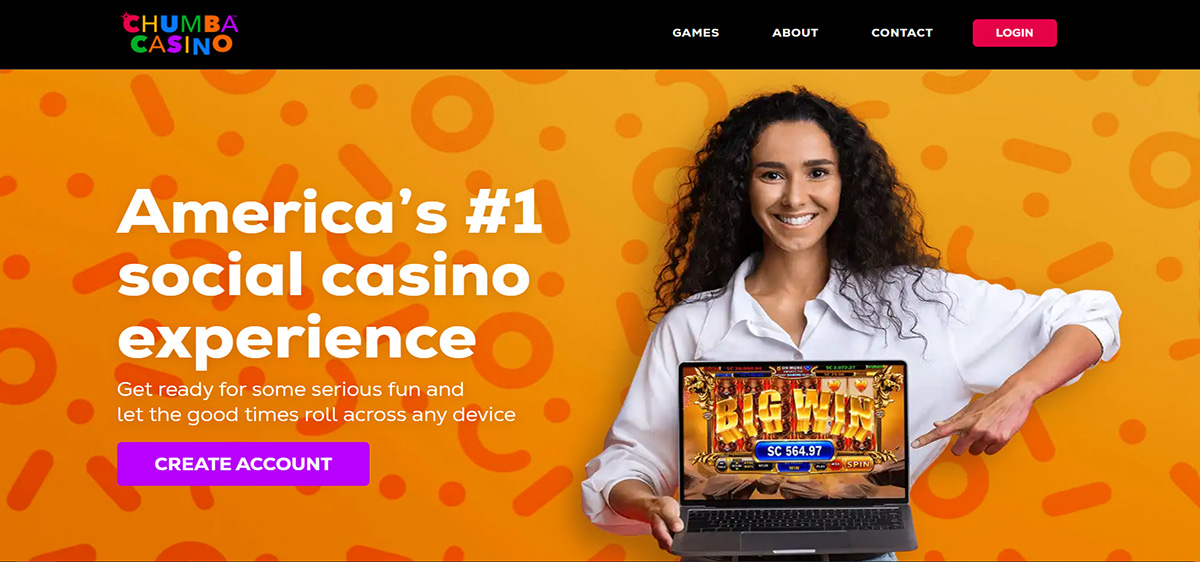 Its system is based on sweepstakes, also known as giveaways, which are actually trade promotions with prizes. These credits are used to promote the operator's in-house virtual currency- Gold Coins which are used for playing games. So, Sweeps Coins are obtained free of charge when purchasing Gold Coins. They are also used for playing games, but the ones won as prizes can be redeemed for real money prizes as well.
When it comes to funding an account, it is done differently than in an ordinary online casino. As hinted, there are two types of coins- Gold and Sweeps. Players buy Gold Coins to play games, while Sweeps are credited by a casino. They are not purchased but are instead collected in various ways. For example, by sending them actual letters (yeah, the ones written on paper), taking part in on-site competitions and so on, players can receive some Sweeps Coins.
As for withdrawal, it can be processed either as a gift card or a cash prize, depending on whether a bank permits such a transaction. Each of the two options has a minimum amount of points needed for redemption eligibility.
A thing in common with ordinary Internet-based casinos is a strong responsible gambling sector. There are multiple tools on the website, which allow consumers to keep track of time and money spent in this casino. It is possible to cool off, self-exclude, and even close the account.
Registration
Our tester was already a registered member of Chumba Casino, so no sign-up was done for this particular investigation. To become members of this community, players can do so either by registering via e-mail or by accessing through their Facebook account.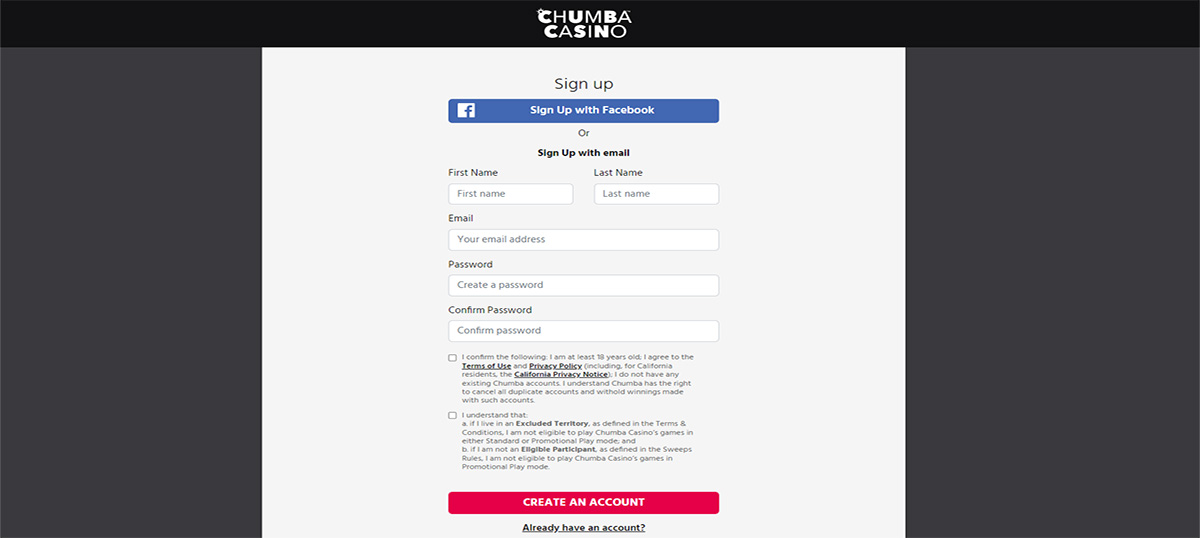 "If you want to enjoy the fun of the Gold Coin play all you need to do is register and you are ready to start playing. If you want to take part in our Sweeps Coins games, you can do so using Sweeps Coins."
It's important to note that multiple accounts aren't permitted. This means that if a player has already opted for Facebook registration, he/she cannot create the account by using e-mail. Also, if a player wants to change his/her email, address, or surname, he/she shouldn't create a new account, as it will be classified as a duplicate one.
As far as clarified in the Terms:
"Only players in the continental United States and Hawaii (excluding the state of Washington) and Canada (excluding Quebec) are eligible to play the games.
Only players in the continental United States and Hawaii (excluding the states of Washington and Idaho) and Canada (excluding Quebec) are eligible to enter the sweepstakes."
Having in mind that the tester was already a member of this platform, the ID verification process was completed on some previous occasion. To have the identity validated, the tester needed to submit a picture of his driver's license, utility bill, and a picture of himself holding the ID. The process took a couple of days to be finalized.
The rules indicate as follows:
"Once we have received the required documents in their correct form, we will verify them as soon as possible. The process depends on whether you have sent the correct form of identification or account ownership to us. If everything is correct, it normally takes about 5 days to complete the account verification process. Once your account has been verified, it normally takes about 10 days for your cash prize to be processed and reach your account."
Also, verification is needed when any cumulative or single redemption of prizes exceeds a value of USD 2,000.
Deposit
Social casinos have no deposit options as ordinary online casinos do. Instead, players purchase coins and use them to play games, as explained earlier.
As explained on Chumba Casino's official site:
"You cannot deposit money into your Chumba Casino account. Chumba Casino is not a 'traditional online casino site' where you can deposit money to play with. Chumba Casino is a social casino site which offers game play for our two virtual currencies, Gold Coins and Sweeps Coins."
On June 24, 2022, our tester accessed the "Buy Gold Coins" section and purchased two batches of 35,000,000 gold coins via two transactions by using a Mastercard debit card. The value of each batch was $100. Also, each batch contained a portion of 104 free Sweeps Coins. Tre transactions were processed instantly.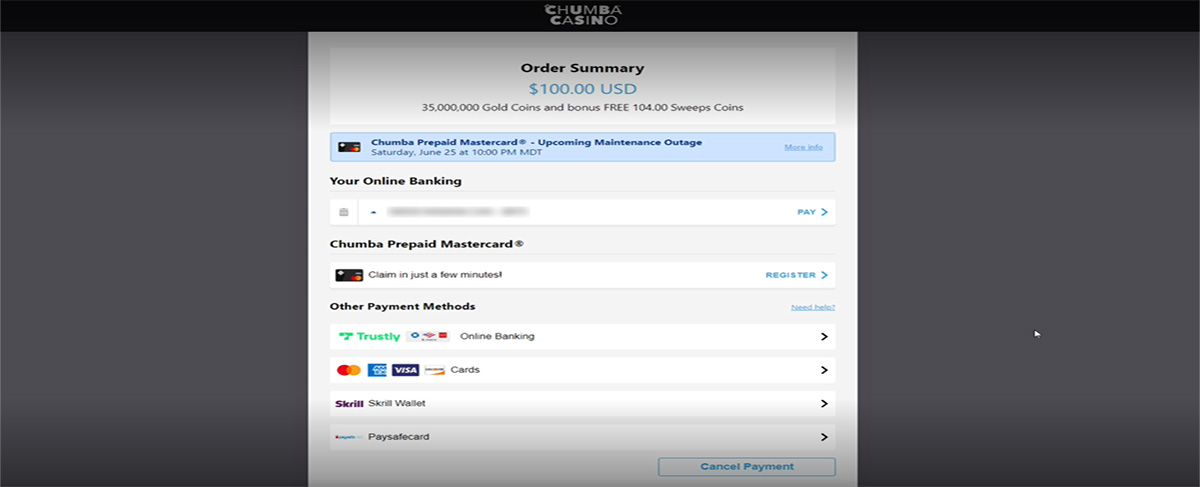 Confirmations via e-mail arrived as well.


Aside from the payment option our tester used, consumers can purchase coins via other means, such as credit cards (MasterCard, Visa, Discover, Amex), e-wallets, or online banking.
Players should pay special attention to restrictions, because:
" 3.2. Gold Coin purchases made from within the state of Washington in the United States of America will be voided and refunded, minus an administrative fee of 10% of the total purchases made by the player, in addition to any charges that may be levied by the bank or financial institution managing the aforementioned reversal."
Gameplay
Once he obtained the playing credits, the tester went on to explore some games. His first choice was Buffalo Blitz, followed by Stallion Grand and Wild Linx.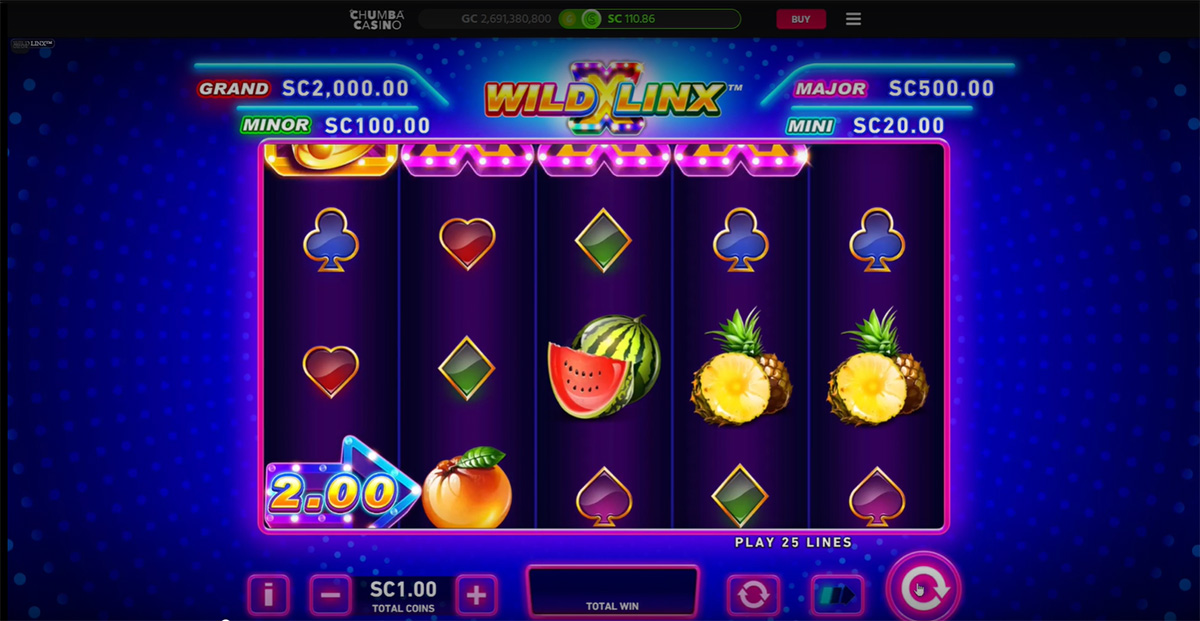 Shortly after, the tester ventured into Hypernova, explored Stampede Fury 2 but quickly returned to Hypernova, where he landed a cosmic win of $39.44 and triggered a Jackpot Re-spin feature.

His next choice was Atlantis, after which he played Gem Huntress and once again tried luck with Wild Linx.

A day later, on June 25, 2022, when he logged in, the tester claimed a daily bonus of 200,000 Gold Coins and 1 Sweeps Coin.

He played Wild Linx which brought him a couple of wins. The tester then launched Hypernova, after which he attempted to redeem the available balance.
Withdrawal
Just like with deposits, withdrawals function completely differently in social casinos. The acquired Sweeps Coins can be redeemed either for gift cards or cash prizes.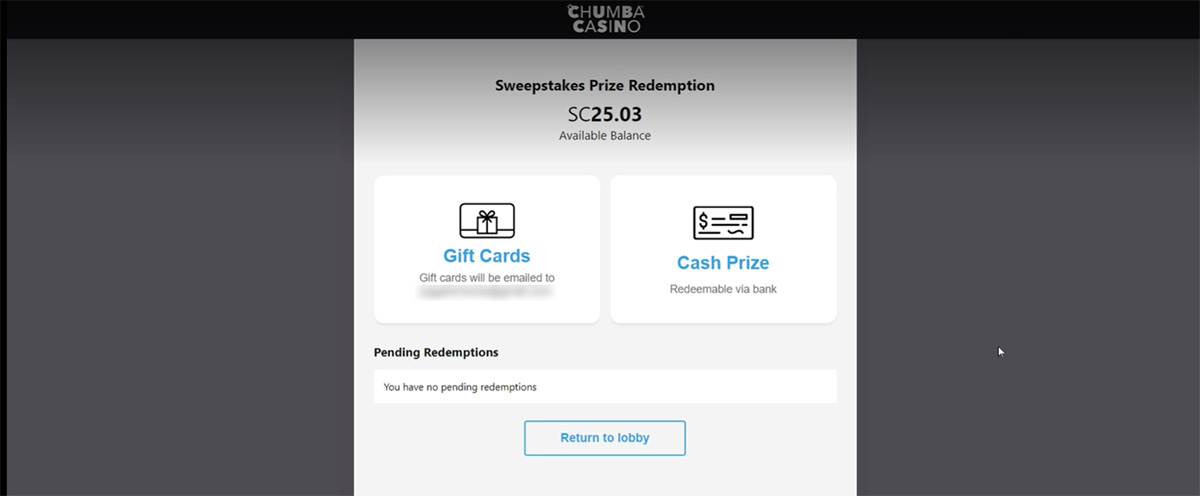 Our tester's available balance was SC 25.03 and he attempted to redeem it as a gift card. As soon as he pressed the button, he was transferred to the Prizeout lobby where he selected Sam's Club Gift Card. Its value was SC 25, which, expressed in real money, was $25.

Upon submitting it, the tester was notified via e-mail from both Prizeout and Chumba Casino that his request was received. The one from the casino stated that it may take up to 14 business days for the request to be processed.


A day later, on June 26, 2022, a couple of more e-mails arrived, confirming that the redemption request was received. One of the stated that the request was approved, noting that it may take up to 12 working days to appear in the tester's account.

The very same day, an e-mail from Prizeout arrived as well, confirming that he received a code.

According to the official rules, one prize redemption request is processed per account in 24 hours. If a player chooses to redeem prizes for cash, it may take up to 10 days to process the payment to the bank account.
"8.18. Payments of over US$10,000 may require a longer processing time than usual due to bank clearance and security and fraud checks and may also be paid in more than one lump sum. This may add up to 7 days to the normal processing time but is dependent on the circumstances of each individual case."
As far as the tester said, cash withdrawals are possible, but are classified as foreign transactions. He wasn't able to redeem the points this way, as his bank doesn't accept foreign deposits. That's why he had to redeem it as a gift card.
USD is the only accepted currency. Sweeps Coins are valid for 60 days from the date a customer has last logged in, after which they automatically expire. A player needs to collect a minimum of 100 Sweeps Coins as prizes to be able to redeem them for real money. At the time being, no max amount is set.
On the other hand, we encountered these bits of info in Terms:
"8.2 We reserve the right to charge fees for processing the redemption of Prizes to you and to set a minimum redemption threshold of SC100 for Prize redemptions.
8.3. In New York and Florida, the maximum redemption value for a Prize won on any one spin or play is USD$5,000 and any Prize with a value in excess of USD$5,000 will not be redeemed.
8.4. We reserve the right, in our sole discretion, to limit the value of Prize redemptions for each Participant to USD$10,000 per day."
Conclusion
Based on our tester's insights, no problems occurred while investigating Chumba Casino. The fact that withdrawal needed to be finalized in the form of a gift card instead of a real money transaction has to do with the tester's bank, not Chumba Casino itself.
On the other hand, if you pay a visit to LCB Forum, you will encounter a variety of experiences and opinions, some of which extremely positive, the others quite negative. Some players referred to this place as a scam or claimed that the operator has stolen their Jackpot winnings, while the others encountered no issues at all or had some problems with account but them resolved within some relatively reasonable time.
Yet, players should be aware that a social casino experience is completely different from a classic online casino experience. That's why it's of vital importance to be fully acquainted with the entire system and all the Terms.
If you have been with us from the very beginning of "From the Players for the Players" project, you have probably noticed that this very tester is one of the most active ones. He has so far taken part in the following projects, so feel free to immerse yourself in these reports:
Have you had the chance to check out Chumba Casino? If so, feel free to share your valuable experience with us in the comments section below, so that players interested in social casino gaming can have a better insight into how things work.
Gamble responsibly- always read Terms and Conditions!
"all the details from the crucial phases of the investigation"
From the Players for the Players
Back to articles