Back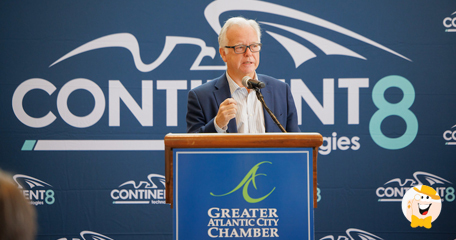 Continent 8, the top provider of managed hosting, connectivity, and security solutions for the global gambling industry, has extended its Atlantic City data center presence with a 30% capacity increase. The third stage of expansion was greenlighted by the Casino Reinvestment Development Authority (CRDA), and it added a 5,330 sq ft Modular Data Center (MDC) unit.
The inauguration of the added module took place on Tuesday, April 18th, just before the launch of the East Coast Gaming Congress the day after. Attendees at the opening included important stakeholders, politicians, Continent 8 customers, and members of the media. 
Among them were Atlantic City Mayor, Marty Small, as well as Senator Vince Polistina, Assemblyman Don Guardian, Sean Patwell, the Executive Director of the New Jersey Casino Reinvestment Development Authority, Afshien Lashkari, the Lead Engineer of the Technical Services Bureau with the New Jersey Division of Gaming Enforcement, and Jim Plousis, the Chairman of the NJ Casino ControlCommission, Jim Plousis.
More About the Center
The state's only purpose-built data center for the online gambling industry is housed within the prominent Atlantic City Convention Center. After receiving a multi-million-dollar investment, the data center was opened in 2019 and quickly sold out of its initial capacity within three months. 
Continent 8 has since continued to expand and now covers 15,000 square feet, providing around 120 equipment racks. The data center complies with international security standards, offers multi-state interconnection throughout the US, and is linked to over 90 locations across four continents.
Additionally, it fully adheres to DGE regulations and is the only licensed facility capable of hosting gaming infrastructure apart from licensed casinos. Continent 8 delivers a complete range of global services to the Atlantic City data center, allowing for local and worldwide cloud hosting and connectivity. This entails private, public, and hybrid cloud services via full management of a user's infrastructure.
The occasion involved a ribbon-cutting and speeches, as well as a tour of the incredible facility.
Speaking on the latest extension of the facility, Michael Tobin, Founder, and CEO at Continent 8, expressed his opinion: 
"It was a privilege to welcome so many stakeholders and all those involved in the Phase 3 expansion to our official opening. We are incredibly proud of the hub we have built in Atlantic City, creating an economic catalyst for South Jersey, and establishing a data center that enables companies in iGaming and beyond to connect to a global network."
Source:
"Continent 8 Technologies cuts the ribbon on stage three expansion of Atlantic City data center", continent8.com, April 24, 2023.
"30% capacity increase"
General Gambling News
Back to articles