Back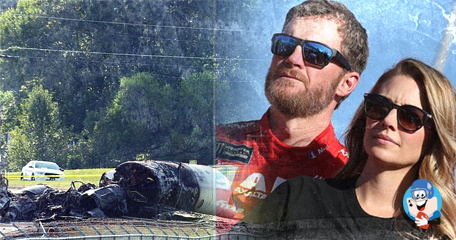 Dale Earnhardt Jr. and his family survived a plane crash in the afternoon on Thursday, August 15th, 2019 in Elizabethton, Tennessee. Aboard the flight was the retired NASCAR driver, his wife, Amy, his 15-month-old daughter Isla, and 2 unidentified pilots. The accident occurred at Elizabethton Municipal Airport when the Cessna Citation rolled off the runway and consequently caught fire.
Luckily, everyone seemed to make it out of the aircraft without suffering any serious injuries. The Earnhardt family is currently recovering and being evaluated at a hospital in East Tennessee. Early reports are indicating that Dale Jr. was not flying the plane, and the Federal Aviation Administration as well as the National Transportation Safety Board are in the process of sending out representatives to investigate the plane crash.
Dale Jr.'s sister, Kelley Earnhardt Miller, tweeted out to the public, "Everyone is safe and has been taken to the hospital for further evaluation. We will have no further information at this time."
See video footage of the wreckage, here.
Jr.'s Post Driving Career:
Earnhardt Jr. retired from driving NASCAR in 2017 due to a number of concussions, but he is still heavily involved in professional motorsports. He is currently an analyst under contract with NBC, and he is scheduled to participate in this weekend's broadcast of the Cup Series event in Bristol, Tennessee taking place on Saturday, August 17th, 2019. It is too early to tell if he will honor that commitment after the plane crash today.
Unfortunately, car racing is an extremely dangerous sport. These drivers race at or around 200 miles per hour for hours inches away from the other drivers. Crashes are inevitable and as much as safety is the number one priority in today's generation of any competitive sport. Earnhardt Jr. was involved in a nasty crash in 2004 during a race at Sonoma. In warmups for an American Le Mans Series race Jr. ended up crashing and burning pretty severely. He suffered second degree burns for which he still wears scars up around his neck.
Number 3:
Dale Earnhardt Sr. also known as, '3,' was a legend in stock car racing. Although Dale Jr. was known for being well liked and a decent racer, his father was a total badass when it came to auto racing, and he paved the way for his son. His overly aggressive driving style earned him nicknames such as "Ironhead," "The Intimidator," "The Man in Black," "The Count of Monte Carlo," and "Mr. Restrictor Plate," and may have been one of the deciding factors leading up to his tragic death.
On February 18, 2001, Earnhardt Sr. died at the age of 49 during a race at the Daytona 500 on the Daytona International Speedway in Florida. He was involved in a three-car collision on the final lap of the race. Dale's car was clipped by fellow driver, Ken Schrader, following light contact with Sterling Marlin, causing his car to drive directly into the outside wall head-on. If he had navigated that race any differently, his name would have been Dale Earnhardt Jr. I think that is the way he would have wanted to go for he was a man that never backed down, and he pushed the limits of stock car racing to the max.
Gambling Law & Society News
Back to articles