Back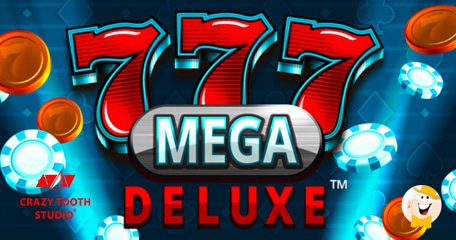 One of the most promising slot developers, Crazy Tooth Studio (CTS) is soon to unveil new addition to its colorful portfolio. An homage to retro aesthetics, the 777 Mega Deluxe online slot is home to vibrantly painted symbols and excellent animation.
On top of that, it is enhanced with a special Respin Insanity feature which significantly boosts the game's rewarding potential. As far as scheduled, this vintage-looking title goes live on January 21.
Would you like to take a closer look at this work of art? Stay with us and keep reading!
Deluxe Entertainment
If you belong to those who appreciate the sights and sounds of a classic slot game experience, 777 Mega Deluxe is the destination to explore, as it hosts plenty of old-school symbols. This highly volatile slot incorporates two action-packed features.
One of them is RESPIN INSANITY™…
…which makes every winning symbol spin again, thus opening room for more winning opportunities. The other is 777 Mega Deluxe Bonus Spins with locking multipliers, which definitely add more fire to the reels. Being an excellent combo of retro style and innovative elements, this game stands all chances to become an instant classic.
Worth adding is that this release gas 127 lines and RTP of 96.10%. The betting range is more than solid, with 0.20 set as a minimum, and 40.00 as the max bet amount.
Would you like to catch a glimpse of the atmosphere? Take a look at the official trailer and let us know how you like the RESPIN INSANITY feature!
A Team of Passionate Innovators
From inspiration to installation, the creative minds gathered in Crazy Tooth Studio are eager to develop unique concepts and bring more value to players.
Relying on immense experience…
…CTS Arsenal™ is the world's best collaborative-iteration framework. It provides unparalleled speed and continuity from the initial concept sketches to the finalization stage. Being compatible with any game engine, their products are extremely flexible.
The entire team is focused on encouraging innovation, which is reflected in all their games. One of the best examples is Ancient Warriors, presented in August 2020. This Asia-inspired game is home to SEE-THRU REELS and a wealthy assortment of dynamic mechanics.
One of them is the Wild Transformation, which has the power to summon the Stacked Multipliers and increase the winning potential. There's also Ancient Warriors™ Bonus Spins symbols that are locked in place. While fixed, they not only add wilds to each round but can also adorn the reels with stacked multipliers.
More Additions to Portfolio
Prepare yourself for more surprises coming from these creative minds, as February will mark the presentation of 3 Devils Pinball. Referring to it as a "red hot slot gaming experience like none other", the studio enhanced this one with a special feature that doubles paylines.
Furthermore, March will bring Aureus, an explosive-looking adventure with Converge, an inventive element that brings more action to the reels. There are other features as well, among which multipliers up to 5x and up to eight respins.
Source:
"777 Mega Deluxe", crazytoothstudio.com
"soon to unveil new addition to its colorful portfolio"
Casino Games
Back to articles