Back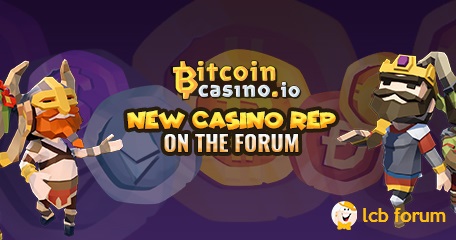 As new technologies grow and conquer all the niches, keeping up with trends is the only way to survive. If there's to name a sphere where it has become almost vitally important to be up to date- it's banking!
That's why we are always particularly glad to introduce you to the venues which accept the most contemporary payment method- digital assets. Having said so, we are even happier to announce the presence of a new representative on our ever-expanding support forum, this time from BitcoinCasino.io.
LCB Greets New Rep
Is there a better way to announce your presence than leaving a sort of greeting card on our forum? Following the example of many assistants who reported for duty on our dedicated thread, here's what the message says:
"Greetings to everyone!
Happy to start the official thread of BitcoinCasino.io.
Feel free to send any requests, feedbacks, comments or issues you are experiencing.
We are ready to respond to any posts. In case you want more privacy, you can always send a private message.
Looking forward to hearing from you!
Thanks!"
Brief and to the point is usually the best way to introduce yourself to the community! Informing consumers that you are here to assist them is all they need to know.
At least for the beginning.
Welcome to Crypto-Friendly Universe!
Now that you know who to turn to when the need arises…
…the time has come to give you some additional highlights regarding the establishment.
Apart from the obvious fact that the brand operates on digital currencies, they made sure that the experience of becoming a member of their parlor really has quite a unique atmosphere.
During the registration process, you can "choose your character" from quite an interesting and colorful selection of avatars such as Amaryllis, Braverus, Tusk, Hanzo, and several others. They will be your devoted and loyal friends on your journey through the hub.
Speaking of loyalty…
…you can have your peace of mind, as there's a special scheme where those who use their products and services are rewarded. By acquiring Complimentary points, one advances the levels of the 5-tier program. Needless to say, each of the stages comes with a set of valuable perks.
Adding an extra dose of uniqueness to leveling-up the ranking, the ultimate phase comes with a treasure map where one is taken on an adventurous journey to Fortune Island.
HOWEVER:
Even the hubs which are generally well-packed (and this one undoubtedly is) have some less attractive sides. For example, the minimal amount to withdraw is lower than ordinary. The fact that the venue utilizes crypto assets solely is not a bad one itself, but surely affects the number of potentially interested consumers which would like to join.
All in all, as the number of positive impressions prevails you can be sure that this destination is worth visiting.
"this time from BitcoinCasino.io"
LCB News
Back to articles