Back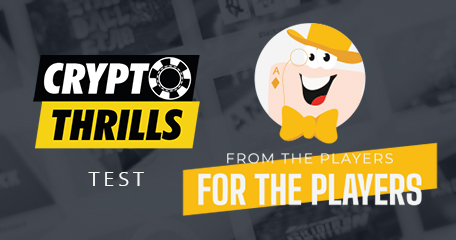 Our helping hand and online casino tester, Juggaloroscoe, in another one of LCB's "From the Players, For the Players" endeavors, gave CryptoThrills online casino "an unannounced inspection" to see if they're up to the task.
And up to something they were all throughout 2020- unhelpful and confusing customer support, predatory T&C's, unreasonably high minimum wagers on slot games and nonpayments - to name a few of their missteps.
Let's get down to brass tacks and sum up the testing and results before giving you a detailed, long version:
Date of registration - 02/25/2021
First deposit of 4mbtc made on 02/25/2021
Second deposit of 3mbts made on 03/03/2021
Withdrawal request for 2mbtc placed on 03/03/2021
Live chat inquiry about the withdrawal request on 03/09/2021 and 03/10/2021
Withdrawal reversed by the casino on 03/12/2021
Tester tried trying to meet playthrough on the second deposit, but ultimately lost money on 03/12/2021
A Not-So-Promising Pedigree
Before we begin divulging this tale, let us gloat just a bit and remind you that we had included CrytpoThrills Casino in our Worst Casinos in 2020 editorial list. The reasons for this status were multiple, beginning with the absence of a governing body that would enforce ethical business practices - aka a gambling license - as the first red flag.
It went on and on, from the insufficient info handed over by the live support to vague T&C's prone to sudden, overnight changes. Players had been complaining about unresponsive support, unpaid winnings and predatory terms of service at this gaming hub for a very long time.
How it All Unfolded
The very beginning of the test was full of promise: the account registration - and verification thereof - was smooth and simple and so was the deposit. Juggaloroscoe funded his account twice, with 4mbtc on 25 February and 3 mbtc on 3 March.
He lost the first deposit due to a combination of very high straight deposit wagering requirements and high minimum bet, which made it immensely difficult, if not impossible, to meet the playthrough and come up with enough funds to cashout.
Having lost the first deposit, he deposited again on 3 March, but by 12 March lost these funds as well and called it quits.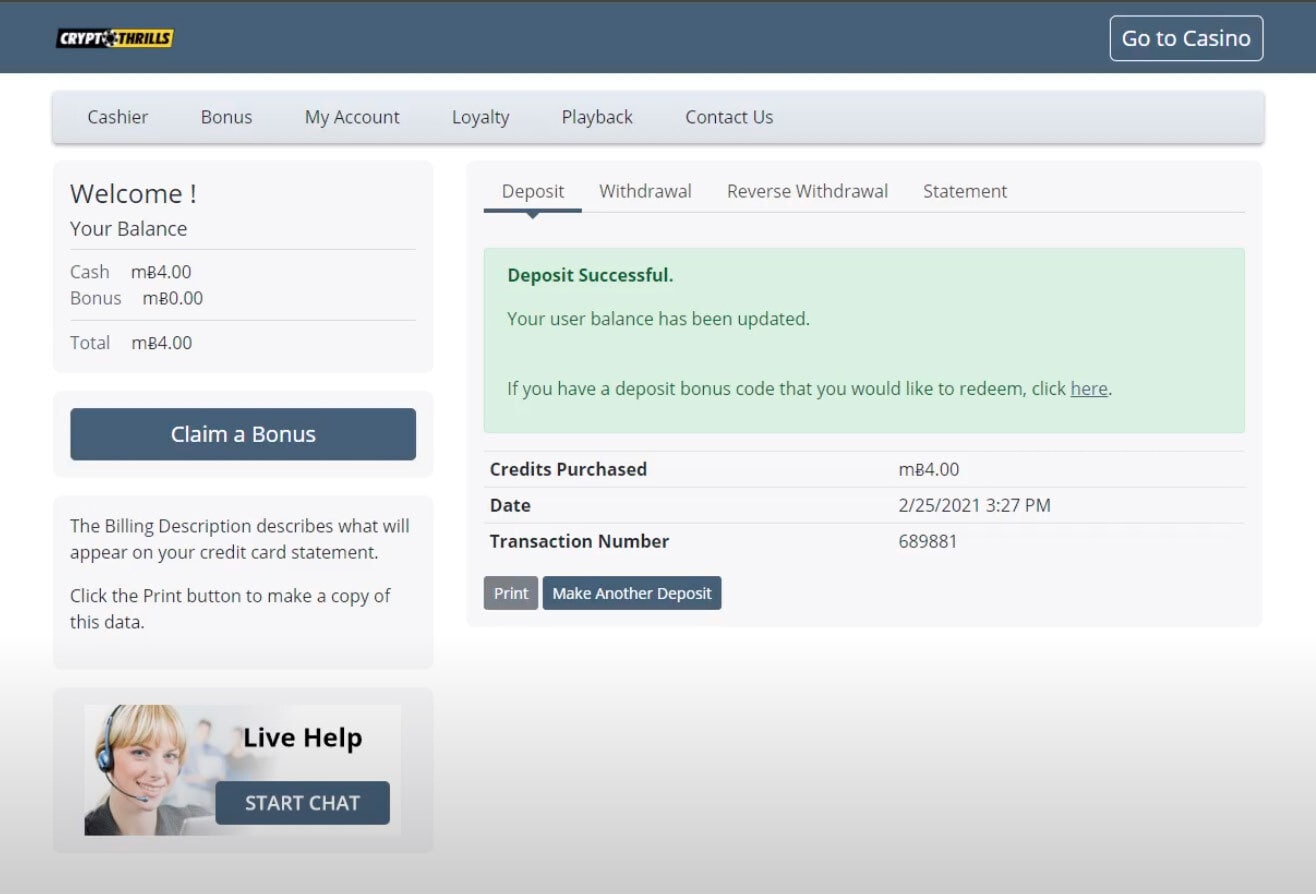 After funding the account for the first time, he then went on to do what any right-minded punter would: play some slot games! He opted for Destiny Wild and the Lost Inca Gold and Bigfoot.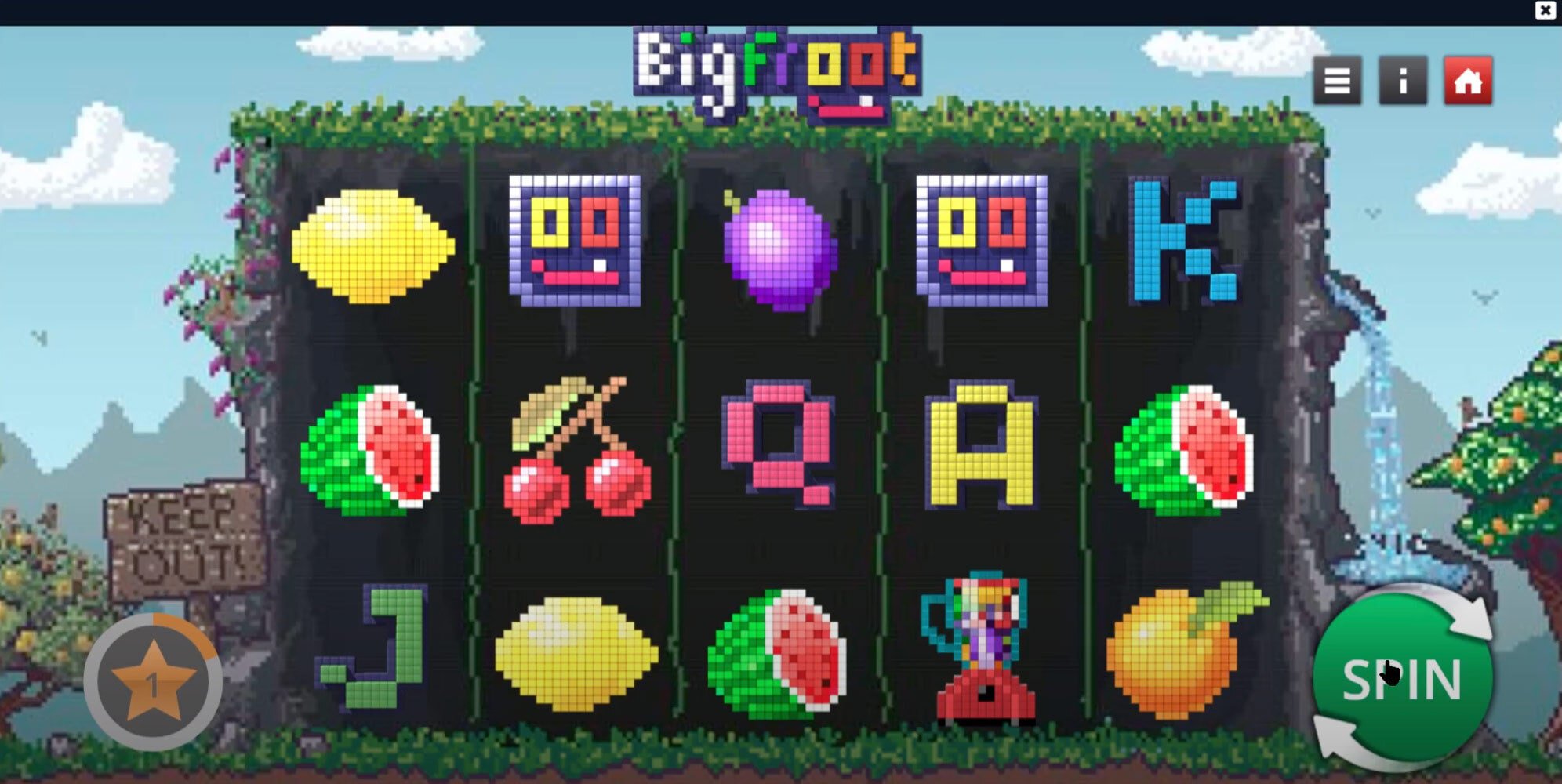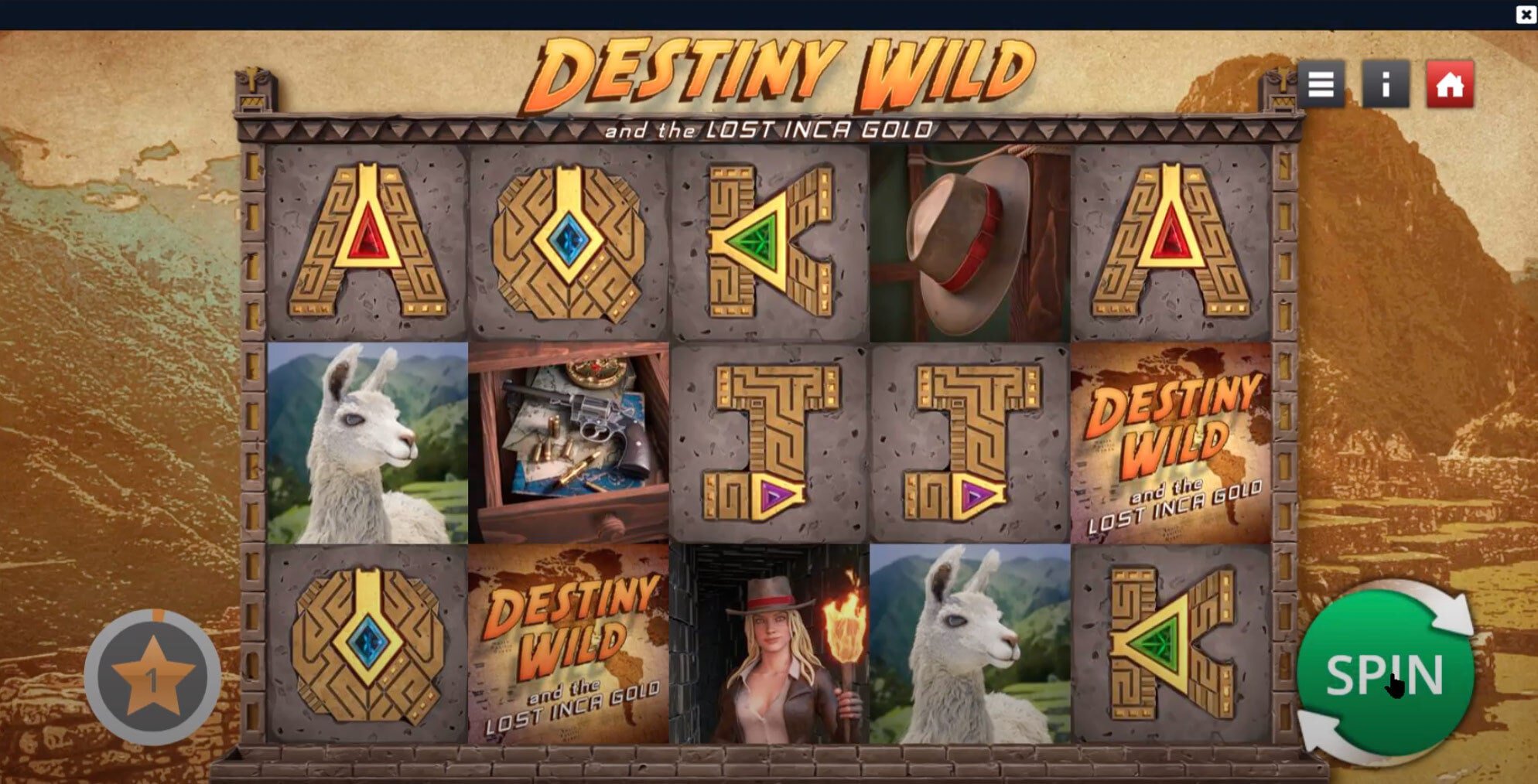 Seemingly, everything went OK with the depositing process- but the seeds of problems were planted here, as he couldn't get his minimum bet anywhere below mBTC 0.15.
This matters for the following reason: our tester spent his entire balance of 4 mbtc trying to meet very difficult - one would say, predatory - wagering requirements. According to the casino's T&Cs, all deposits must be wagered at least 10x before any withdrawal will be allowed.
To add to the problem, the minimum allowed coin size on most slot games is .01mbtc, making the minimum bet per line on a 15-line game - .15 mbtc, which is much too high for anyone to be able to meet the playthrough requirements. There is no option to lower the minimum bet or change the currency from BTC to USD.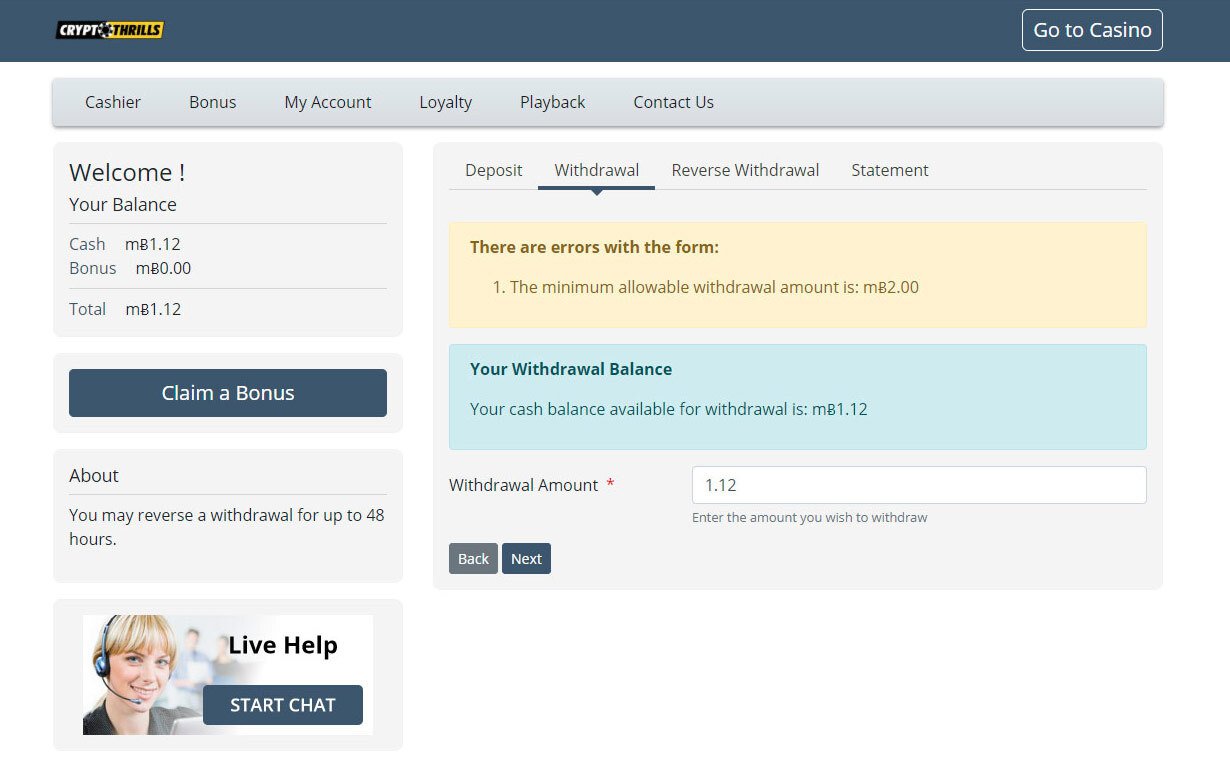 We did locate the predatory T&Cs that say the following:
"All players who make a deposit must wager the deposit amount at least ten times, before any withdrawal will be allowed.
Eg: If a player deposits 5mBTC, the player will need to place bets totaling 50 mBTC on any game before a withdrawal will be permitted."
It gets worse. In tester's own words:
Our tester wagered the deposit of 4mbtc one time and was left with 1.12mbtc, or about 50 dollars. He then attempted to cashout 1mbtc (the terms and conditions say the minimum withdrawal is 1mbtc), but was unable to do so since the cashier page info says the minimum withdrawal is 2mbtc.
Faced with conflicting information, Juggaloroscoe wouldn't have any of that and went ahead to file a complaint with live support agents - with no success.
First, there was the slowness/no agents available issue.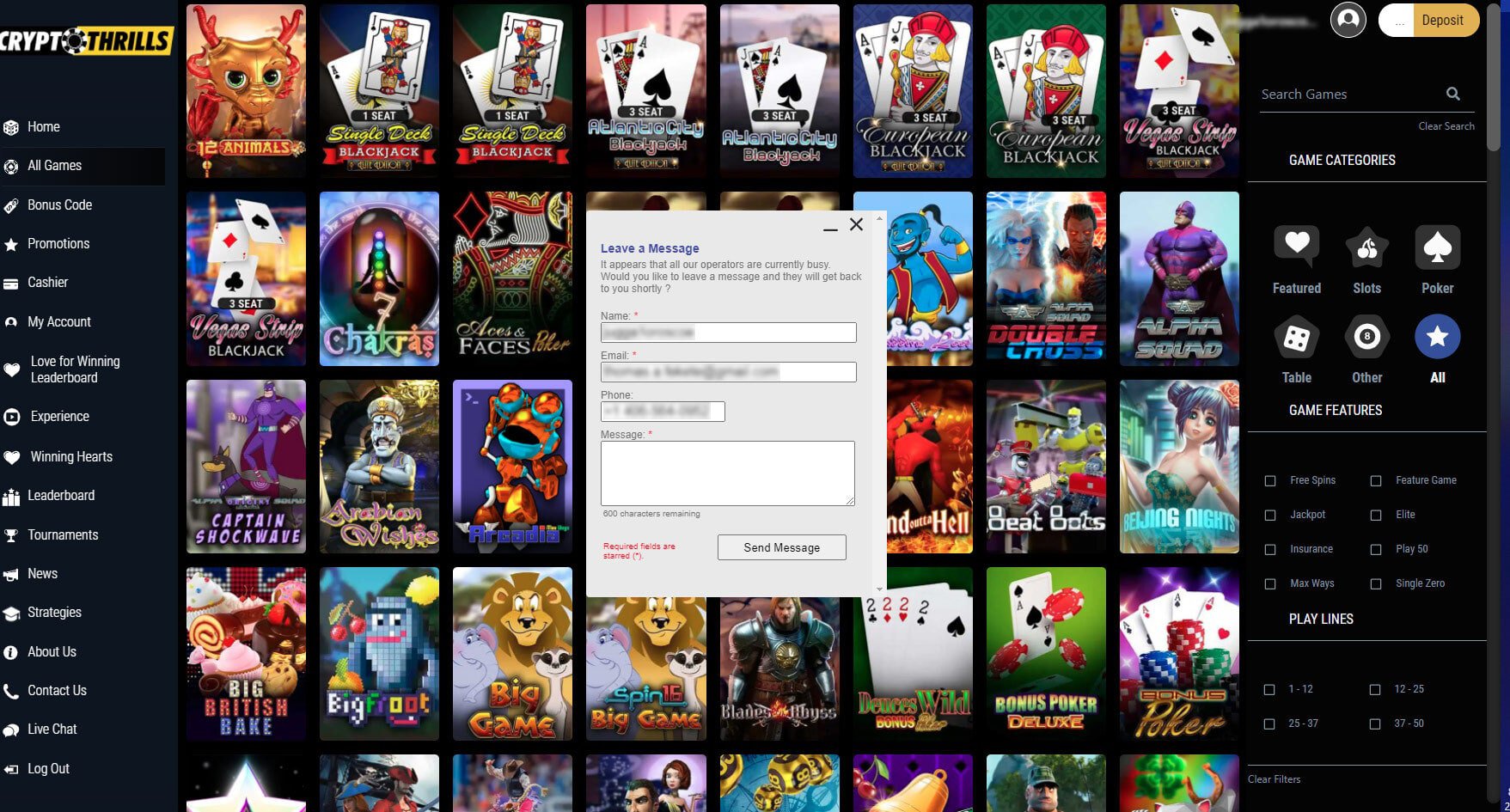 Then, once he did reach them, there was a needlessly long back and forth between him and several support agents that resulted in no issues resolved.
Even though his questions to them were very direct and concerned the minimum bet and withdrawal of remaining funds, the agents appeared unfamiliar with the casino's T&Cs. They clearly couldn't comprehend the issue and gave incorrect answers, claiming that it is possible to lower the minimum bet below .15 mbtc and advising our tester to change devices, which does absolutely nothing to rectify the problem. At one point, the chat correspondence was terminated by the operator without notice or explanation.
After several identical attempts of getting an answer from them, the futility of this endeavor became apparent, so our tester decided to request a withdrawal of 2mbtc on 3 March. The withdrawal was reversed without notice or update on 12 March. The player tried once again to meet the playthrough on the second deposit, but he was unsuccessful and had to come to terms with the loss.

A Chronology of Complaints
To put this whole affair in a bit of context, we'll take a trip down the memory lane.
CryptoThrills' list of offenses is a long one:
First, there was the false advertising accusation.
Then, the MANY complaints on max bet rule for real money deposits and bonuses - too much to be listed here, but here is one of them.
Withdrawal denials with super unresponsive support that takes days and even weeks to answer (if you're lucky).
Live chat support agents that are below par and beneath any customer service standards, even providing players with false information, causing widespread confusion - like, in this instance.
Our test has demonstrated that this hub's practices require massive improvements and will need to go at great length to redeem itself.
Whether they do it out of sheer ill will or unbeknownst to themselves, still remains to be investigated - although, the signs are there for all to see.
Don't forget that you can learn more about the entire "From the Players, For the Players" project at THIS LOCATION - so if you want to become a tester yourself, look no further than there.
In case you experience something similar - or indeed totally different - to this, do make it public in the comments section below!
"trying to meet very difficult - one would say, predatory - wagering requirements"
From the Players for the Players
Back to articles