Back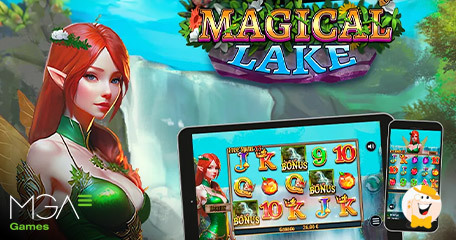 MGA Games invites players to step into a world of enchantment and wonder with its newest release, Magical Lake, a 5-reel slot game that promises to transport players into a realm of fantasy, mystical creatures, hidden treasures, and dazzling magic.
If you're a fan of mystical themes, you're in for an adventure like no other!
Exploring the Mystical Forest
Magical Lake invites players to explore the enchanting forest surrounding the titular lake and discover the secrets hidden by the lucky fairy. As you spin the reels, you'll find yourself immersed in a world filled with whimsical charm and captivating allure.
What sets Magical Lake apart from the rest is its array of special features. With 25 paylines, Wilds, and Scatters, there are plenty of opportunities to win big. The game also boasts Bonus Spins feature, during which prizes are tripled, and an engaging themed bonus mini-game that adds even more excitement and chances to boost your winnings.
Sensory Delights
The new release doesn't just captivate through its gameplay, it also enchants the senses. The enchanting music and mesmerizing sound effects transport you to the heart of the mystical forest. With an immersive auditory experience, you'll truly feel like you've been transported to a fantasy world.
One of the game's most appealing aspects is its accessibility. With low volatility and a top prize of €16,275.00, it is designed to provide a smooth gaming experience on various devices. Whether you prefer playing on your desktop, tablet, or smartphone, Magical Lake ensures you won't compromise on quality. You can enjoy this magical adventure wherever you go.
All in all, the new release from MGA offers a captivating and immersive gaming experience. With its wealth of features and enchanting atmosphere, it's a slot game that's bound to delight both casual players and seasoned gamblers. So, embark on this magical journey, spin the reels, and let the fairy of fortune guide you to hidden treasures in the heart of the enchanted forest.
Source:
'Magical Lake'',, mga.games, 18 septembre 2023.
"The latest casino slot game production from MGA Games is packed with special features"
Casino Games
Back to articles