Back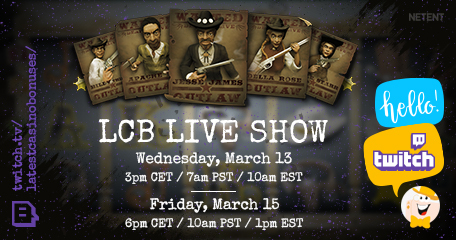 We have a bit of stellar news to share with you guys! Since we couldn't help but notice how much you liked our back-to-back Twitch webcasts (and we are most obliged to you for being there and supporting us)...
...the decision was made to step up and brew a DOUBLE live streaming treat for you this week!
This has been coming for quite some time now, and now, after two introductory shows, it is ripe – stay with us this entire week for TWO brand new live Twitch streams!
Gaming Theme? It's a Surprise!
It goes without saying that LCB members and other viewers who join us on both shows will be receiving special surprises and rewards!
This week's first Twitch stream is taking place on Wednesday, March 13th at 3 PM CET (7 AM PST/10 AM EST)...
...and for this particular one we're bringing some of NetEnt's old fan-favorites out of the vault and playing them at a nice casino whose is yet to be revealed, and whose managers were kind to let us mark this special occasion in this popular online entertainment hub with an astonishing selection of slots which continues to stun players worldwide!
Mysterious Giveaways
Another live show is scheduled just in time for you to unwind from the stress and hustle and bustle of the busy week...
...so grab yourself a drink and watch us perform gaming miracles (hopefully) on Friday, March 15th at 6 PM CET (10 AM PST/1 PM EST) at WinADay Casino!
Friday show will feature proprietary Slotland software and some very unique and tasty treats!
We can't (and won't!) give away everything we'll be delivering, but during the show, you may get a sense of deja vu to our previous $500 and $1000 real cash giveaways – so that you can pretty much form a solid picture of what to expect this time around, right?
LCB Members-Only Goodies
We'd also like to take the opportunity to remind you of our ongoing contests that are reserved for our LCB members exclusively...
...First and foremost, there's the $500 contest that runs until March 31st and whose winners will be announced during April's first Twitch stream.
Also, you'd surely not want to miss out on Freeroll Tournament for Members Only of which will also talk and touch upon during the show!
Head Out to Our Twitch!
Our official Twitch channel can be accessed HERE, so don't forget to hit that Follow button in order to subscribe for all our updates on our future streams and other informative content!
Your hosts for both evenings will be, as is the custom, the charming and dynamic duo of Dunja and Alex.
So, mark your calendars: March 13th and 15th! Be there – it will be more than worth it!
"March 13th and 15th! Be there"
LCB News
Back to articles