Back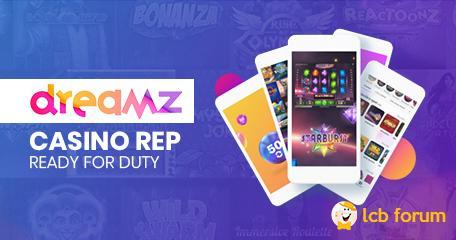 If you thought that adding a casino rep from a busy poker room could not go unnoticed on our site, wait until you hear this news! No, your eyes are not deceiving you, we are already announcing reinforcements, only this time for a completely different betting platform.
Rumor can be a terrible thing, that's why we invest so much in providing all-comprehending gambling information to our members, even when it comes to direct casino support.
To put it differently, get ready to meet the official representative for Dreamz Casino, a modern Malta-licensed online betting venue.
Follow Your Dreamz!
To help you achieve that, it's important to make a bookmark of the rep's contact page for direct support, since he is there for all of us dreamers, available and ready to assist any way he can…
…meaning that your inquiries about terms and conditions, payouts, perks, treats or any other option can always have a happy end, provided it's realistic of course!
There is also an open thread about our new affiliate rep on the forum, just in case you want to leave a message, say "hi" or post a comment and let him know about joining the hub. Make sure you're logged in while clicking the link, and don't forget to spice it all up with a smiley or two…
Also, to encourage potential players to join or at least investigate about what this joint has in store, the rep said he is available at all times, and will reply as soon as possible.
Regardless, let us take a closer look…
Dream Collections, Abundance and Speed:
Dreamz Casino is accessible in four languages, on mobile devices, it supports five currencies, safe banking, and no cashout limits. According to the general T&Cs, the cashout times vary between 1 and 3 days… of course, this entirely depends on your preferred payment methods.
Since no cryptocurrency banking is on board, relying on online portals for fast transactions should do the trick, although a quick credit card reimbursement is also a winner.
Perhaps a little bit disappointing, especially for someone who automatically expects to be treated like a king, there is no formal VIP program, nor loyalty scheme.
On the other hand, players can still profit from an enormous number of hot promotional deals and Collections – a unique way of browsing the games according to their features such as Loads of Ways To Win, Colossal Symbols, Bonus Bets and more.
Funny thing about lobby, is that its compilation probably exceeds what most players have in mind when discovering their new favorite hub. Let's just say that the number of providers surpasses what you could usually find at five casinos combined, including live games and jackpots.
Ready to introduce yourself?
LCB News
Back to articles