Back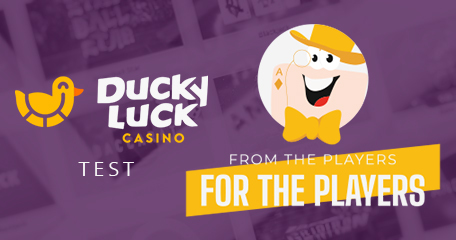 The time has come to put one more online casino under the microscope as a part of the "From the Players for the Players" project and bring you tons of helpful information. For this particular project which involves DuckyLuck casino, we have selected Juggaloroscoe, who has so far tested a large spectrum of betting venues, sharing plenty of valuable insights with the community.
Following the well-established procedure, he registered, deposited, submitted docs for ID verification, played some games, and requested a deposit. There was a multi-day delay with the validation of documents, but the tester eventually withdrew the money.
Regarding the newest test report, these are the milestone points.
Tester of the day: Juggaloroscoe
Registration date: October 8, 2021
Deposit date, amount, and payment method: October 8, 2021, USD 200 in Bitcoin
KYC documents submitted on October 8 and 9, 2021; ID, utility bill, and a selfie where the tester holds his ID
Documents approved on October 15, 2021, during communication with live chat support
Withdrawal requested (date, amount, and banking method): October 10, 2021, USD 50 in Bitcoin
Withdrawal received (date, amount, and method): October 18, 2021, USD 49.95 in Bitcoin
Intrigued by this brief preview? Keep reading for more insightful details!
DuckyLuck Casino Overview
DuckyLuck casino is a US-friendly online casino that accepts Bitcoin, Litecoin, and Ethereum, as well as many other traditional banking options. Thanks to successful collaborations with worldwide famous developers such as Saucify, Fugaso, Felix Gaming, Tom Horn, Dragon Gaming, and many more, it features a wealthy selection of slots, table, and live games.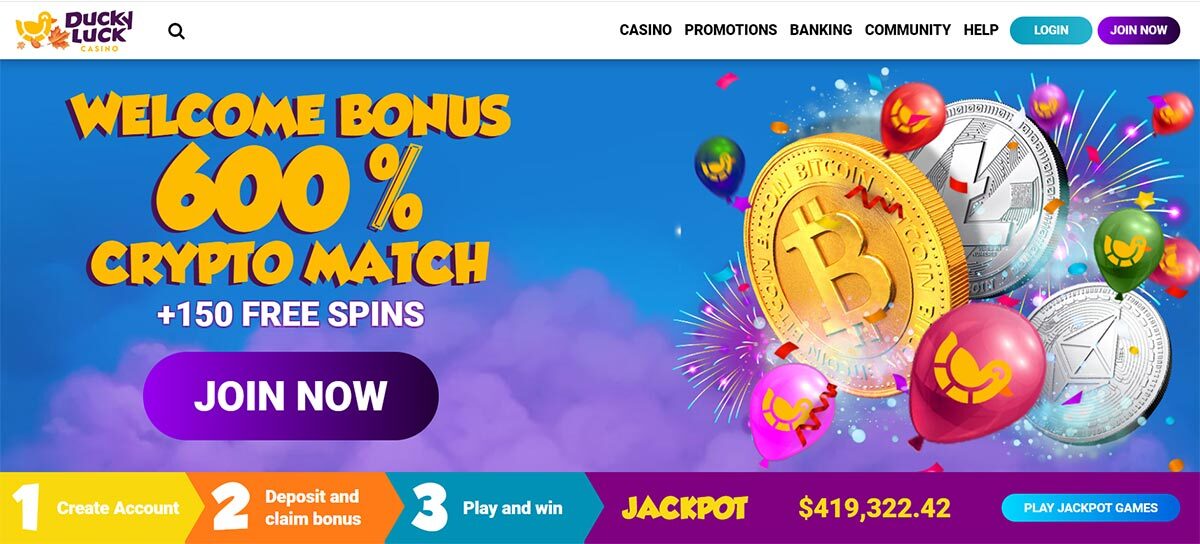 Without further ado, let's see how the investigation unfolded!
Registration
On October 8, 2021, the tester accessed DuckyLuck Casino and registered. He entered some basic information such as name, last name, DOB, mobile phone, address, country, and a couple of others, which marked the registration process finalized.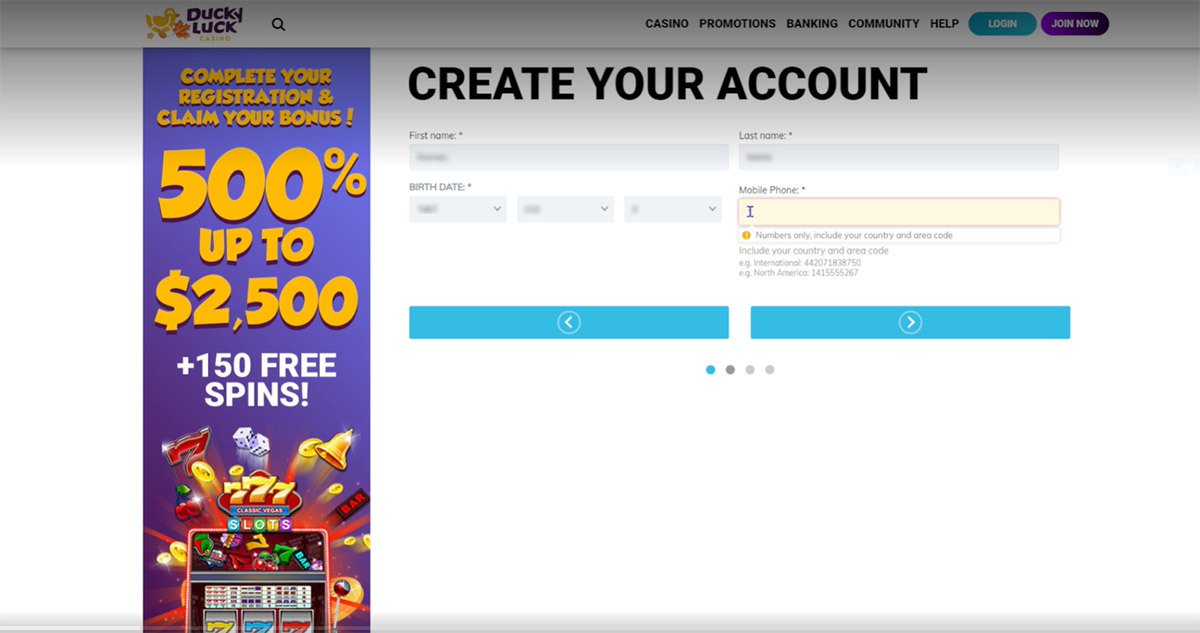 Before proceeding to the next stage, he carefully read the Terms and Conditions to see if there are any problematic spots. As far as they read, accounts that have no activity over 6 consecutive months are classified as inactive, which have no activity over 12 months are deemed dormant. In both cases, a monthly fee of €100 or 5% of the total balance in the account is charged.
Deposit
Having introduced himself to the rules, the tester headed to the cashier. On October 8, 2021, he deposited USD 200 via Bitcoin. Immediately after typing in the desired amount, he received a notification that the transaction was pending. The deposit was processed quickly, and his account was replenished with USD 199.76.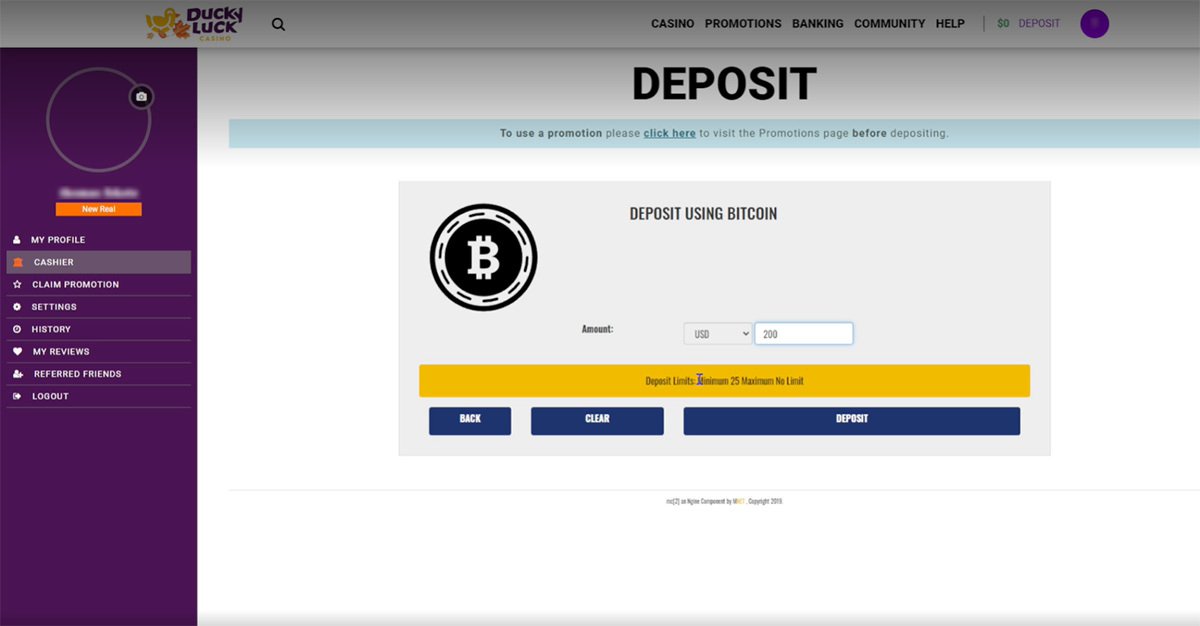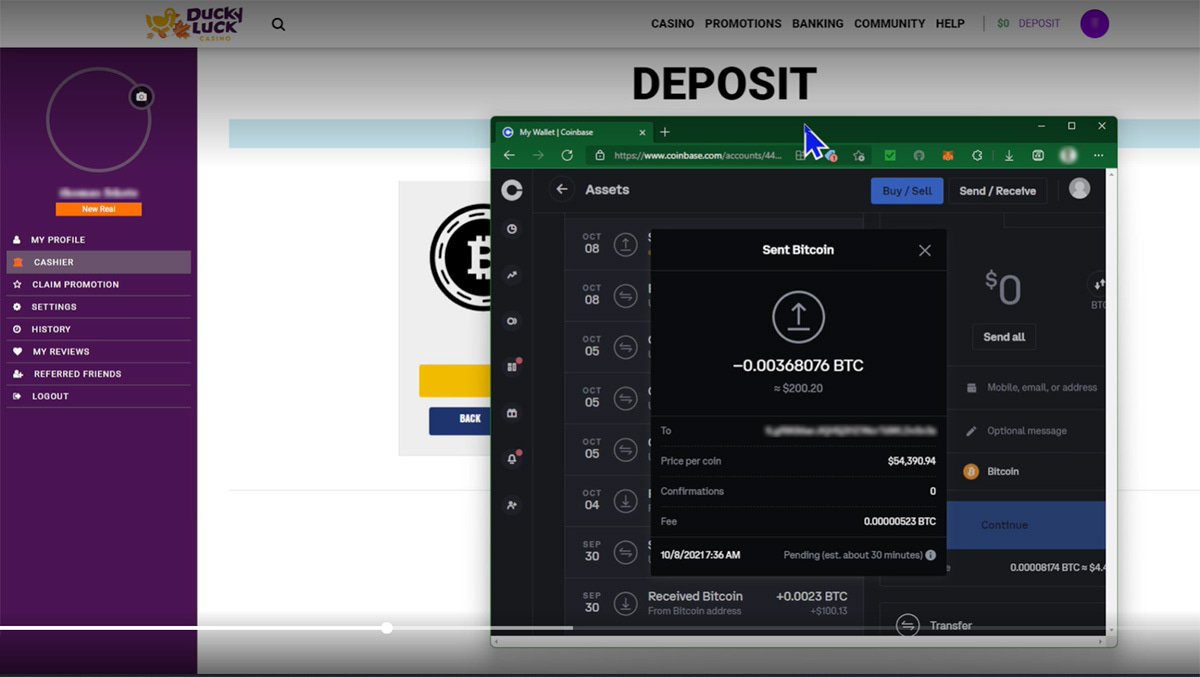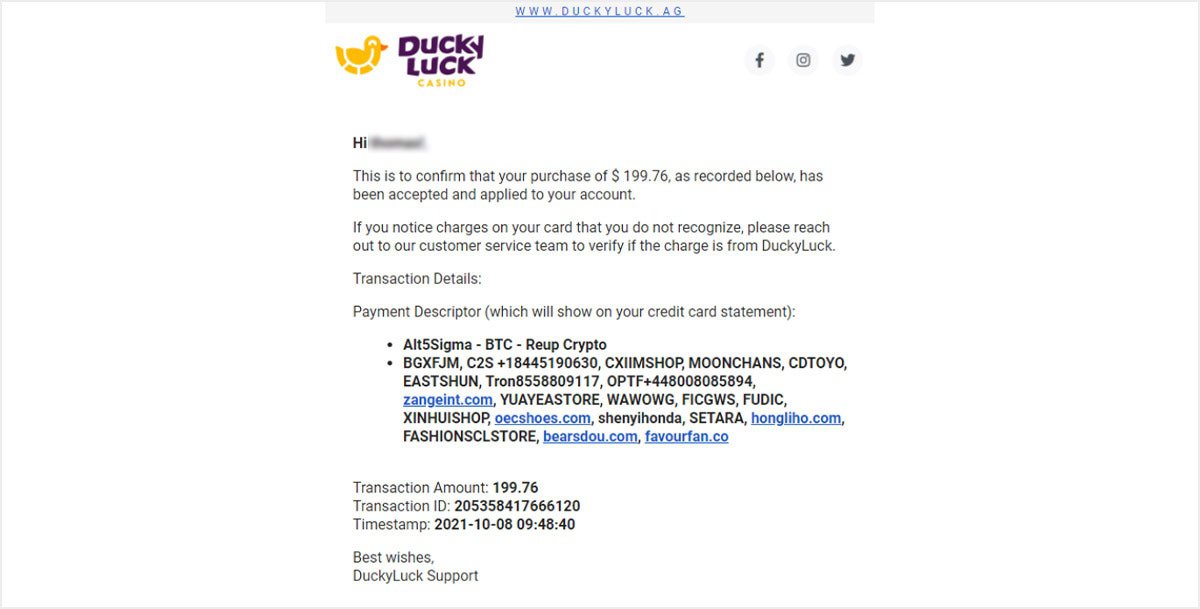 Gameplay
Having funded the account, the tester of the day went on to explore the operator's lobby. He played games on October 8 and 9, 2021. His first choice was iScream by Dragon Gaming and then ventured into The Wicked Witches by the same provider. The next in line was Mystic Wolf by Rival, where he landed a mega win.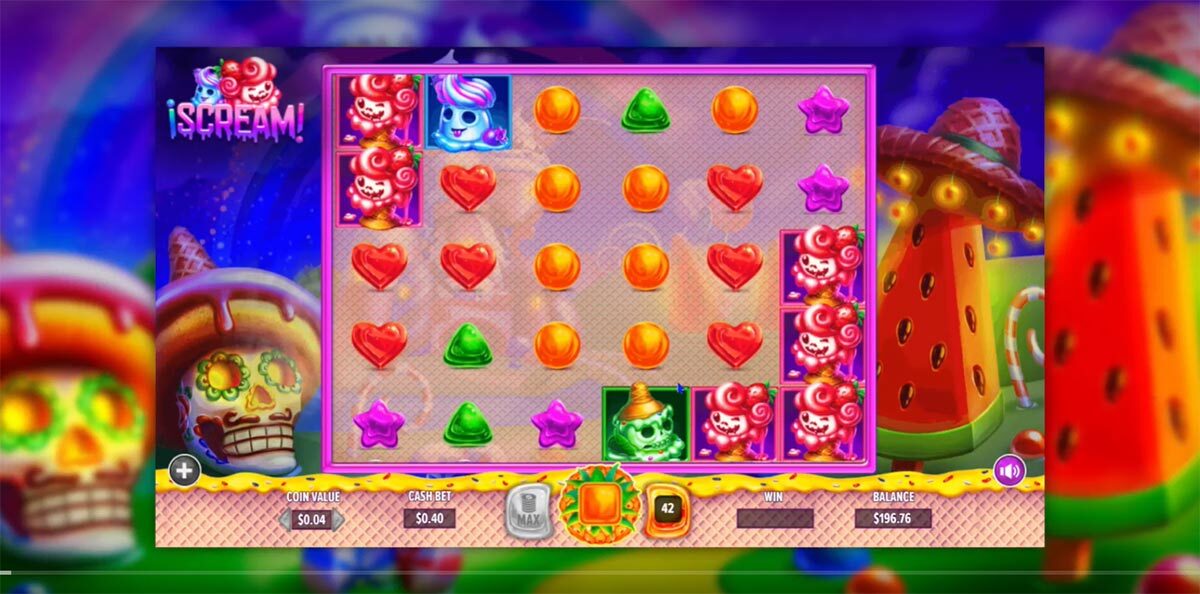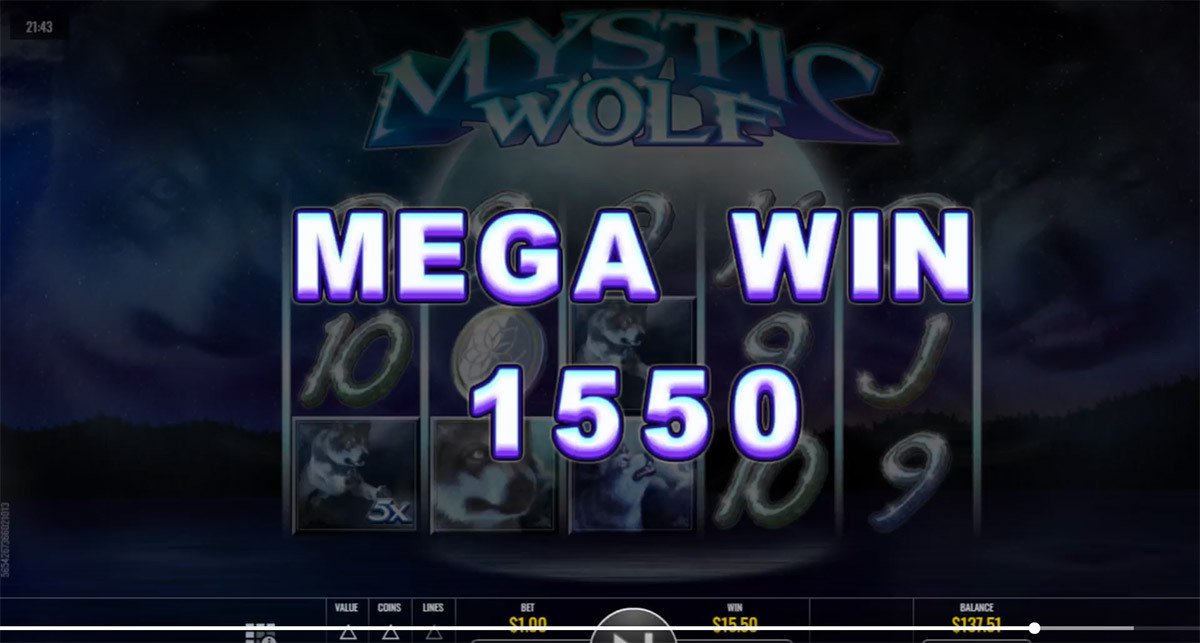 He then ventured into The Defenders and Fruity Feast, both by Dragon Gaming. Furthermore, he returned to Mystic Wolf once again, where he had a couple of big and mega wins.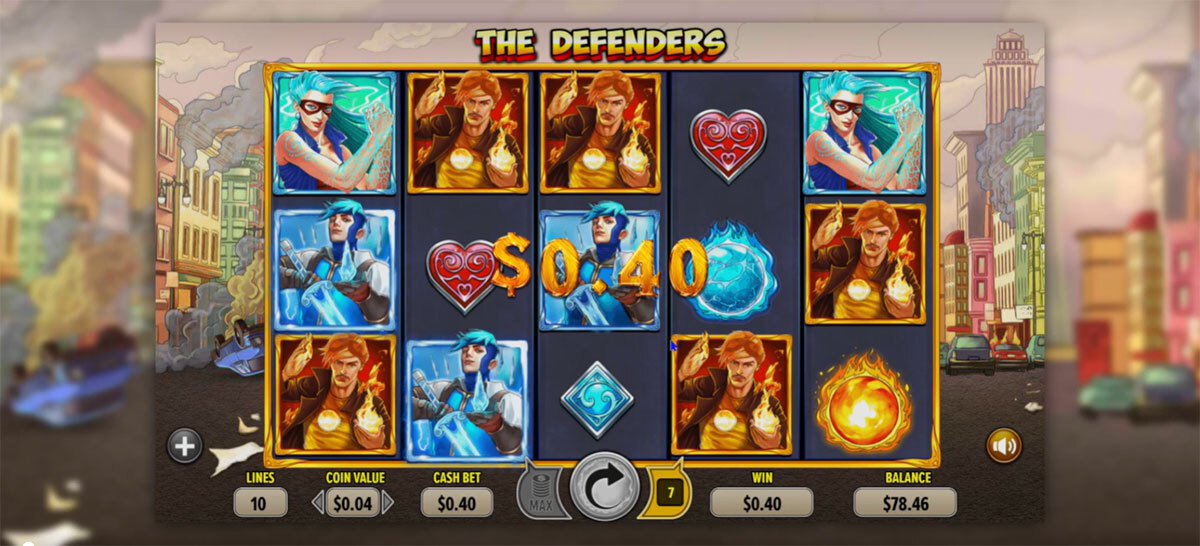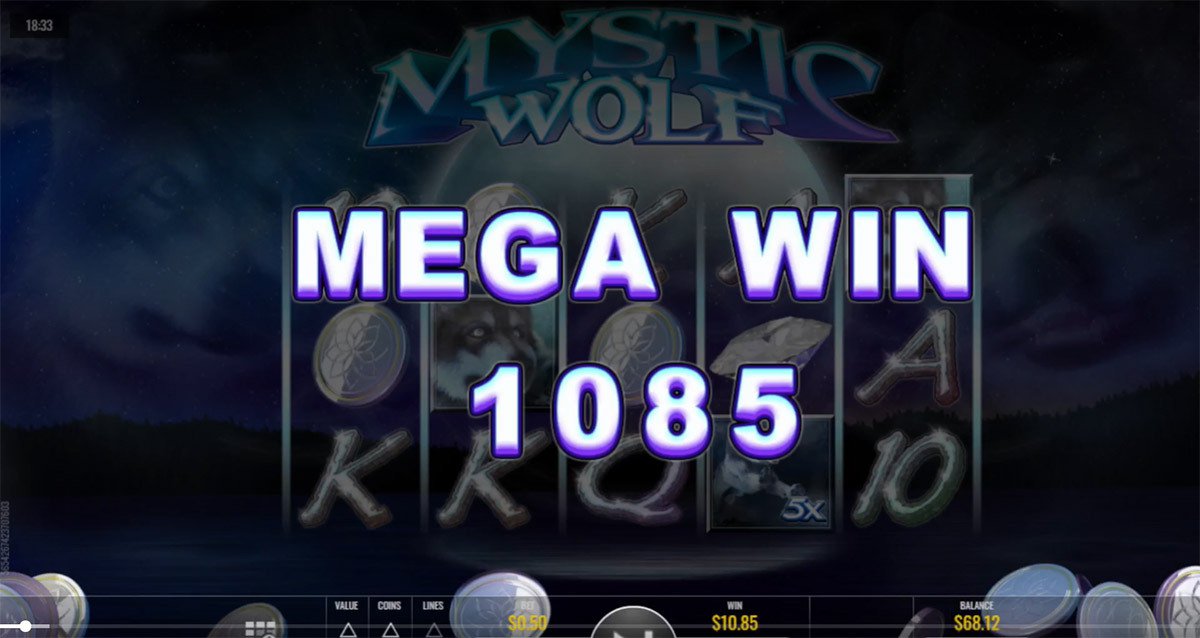 KYC and Communication with Chat Support
To have the account verified, the tester submitted an ID, utility bill, and a selfie where he holds his ID. Documents were sent on October 8 and 9, 2021. Worth adding is that the requested documents were sent in separate e-mails as the server doesn't permit larger messages.
A couple of days with no response regarding the ID verification went by, so the tester got in touch with the live chat support department on October 15, 2021. He mentioned having to send multiple emails, due to server restrictions.
After a couple of minutes, the agent approved his documents, "just like that" as the tester commented. His withdrawal request can now be processed. According to the agent, the process usually takes about 3-5 business days.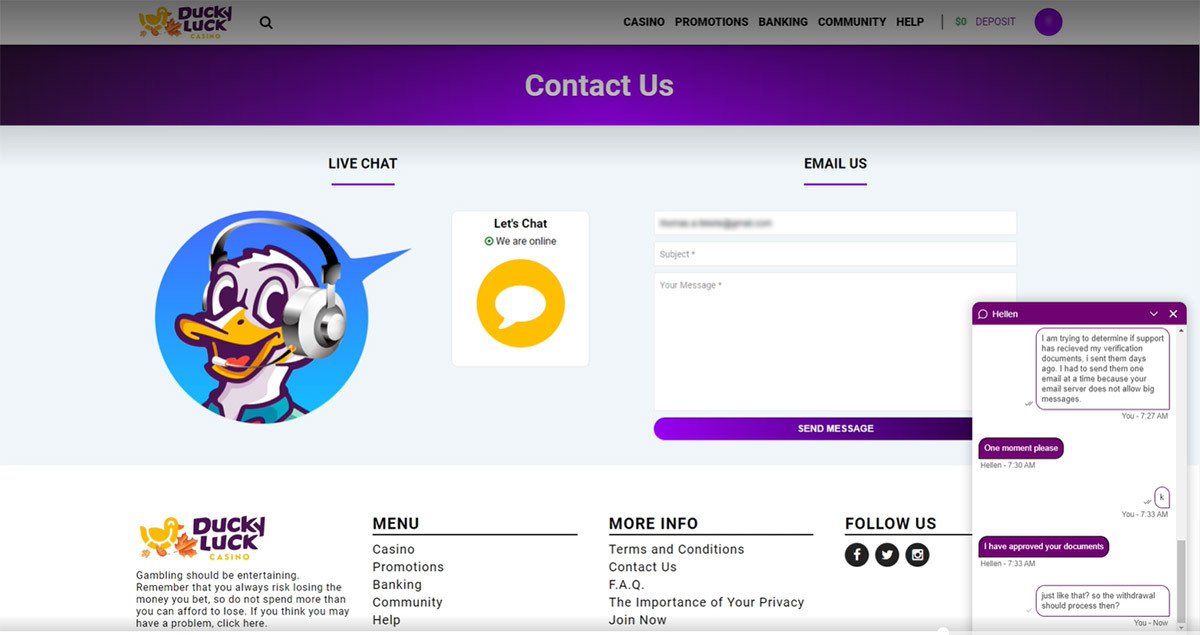 This is what Terms say on ID verification:
"7.20 - Identification must be presented should the casino request it for verification purposes. This request will be delivered in the form of an email stating which documents DuckyLuck requires and instructions as to which steps need to be followed to process the withdrawal request."
Withdrawal
On October 10, 2021, the tester made a withdrawal request. His withdrawable balance was USD 50.42, but he entered USD 50. Just like when making a deposit, he wanted to cash out in Bitcoin. When using this method to withdraw funds, the minimum is $25, while the max is capped at $2,500.
A notification informing him that the transaction is pending arrived after a couple of seconds. As hinted in the previous section, he had to communicate with the support department to have the account verified, so that his request can be approved and processed.
On October 18, 2021, a notification arrived, stating that the tester received USD 49.95, which, expressed in cryptocurrency of his choice was 0.00079586 BTC. No fee was charged on the occasion.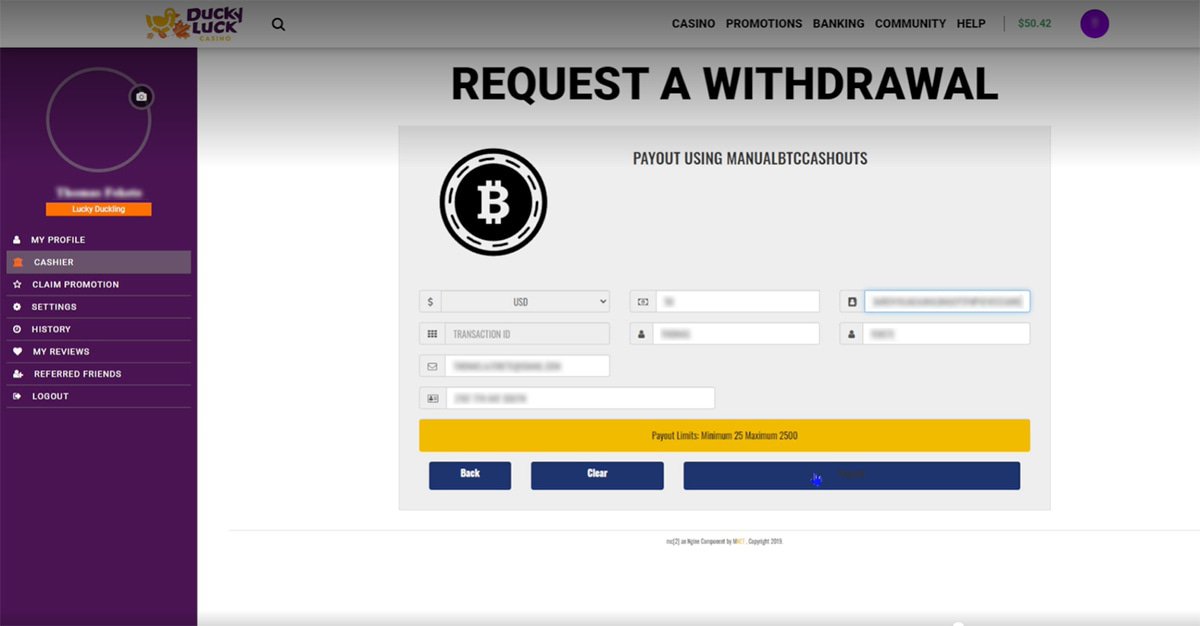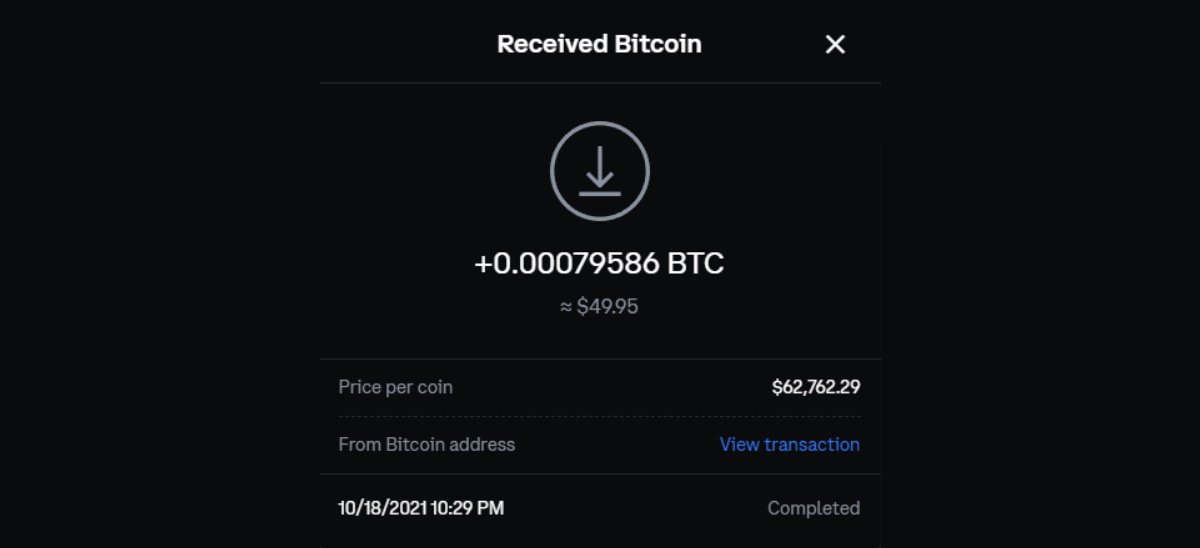 Here are a couple of significant rules to draw your attention to:
"5.4 - Most withdrawal requests require 24 hours before they are approved, however, there may be accounts that require further investigation before DuckyLuck approves the release of said withdrawal."
As in many other venues, privileged players and loyal members are treated to significantly reduced turnaround times upon requesting a withdrawal.
Worth stressing out is that:
"5.5 - The minimum withdrawal fee at DuckyLuck is set at $25 (€, £, Rx10)."
"5.6 - The withdrawal methods available at DuckyLuck Online Casino may vary depending on your country of residence. With that in mind, the global withdrawal limit begins at $2,500 and increases substantially depending on the withdrawal method chosen and your account status at the casino."
Conclusion
Except for the delayed verification of documents, the tester had no major problems with DuckyLuck casino. Even though he had them immediately approved upon communicating with live chat agent, the timeframes regarding verification should be defined precisely, so that players know what to expect.
If you are curious to take a closer look at other reports conducted by this tester, these are the articles to read:
Have you had the chance to visit DuckyLuck casino so far? What was your experience like? Don't hesitate to share it with us and the community in the comments section below. As always- gamble responsibly!
From the Players for the Players
Back to articles